Utah Newspaper Pushes for National Guard to Block Unvaccinated From Socializing
The Salt Lake Tribune Editorial Board criticized Utah's response to the COVID-19 pandemic in an op-ed, writing that the "civilized" thing to do would be to deploy the National Guard to ensure unvaccinated individuals largely remain at home.
Utah has the fourth-highest number of new COVID-19 cases of any state and the Omicron variant's prevalence has forced some students to return to remote learning. Given Omicron's pervasiveness and the state's inability to handle the influx in testing demand, officials are advising people to just assume they have COVID-19 if they experience symptoms.
TheSaturday op-ed applauded officials for citing the COVID-19 vaccination as the best tool for fighting the virus and for recommending people get inoculated. However, the board wrote that Governor Spencer Cox and other legislators didn't carry "the courage of their convictions" because they did not institute vaccine mandates.
Had a vaccine mandate been put in place, the board wrote that Utah may have been able to head off Omicron with "herd-immunity level of vaccinations." About 73 percent of Utah's adult population are fully vaccinated against COVID-19, according to a Brown University tracker.
"Were Utah a truly civilized place, the governor's next move would be to find a way to mandate the kind of mass vaccination campaign we should have launched a year ago, going as far as to deploy the National Guard to ensure that people without proof of vaccination would not be allowed, well, anywhere," the board wrote.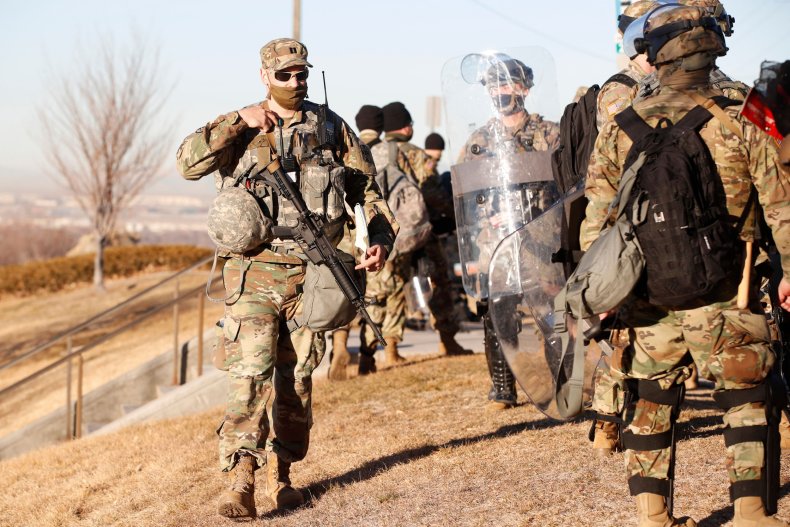 The issue of vaccine mandates and government involvement in blocking unvaccinated individuals from fully engaging in society is a contentious topic. Some view prohibitions on unvaccinated individuals' movements as within a state's rights to protect residents in a pandemic and cite vaccine requirements for schools as precedent. Others consider it a massive overreach on the part of the government and an infringement on people's ability to make their own health choices.
Texas Representative Chip Roy posted on Twitter that the board was calling for the military to "target their own neighbors." He advised his followers to remember "these people want to come after you." Colorado Representative Lauren Boebert posted that the "radical left" wishes the "horror story" policies that were implemented in other countries were enacted in the United States.
"To the communists on the editorial board...Not gonna happen!!!" Georgia Representative Marjorie Taylor Greene wrote on Telegram.
Utah Republicans threw their support behind Cox and other Utah legislators. Representative Burgess Owens accused The Salt Lake Tribune of promoting totalitarianism and Representative Blake Moore wrote that Cox has had a "rational" response to the pandemic that balanced individual freedoms and Utahns safety and well-being.
Newsweek reached out to The Salt Lake Tribune for comment.
The board applauded President Joe Biden for trying to institute vaccine mandates but noted the Supreme Court rejected the widespread vaccine or test requirement of private employers. While Biden has made moves to increase access to tests and masks, the board criticized him for taking action too late.
Even if Cox were to deploy the National Guard to prohibit the movement of unvaccinated individuals, the board wrote that it also may be too late "politically and medically."