Utah Restaurant Bans Masks as COVID Cases in State Skyrocket
A Utah restaurant has continued to defy public health experts with its ban on face masks as coronavirus cases in the state skyrocket.
The owners of Yaks Cafe, a small breakfast and lunch joint in Blanding, brought in the anti-mask policy for diners seated inside as early as May.
It comes as Utah health experts have for months been advising residents to wear face masks in public spaces to reduce the spread of coronavirus.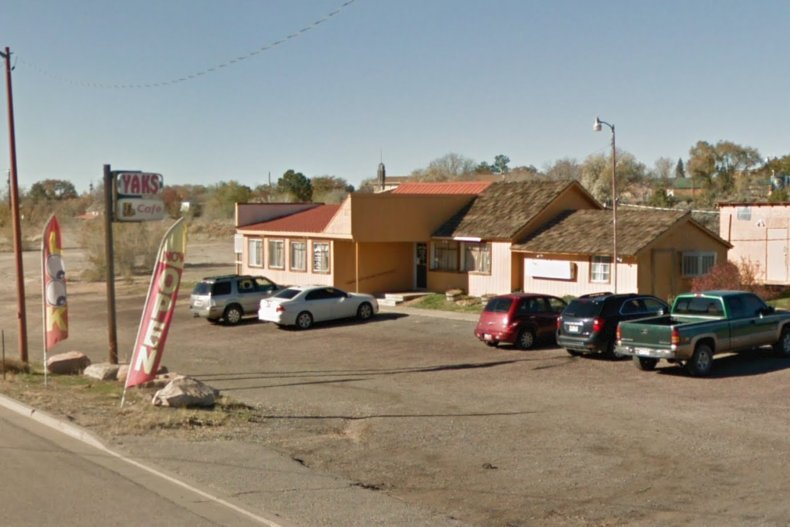 Meanwhile, COVID-19 cases in the state have soared with record-breaking seven-day averages of new infections in October.
Yaks Cafe is in San Juan County, which remains a "high area of transmission" according to Utah's health guidance levels.
This means masks are required for both employees and customers entering all indoor public settings while restaurant tables must be spaced at least six feet apart.
But last week, Yaks Cafe was still pushing back against health officials by offering a limited sale of merchandise to celebrate its "no mask" policy, according to The Salt Lake Tribune.
One T-shirt on sale through the cafe's Facebook page, that has since been made private, read: "It's a Yaks Cafe thing" on the front and "No Mask" on the back.
In recently taken photos, a sign can be seen outside the cafe which reads: "No masks! No! No Gloves! No! Are allowed inside the cafe! We do not provide them either."
Why the restaurant has banned face masks
The owners of Yaks Cafe have reportedly argued that customers risk leaving more pathogens on the table surface if they come in and take their masks off compared to if they wear one.
In a July Facebook post seen by The Salt Lake Tribune, the cafe wrote: "Just a reminder Yaks Cafe takes pride in keeping a clean and sanitary environment for all of our employees and customers. [I]n efforts to do this we do not allow any outside food, masks and gloves to be worn or brought inside our cafe."
The post reportedly continued to say that customers who wish to wear a mask should instead use the to-go window outside.
The cafe also shared a handwritten note on Facebook, saying it was left by a customer who wanted to thank the owners for their mask policy, according to The Salt Lake Tribune.
The note read: "Thx for standing by your values and making people feel like there are still places in America where the constitution is still believed and small town USA is still alive!"
The restaurant's ban has continued as new coronavirus cases broke records in Utah over the last week, according to state government figures.
Thursday saw a sharp rise in the number of new daily cases, with a record of 1,984 positive test results. Saturday saw high numbers again with 1,770 new cases. The state has seen a total of 106,083 confirmed cases and 574 deaths.
What the authorities have said
San Juan Public Health Department Executive Director Kirk Benge told The Salt Lake Tribune that they find the cafe's rules "really saddening."
"But we're still in discussions with the county attorney about what we feel would be the best course of action," he added.
Health authorities cannot enforce coronavirus measures but first-offending business owners could be fined up to $1,850 or face a maximum six months jail sentence if charged by a district or county attorney, The Tribune reported.
Benge told the publication that San Juan County has been hit by a third wave after the area saw spikes in May and late July.
He said: "Now we're trending up again, not as dramatically or as quickly as we did in those first two spikes in May and July, but we're certainly trending upward. We would hope every business in the county would take things seriously right now."
Face masks have been a point of contention in Utah throughout the pandemic. Phil Lynman, a state lawmaker from Blanding, compared mask mandates to laws in Nazi Germany.
Newsweek has contacted San Juan Public Health Department and county sheriff for comment, and has also tried to contact Yaks Cafe.