Utah Woman Gets Flesh-Eating Bacteria From Infected Spider Bites
A woman in Utah is being treated for flesh-eating bacteria after suffering from 15 spider bites during a fishing trip.
Susi Feltch-Malohifo'ou is thought to have been bitten by one or multiple spiders—the species of which is unknown—while on a fishing trip to Mirror Lake in the Uinta mountains, although she didn't notice at the time, Fox13 Tampa Bay reports.
She began to feel unwell in the following days, but tested negative for COVID and flu.
"When she woke up Sunday morning she had a headache, a fever and was in some pain," her son, Adrian Swensen, told FOX Television Stations. "Those symptoms progressed to the point that we decided she needed to see her doctor."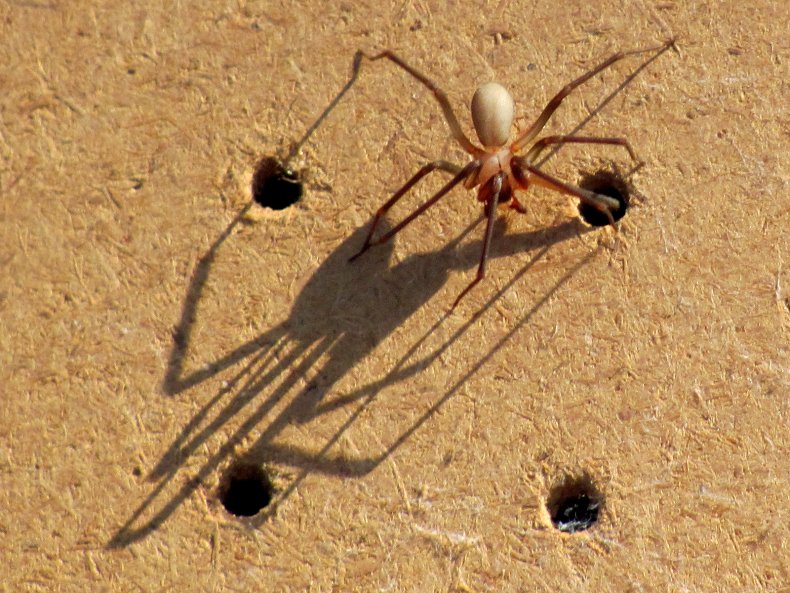 Swensen said that the doctors found 15 spider bites on his mother, seven of which had become extremely infected with a flesh-eating species of bacteria.
It is thought that Feltch-Malohifo'ou is experiencing necrotizing fasciitis, which according to the Centers for Disease Control and Prevention, is a flesh-destroying condition caused by a number of types of bacteria, with group A Streptococcus being the most common cause. It can enter the body via spider bites, especially those from a brown recluse, as well as via cuts or burns.
The bacterial infection, which may also contain a cocktail of other species including Clostridium and Pseudomonas, rots away the soft tissue beneath the surface of the skin, including fat, connective tissue and muscle. The infection can occur at any part of the body, depending on the position of factors like insect bites, however, it is more commonly seen on the perineum, genitals and extremities.
If left untreated, necrotizing fasciitis can lead to sepsis and organ failure. If antibiotics cannot reach all of the infected tissue, then surgery may be required to remove it.
Feltch-Malohifo'ou's infections got so bad that she had to have 10 pounds of her flesh removed surgically. Her stomach and colon are also damaged by the infection, doctors told the family.
"[She has] been taken into emergency surgery six times, and has kept her on a ventilator in the ICU," said her family in a post on the GoFundMe page they set up to raise funds to cover the medical costs of her treatment. "Each time they take her off of it, and we think she is on the mend, they tell us she needs to go back to surgery again, which means she goes back on the ventilator."
They have raised only $6,413 of their $15,000 goal so far.
Feltch-Malohifo'ou, the founder and CEO of Pacific Island Knowledge 2Action Resources (PIK2AR), which works with Pacific Islanders and other minorities, has been included in Forbes Magazine's 50 Over 50 for her work.
There are around 1,000 cases of necrotizing fasciitis per year in the U.S., and despite powerful antibiotics and skilled treatments, it's estimated that between 25 and 35 percent of people with the condition don't survive.
"We are told that if they can get her stable and through all of the removal and cleaning she will have a very long road of recovery," Swensen told FOX Television Stations. "We are people of faith and are in constant prayer that she will be healed and in a timely manner."