The Uvalde Schools Police Department chief was reportedly snuck into a House panel hearing on Tuesday amid criticism that state officials are working to cover up the school shooting incident.
In a tweet on Tuesday, Mireya Villarreal of ABC News wrote, "Absolutely unacceptable. #Uvalde update coming from Austin. House leaders holding a hearing in executive session with Chief Pete #Arredondo today. We waited outside the panel for an hour... only to find out @TxDPS Troopers snuck him in a backdoor. Said it was for his safety."
On Tuesday, Arredondo, the chief of the Uvalde Schools Police Department was expected to appear in front of a Texas House of Representatives investigation committee to speak on the police response to the school shooting at the Robb Elementary School, which left 21 victims dead, including 19 children and two teachers.
The hearing on Tuesday is closed to the public; however, the Texas Senate is currently holding an open hearing on the latest investigations into the police response to the shooting.
Newsweek reached out to the Texas Department of Public Safety for comment.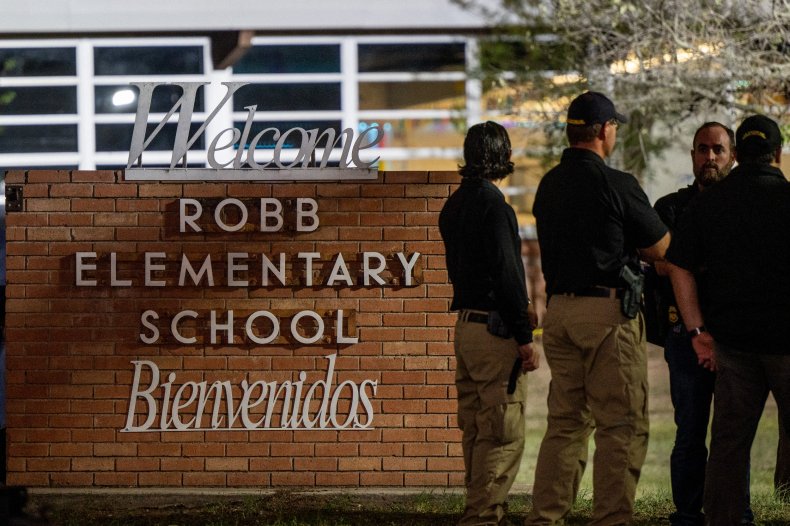 In the immediate aftermath of the shooting incident, many criticized police for their response to the shooting, as officials revealed that officers waited over an hour to enter the classroom where the shooter, 18-year-old Salvador Ramos, was located. Arredondo was criticized by many as he was the incident commander and believed that the situation was a barricaded subject rather than an active shooter.
However, earlier this week, surveillance footage from the school, obtained by KVUE-TV and the Austin American-Statesman revealed that several officers with rifles and a shield were inside the Robb Elementary School within 19 minutes of the first 911 call. The officers did not enter the classroom until over an hour later.
On Monday, Texas State Senator Roland Gutierrez accused the state's Governor Greg Abbott of ordering a "cover up" on the shooting.
"While @GovAbbott has ordered a cover up, we in the Texas Senate are siding with the families of #Uvalde. I will be there tomorrow and I will seek answers to the questions my constituents are asking me. I hope and trust I will be allowed to speak for my community," Gutierrez wrote in a tweet.
Earlier this month, Texas Department of Public Safety Director Steven McCraw criticized the decision by Arredondo to determine it was a barricaded subject, calling it the "wrong decision."
During an interview with the Texas Tribune, Arredondo defended the police response to the shooting.
"The only thing that was important to me at this time was to save as many teachers and children as possible," he said during the interview.
Update 06/21/22 11:47 a.m. ET: This article was updated with more information.