Photo of Smiling Uvalde Cop During School Shooting Sparks Outrage
A photo of a policeman smiling during the Uvalde Robb Elementary shooting has begun circulating on social media and sparked outrage towards the authorities for their response to the situation.
The picture has been shared on Twitter and Reddit and the policeman has faced condemnation and criticism online. The policeman's identity has not been revealed.
On July 12 new footage was released showing law enforcement's response to the shooting that resulted in the deaths of 19 children and two adult teachers.
The Austin American Statesman released an 82-minute video on its YouTube Channel, and showed multiple angles from the shooting at the Robb Elementary School on May 24.
Upon review, the police faced further criticism and outrage as officers are seen fleeing from the active shooter, waiting in hallways and using hand sanitizer.
These instances of police behavior have resulted in a reinvigorated attack against police and their perceived slow response to the massacre at the Texas school.
The picture was shared on Twitter by Dr. Jack Brown, a body language and emotional intelligence expert, according to his Twitter profile.
"There is no ethical or even remotely psychologically healthy context in which this or any [law enforcement] personnel would have been laughing or smiling in Uvalde," he wrote as he captioned the picture.
"He's in a building where children and their teachers are being murdered in real-time."
The tweet has received over 40,000 likes and has been retweeted more than 8,800 times.
The same picture was posted on Reddit on Wednesday with the caption: "Uvalde police responder smiles as active shooter continues to fire rounds in classroom down the hall."
It has been upvoted more than 7,000 times and has more than 1,000 comments.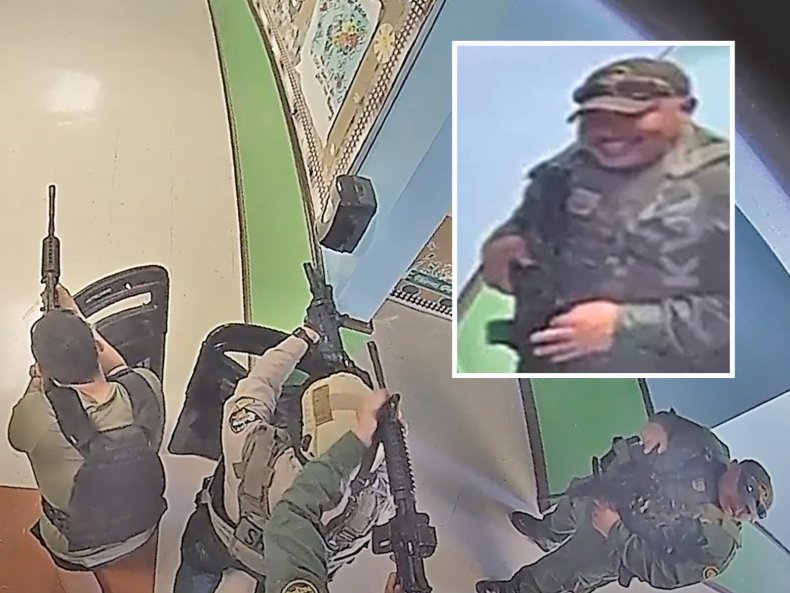 A video of a cop stopping to use hand sanitizer during the shooting has also gone viral on social media this week.
DailyWire Senior Editor Cabot Phillips shared a video of the moment from the released footage, which has so far been viewed more than 790,000 times.
"Would love to hear from his Uvalde cop why he was worried about putting on hand sanitizer while a shooter was massacring kids twenty feet down the hall," he wrote in a tweet.
But the moment where one officer used his phone during the school shooting has been explained, resulting in some social media users retracting their initial criticisms.
Within minutes of officers first entering the school, one officer pulled out his phone and looked at the screen while holding a gun in his right hand.
However Joe Moody, a Democratic state representative from Texas, defended the officer and said he was the husband of one of the teachers killed in the attack.
The state lawmaker said the image was of Officer Ruben Ruiz, whose wife Eva Mireles was one of the two teachers shot and killed inside the classroom.
Moody addressed the backlash about Ruiz's actions and said he did not intend to speak up about the release of the footage.
In a tweet, Moody wrote: "This is the husband of teacher Eva Mireles, who contacted him on his phone from her classroom while he was on-scene to say that she'd been shot and was dying.
"I'd not planned to speak publicly until the report was released, but I couldn't say nothing seeing this man, who's lost everything, maligned as if he was indifferent or actively malicious. Context matters.
"To those who haven't bothered to read even the news that's been reported in your rush to judgment, he attempted to engage but was removed from the building and disarmed.
"We'll have much to say about the police response, but no criticism of this officer."
While not defending the actions of the officers, Steven McCraw, director of the state's Public Safety Department, released a statement criticizing the video's release.
He said it would have been better if the families had a chance to see it first, as planned by state Representative Dustin Burrows, who is leading a legislative investigation into the shooting.
In a statement released to Newsweek, Uvalde Mayor Don McLaughlin said "it is unbelievable that this video was posted as part of a news story with images and audio of the violence of this incident without consideration for the families involved.
"I continue to stand behind my statements that full transparency and consideration for the families remains the priority as it relates to this incident," he said.
Newsweek has contacted Ruiz for comment.