Uvalde Officer Slammed for Using Phone Had Dying Wife in Classroom: Moody
An image of a Uvalde police officer using a phone during the May 24 mass shooting at an elementary school depicts the husband of one of the teachers killed in the attack, according to a state lawmaker.
Joe Moody, a Democratic state representative from Texas, said in a series of tweets on Wednesday that he could not remain silent while online commentators slammed the officer over an image of him checking his phone inside a hallway at Robb Elementary School while the shooting was ongoing. Moody explained that the image was of Officer Ruben Ruiz, whose wife Eva Mireles was one of the two teachers shot and killed inside the classroom alongside 19 students.
Mireles had called Ruiz during the shooting to inform him that "she had been shot and was dying," according to testimony that Texas Department of Public Safety Director Colonel Steven McCraw gave to the Texas state Senate last month. McCraw said that Ruiz attempted to enter the classroom to save his wife, but was detained by fellow officers who confiscated his gun and "escorted him off the scene."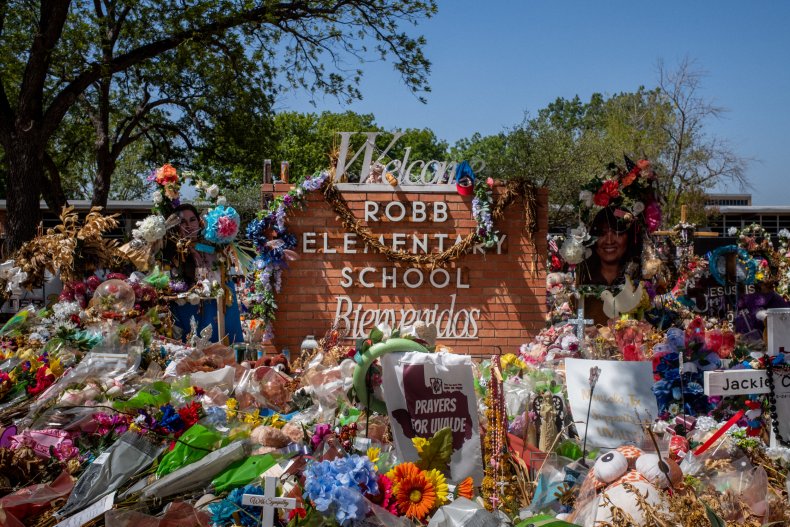 "This is the husband of teacher Eva Mireles, who contacted him on his phone from her classroom while he was on-scene to say that she'd been shot and was dying," Moody tweeted alongside an image of a New York Post article featuring the image. "I couldn't say nothing seeing this man, who's lost everything, maligned as if he was indifferent or actively malicious. Context matters."
"To those who haven't bothered to read even the news that's been reported in your rush to judgment, he attempted to engage but was removed from the building and disarmed," he continued. "We'll have much to say about the police response, but no criticism of this officer."
The image showing Ruiz using his phone was reportedly taken from a 77-minute video released on Tuesday by the Austin American-Statesman and Austin ABC affiliate KVUE. The release of the footage sparked outrage from some family members of the victims who said that it had been "leaked" without their knowledge or consent, according to CNN's Shimon Prokupecz.
Uvalde Mayor Don McLaughlin said that it was "unbelievable that this video was posted as part of a news story with images and audio of the violence of this incident without consideration for the families involved" in a statement to Newsweek.
Many of those who condemned the image noted that the phone's lock screen featured the logo of the Marvel character the Punisher, a figure that has become increasingly popular among some police officers and extremist groups in recent years.
"This really makes my blood boil," Terrance Carroll, a former Democratic Colorado state House Speaker, tweeted before Moody linked the image to Ruiz. "This officer is checking his phone while kids & teachers are literally dying a few doors down. And if it this couldn't get any worse, his screensaver is the Punisher skull with a thin blue line."
The officer in the image appears to be holding a handgun alongside his phone. If the image does show Ruiz, it was likely taken shortly before he was disarmed and removed from the building while attempting to enter the classroom.
Newsweek reached out to Ruiz for comment.