Uvalde Police Stopped Husband of Teacher Trying To Save Her
The husband of a teacher who was one of the victims of last month's mass shooting at Robb Elementary School in Uvalde, Texas, was detained and had his gun confiscated as he attempted to save her, according to police.
Texas Department of Public Safety Director Col. Steven McCraw told the state's Senate hearing on police response to the May 24 mass shooting that Eva Mireles' husband, Ruben Ruiz, had attempted to save her after he received a phone call that "she had been shot and was dying."
Ruiz is a Uvalde school district police officer and responded to the scene after the gunman opened fire on campus.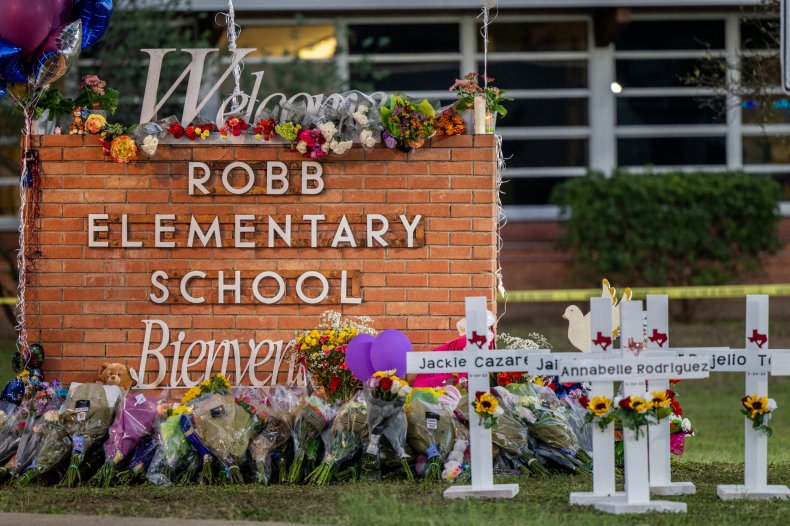 "We got an officer, Officer Ruiz, whose wife had called him and said she (had) been shot and she's dying," McCraw said Tuesday.
"What happened to him as he tried to move forward into the hallway, he was detained and they took his gun away from him and escorted him off the scene."
McCraw didn't elaborate on who detained Ruiz as he attempted to save his wife.
As part of his hours-long testimony on Tuesday, McCraw also hit out at Ulvalde school district police chief Pete Arredondo.
"The only thing stopping a hallway of dedicated officers from entering room 111 and 112 was the on-scene commander who decided to place the lives of officers before the lives of children," McCraw said.
Mireles, a fourth-grade teacher, was one of two teachers fatally shot by the gunman, along with 19 students.
Mireles' daughter shared a heartbreaking tribute after her death. "My sweet mommy, I will miss you forever," Mireles' daughter, who goes by the name Adalynn on Twitter, posted a message to her mother on the social media platform.
"To the half that makes me whole," she wrote, "Mom, I have no words to describe how I feel right now, tomorrow, and for the rest of my life. I never thought that I would be here writing this type of post for you. Mom, you are a hero."
"I want to hug you one last time and I want to feel the calluses on your hands because you were not only a teacher during the day but the most hardworking cross fitter in the afternoon ... I want everything back. I want you to come back to me mom.
"You are so known by many now and I'm so happy that people know your name and that beautiful face of yours and they know what a hero looks like. I don't know how to do this life without you, but I will take care of dad. I will take care of our dogs and I will forever say your name so you are always remembered, Eva Mireles, 4th grade teacher at Robb Elementary who selflessly jumped in front of her students to save their lives.
"My heart will forever be broken," she wrote. "I want to thank you mom, for being such an inspiration to me. I will forever be so proud to be your daughter. My sweet mommy, I will see you again."
McCraw on Tuesday described the police response to the mass shooting as an "abject failure" that "set our profession back a decade."
McCraw also told the Texas Senate hearing into the shooting that the classroom door had not been locked.
"I don't believe based on the information we have right now that door was ever secured," McCraw said. "He (the shooter) didn't have a key ... and he couldn't lock it from the inside."