Read Daughter's Heartbreaking Tribute to Mom Killed in Uvalde Shooting
A daughter whose mother was one of the 21 victims of Tuesday's mass shooting at Robb Elementary School in Uvalde, Texas, shared a heartbreaking tribute on social media, writing, "My sweet mommy, I will miss you forever."
On Tuesday, the Uvalde Consolidated Independent School District (CISD) reported an active shooter situation around 1:15 p.m. Previous reports stated that 14 were confirmed dead, though that number has increased since Tuesday evening.
The 21 killed included 19 children and two teachers, all of whom were located in one classroom. The suspected shooter, 18-year-old Salvador Ramos, reportedly barricaded himself in the classroom with them.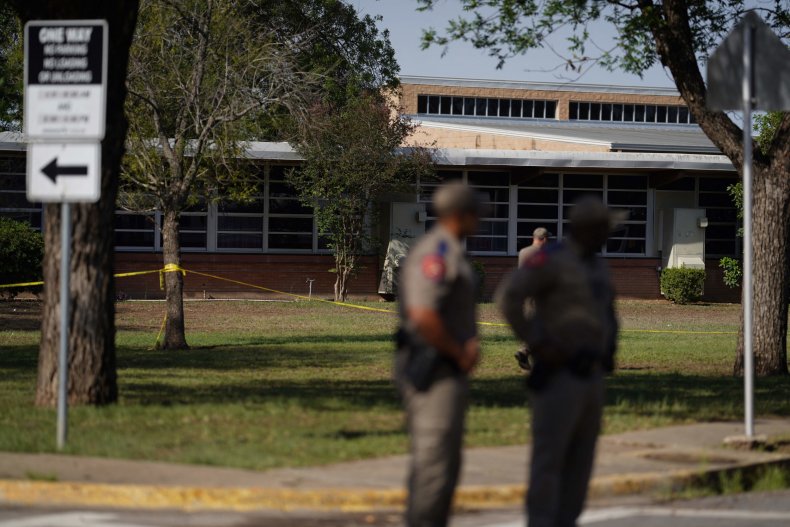 Fourth-grade teacher Eva Mireles was confirmed as one of the victims, WABC-TV reported. On Wednesday, Mireles' daughter, who goes by the name Adalynn on Twitter, posted a message to her mother on the social media platform.
The tweet, which has been liked almost 55,000 times as of publication, included a photo of Adalynn and Mireles, as well as several screenshots of a note that she wrote to her mother.
"To the half that makes me whole," she wrote, "Mom, I have no words to describe how I feel right now, tomorrow, and for the rest of my life. I never thought that I would be here writing this type of post for you. Mom, you are a hero."
"I want to hug you one last time and I want to feel the calluses on your hands because you were not only a teacher during the day but the most hardworking cross fitter in the afternoon... I want everything back. I want you to come back to me mom.
"You are so known by many now and I'm so happy that people know your name and that beautiful face of yours and they know what a hero looks like. I don't know how to do this life without you, but I will take care of dad. I will take care of our dogs and I will forever say your name so you are always remembered, Eva Mireles, 4th grade teacher at Robb Elementary who selflessly jumped in front of her students to save their lives.
"My heart will forever be broken," Adalynn wrote. "I want to thank you mom, for being such an inspiration to me. I will forever be so proud to be your daughter. My sweet mommy, I will see you again."
Another heartbreaking message, this time from a father to his 10-year-old son, also captured social media's attention. Federico Torres said that authorities were unable to tell him whether his son Rogelio was alive or dead.
He told a reporter from local station KHOU that he found out about the shooting through a friend.
"We found out what happened," he said, "[Then] they sent us to the hospital, the civic center, then the hospital again, then here again. They don't tell us anything, just [requested] a photo [of my son] and [told me] to wait. Let's hope everything is fine."
He added that his son was "Rogelio Torres—if you know anything please tell us. [He is] in Mr. Reyes's class, where everything happened."
As of Wednesday, Newsweek was unable to confirm the fate of Rogelio, but someone claiming to be family tweeted that he is among the victims at the school.
Former friends of the suspected shooter Ramos have described him as a troubled, bullied boy, who developed a taste for lashing out at strangers as he grew older. Texas Governor Greg Abbott announced on Tuesday night that Ramos was shot and killed by authorities.
The attack was the deadliest school shooting since the massacre at Sandy Hook Elementary School, which took place in Newtown, Connecticut, in December 2012.
Newsweek reached out to the Texas Department of Public Safety for comment.