Uvalde Mom Who Saved Kids From School Shooting Says Police Threatened Her
A mother who ran into Robb Elementary School to rescue her two children during a mass shooting in Uvalde, Texas, last week says police threatened to violate her probation for speaking about the incident to reporters.
Angeli Gomez told CBS News on Thursday that she was forced to rush into the school after watching police fail to quickly respond to the deadly shooting. A total of 19 students and two teachers were killed when 18-year-old gunman Salvador Ramos entered the school and opened fire.
After speaking critically about the incident to media outlets, Gomez said an officer threatened to charge her for violating probation on an unrelated charge for "obstruction of justice." However, she added that she spoke to a local judge who assured her that she was "brave" and that she would not face legal repercussions for sharing her story.
Her account comes amid a flurry of similar reports from parents and relatives who said they were on-site during the devastating massacre and watched as police failed to intervene.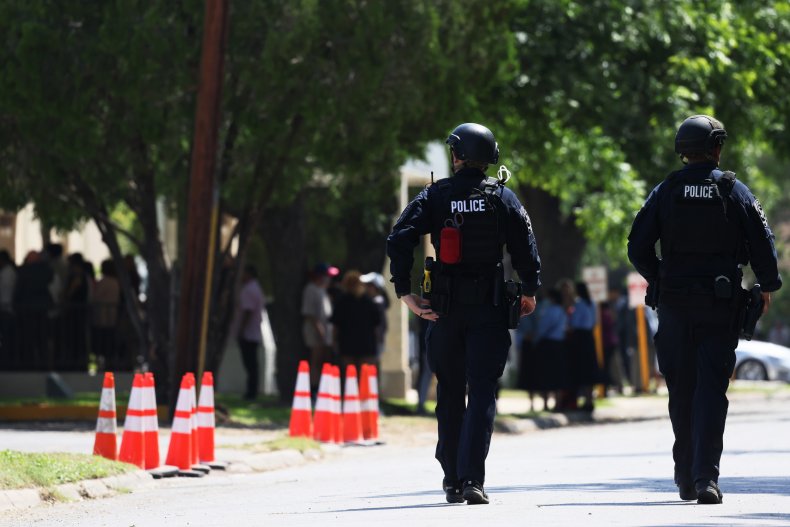 Gomez told the news organization that she arrived at the school while the shooting was still taking place and found that several armed officers were standing by outside. She said she begged and screamed for officers to go into the building to save her children, but the police seemed more concerned with containing parents than entering the school. One U.S. Marshal allegedly handcuffed Gomez, and told her that she would be arrested for being "uncooperative" at the scene.
"He said, 'Well, we're going to have to arrest you because you're being very uncooperative,'" she told the news outlet. "I said, well you're going to have to arrest me because I'm going in there. Y'all are standing with snipers and y'all are far away. If y'all don't go in there, I'm going in there."
Gomez said she was eventually un-cuffed and able to circumvent the police by climbing a fence and running inside the school. She quickly grabbed her two sons from their classrooms, and said that gunshots could be heard ringing throughout the building.
"You could hear the gunshots," she told the news outlet. "There was not one officer inside the school while I ran to my second son's class. There was not one officer," she added. "They could have saved many more lives. They could have gone into that classroom...they could have done something."
Police have so far faced significant backlash and public outrage for their response to the shooting. Officers have also offered several conflicting narratives of the events that happened before, during, and after the deadly attack, causing widespread confusion.
More than a week after the shooting, it has been revealed that a local police chief told nearly two dozen officers to stand down, under the assumption that the shooter had barricaded himself inside a classroom and that children were no longer under an active threat. That decision, however, allowed the gunman to carry out his deadly rampage within a concentrated area of the school for almost an hour.
"It was a wrong decision. Period. There was no excuse for that," Steven McCraw, the director of the Texas Department of Public Safety (TDPS) said during a controversial news conference last week. "There were plenty of officers to do what needed to be done."
The Department of Justice (DOJ) announced earlier this week that it will be launching an investigation into law enforcement's handling of the shooting.
"The goal of the review is to provide an independent account of law enforcement actions and responses that day, and to identify lessons learned and best practices to help first responders prepare for and respond to active shooter events," DOJ spokesman Anthony Coley said in a statement.