Uvalde Police Chief Who Made 'Wrong Call' on Shooting Joining City Council
A police chief, who has come under intense scrutiny for delaying officers' response to the elementary school shooting in Uvalde, Texas, which killed 21 people Tuesday, was recently elected to the local city council.
Peter Arredondo, chief of police for the Uvalde Consolidated Independent School District (UCISD), reportedly kept nearly two dozen officers from breaking into a Robb Elementary School classroom as a gunman opened fire for roughly an hour. A total of 19 children and two teachers were killed when 18-year-old Salvador Ramos entered the building and fired more than 100 rounds with an assault-style weapon.
Arredondo was elected to the Uvalde City Council just three weeks before the shooting, after running on a platform of communication and outreach, NBC News reported Friday. He earned nearly 70 percent of the vote.
However, new details of the attack revealed a muddled and insufficient police response, in which officers were discovered to have been on-site during the massacre, but failed to respond quickly.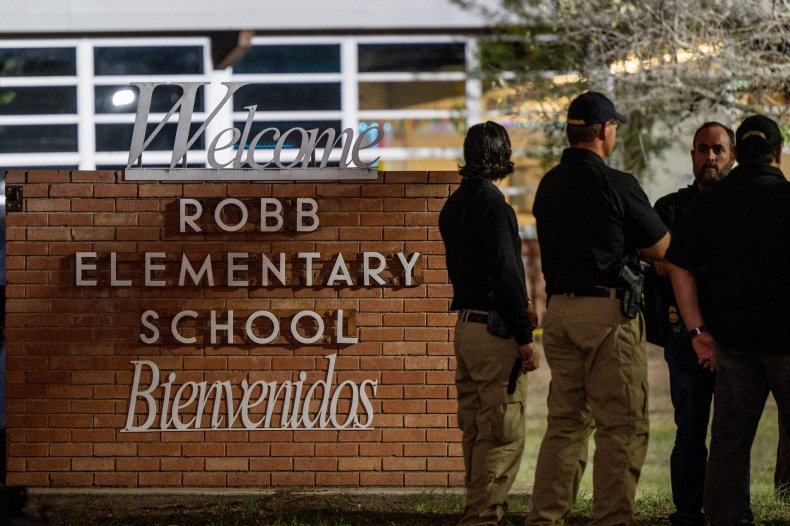 At least three police officers initially followed Ramos into the building within minutes, but failed to engage him. In the next half hour, as many as 19 officers piled into a school hallway, but were told by Arredondo to stand down, believing that the shooter had barricaded himself inside a classroom and that children were no longer under an active threat.
That decision, however, left Ramos free to carry out his attack within one fourth-grade classroom, Steven McCraw, the director of the Texas Department of Public Safety (TDPS), said during a contentious news conference Friday. Another 47 minutes passed before a Border Patrol tactical team breached the classroom door and shot and killed Ramos.
"It was a wrong decision. Period. There was no excuse for that," McCraw said. "There were plenty of officers to do what needed to be done, with one exception, is that the incident commander inside believed he needed more equipment and more officers to do a tactical breach at that time."
Students who survived the attack, and parents who were kept outside the school, have also reported feeling angry and betrayed by the police response. Police received multiple 911 calls from students, who were inside the school, urging them to "please send police now" and describing the carnage before them. In one instance, a fourth-grade student said police were even responsible for getting one of his classmates shot, after asking children to call out if they needed help.
"When the cops came, the cop said: 'Yell if you need help!' And one of the persons in my class said 'help,'" the student told local news outlets. "The guy overheard and he came in and shot her."
Parents, who arrived at the school while the shooting was taking place, also described scenes in which officers were seen standing around. Viral videos have since emerged showing police holding back family members while they begged and pleaded for them to do more. The response has since sparked national outrage, with people labeling officers as "cowards" for failing to protect vulnerable children and teachers.
Texas Governor Greg Abbott, who initially lauded the police response a day after the shooting took place, said Friday that he is "absolutely livid" after being "misled" by their actions. He added that he is seeking a full investigation into the day's events.
The Uvalde shooting came just days after two other deadly mass shootings devastated communities across the U.S., reigniting an emotional debate about gun control and safety within America.
Newsweek contacted TDPS and the Uvalde City Council for comment.