Uvalde Suspect Salvador Ramos Trans Claims—What We Do Know, What We Don't
From Newsweek's Fact Check team
In the wake of the mass tragedy at Uvalde, Texas, in which at least 19 children and two adults were killed in a school shooting, speculative and misleading narratives about the identity of the alleged shooter, Salvador Ramos, have spread quickly online.
Photos circulated on Twitter and other social media purporting that Ramos was both trans and an undocumented immigrant.
Media, political and social furor surrounding the issues of sexual and gender identity and immigration have undoubtedly helped fuel such claims quickly, only hours after the shooting took place and before any information could be verified or confirmed.
Based on the information available, Newsweek has looked into the substance and sources of these claims, as well as how they have proliferated on social media.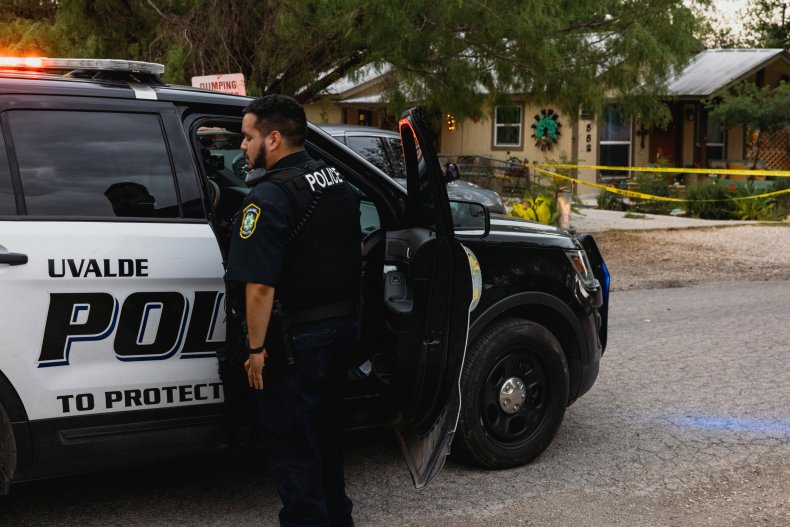 Transgender Claims
Hundreds of social media posts have speculated about the identity of Salvador Ramos, 18, some of which claimed he was transgender without reliable evidence.
Multiple tweets, many of which have since been deleted, included photos claimed to be of Ramos wearing feminine clothing; these narratives were subsequently picked up by conspiracy media, including InfoWars and some politicians including Rep. Paul Gosar (R-AZ), who later deleted the tweet.
However, it was quickly revealed that none of the photos were either of Ramos or verifiable as him.
Reddit user, Apprehensive_Ad_995, said one of the pictures attributed to Ramos was actually of themselves, stating: "it's not me, I don't even live in texas."
A catalog of Apprehensive_Ad_995's posts preceding the shooting can be found here, including one of the photos shared on social media.
The user responded to a Newsweek comment request, stating "While I'm annoyed that this happened to me and other trans people, right now I hope the families affected by the attack have enough support."
Other searches suggest some of the photos may have spread from a now private Twitter account, "animebuche". Searches for this account appear to show other tweets seemingly congratulating "animebuche" since their post was quoted on InfoWars.
Another user, anirbatS (whose account is also private) claimed that "animebuche" appropriated one of their photos as well.
The sources of the other photos have not been found, although some believe the pictures came from the online message board 4Chan, a website that has long been associated with misinformation.
The Washington Post claims to have spoken to former classmates of Ramos who told the paper he was bullied for having a stutter and a strong lisp. They also claim he posted a photo of himself wearing black eyeliner "which brought on a slew of comments using a derogatory term for a gay person."
However, the report does not state or even suggest Ramos was transgender— there is no verifiable evidence elsewhere to support this either.
The very fact that social media posts were made within hours of the shooting, some of which evidently used photos appropriated from elsewhere, demonstrates just how unreliable these "hot off the press" responses are, and how tragic events can be weaponized to fuel false narratives and hate speech.
'Illegal Immigrant' Claims
Similarly, others have been quick to suggest that Ramos may have been an undocumented immigrant.
This speculation may be derived from Uvalde's location, which is less than 70 miles from the Mexican border.
However there is no verified information to support the claim that Ramos was an undocumented immigrant.
In an interview with CNBC, Democratic State Senator Roland Gutierrez said that Ramos had moved to Uvalde from North Dakota, although he didn't know when that happened. He also did not explicitly state whether the suspect was born in North Dakota or was a U.S. citizen, as some Twitter users have claimed.
So far no direct evidence has emerged to confirm those claims.
Gutierrez nevertheless also confirmed that Ramos had bought the weapons to carry out the shooting from a "licensed brick and mortar facility here in Uvalde" on his 18th birthday, the first day he could do so legally.
Newsweek has contacted Gutierrez for comment.
Texas legislation allows people who are 18 years old or older to to legally purchase long guns, including shotguns and rifles.
While handguns can normally only be bought by people aged 21 or older, a 2021 amendment to the Texas Government Code allows people who are 18 years old to be eligible for a handgun license, if they meet all other requirements except the minimum age under federal law, and are under protective orders related to family violence.
However, the U.S. specifically bans the possession of guns by undocumented immigrants.
The fact that Ramos is said to have purchased the weapons legally, that undocumented immigrants are banned from possessing guns and that Ramos is said to be from from North Dakota, according to officials, all give a strong indication that he was not an undocumented immigrant, nor that he crossed the border from Mexico illegally.
The spread of misinformation and speculative claims is a common phenomenon accompanying previous mass shootings in the U.S.
Newsweek recently investigated misleading claims that followed the shooting in Buffalo, NY, earlier this month, which suggested the suspect Payton Gendron was ideologically linked to far-right elements of the Ukrainian national guard.
Correction, 5/26/22, 3:15 A.M. ET: A reference to a gun purchase made "illegally" was corrected to "legally".
Update 05/26/22, 4:16 a.m. ET: This article was updated with a comment from a Reddit user contacted by Newsweek.