Va. State Senator Who Pushed Trump to Declare Martial Law Charges Democrats With 'Treason'
After facing criticism from her gubernatorial opponent, Virginia State Senator Amanda Chase doubled down on her support for President Donald Trump declaring martial law because Democrats committed "treason" during the 2020 election.
Chase made headlines this week for publicly calling for Trump to invoke martial law so the military could hold a new election. Virginia Delegate Kirk Cox, who like Chase is vying for the Republican gubernatorial nomination, called it an "absurd and dangerous" suggestion, but it did little to temper Chase's support for overturning the election.
"Make no mistake. We are at war. The Democratic Party hijacked our 2020 Presidential Election and have committed treason," Chase wrote in a Facebook post late Wednesday night. "Where the hell are the Republicans? Did Dominion Voting Systems buy you out too? I hear nothing but crickets."
If legislators, courts and Congress don't "follow the Constitution," the Virginia state senator said Trump should invoke martial law to allow the military to oversee a new "free and fair federal election."
Lawsuits from the Trump campaign and outside parties attempting to overturn the election have yet to yield any significant results and on Monday, the Electoral College affirmed President-elect Joe Biden's victory. Leading up to that point, many Republicans were hesitant to publicly back Biden as the winner of the election, but Monday was a turning point with Senator Mitch McConnell addressing Trump's loss for the first time.
"Many of us hoped that the presidential election would yield a different result, but our system of government has processes to determine who will be sworn in on January 20. The Electoral College has spoken," McConnell said in a floor speech. "So today, I want to congratulate President-elect Joe Biden."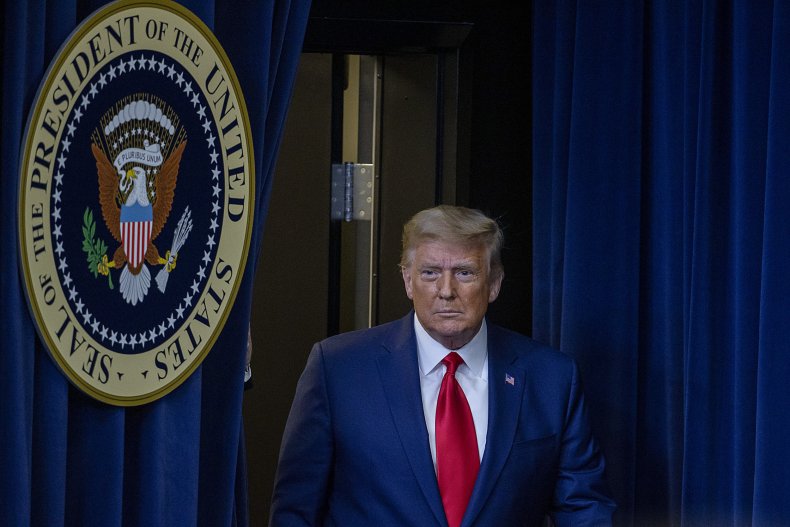 Trump criticized McConnell for giving up "too soon," and said the Republican Party "must finally learn to fight." The president has shown no signs of being ready to concede and a few Republican representatives are gearing up to challenge the results on January 6, when Vice President Mike Pence is scheduled to oversee the official counting of the electoral votes.
Overturning the election by objecting the results on January 6 is a long shot because it would require the Democrat-controlled House to vote in favor of disqualifying the results. A long shot at best, experts say the other option of overturning the results by way of martial law isn't really an option.
"Apart from the fact that state and now federal investigators have found no evidence of election fraud that would change the election outcome, martial law has no place in the United States absent a complete breakdown of civil governing mechanisms," Bill Banks, a Syracuse University professor with expertise in constitutional and national security law, told the Military Times.
Generally, martial law indicates that the military is in charge instead of a civilian government, and it's rarely been invoked. A dramatic shift from America's normal practices, Virginia Lieutenant Governor Bill Bolling, a Republican, called Chase's initial call for Trump to invoke martial law the "most irresponsible thing I can imagine." Bolling suspected it was a tactic to turn out the "most extreme voices of the Republican Party" at the nominating convention.
"Hopefully, there will be enough clear thinking Republicans to show Ms. Chase that her kind of politics is not welcome in Virginia or in the Republican Party," Bolling said.
Chase's opinion puts her in the minority but she's not alone in her support of Trump using martial law to run a new election. Lieutenant General Michael Flynn, Trump's former national security adviser, endorsed the method.