A St. Louis woman's newborn baby arrived with a pleasant surprise in tow: COVID-19 antibodies. Doctors attribute this to the mother, Katelyn Huber, having gotten vaccinated against the virus while pregnant.
Huber has shared her story in collaboration with Mercy Clinic Women's Health in Washington, Missouri, in hopes of spreading the word to other expecting mothers. She explained that she was looking for a way to protect her unborn child, and now it seems that vaccines are a "two-for-one" solution for mothers and babies.
"I hope that seeing Nora and seeing how happy and healthy she is giving them a little bit of peace of mind to make that decision," Huber said.
"Pregnant women who are getting the vaccine not only are protected themselves, but it has been shown that that antibody that's produced crosses over and is with the baby," Dr. Gregory Potts, an OB/GYN at Mercy Clinic, explained. "We find it in the cord blood, we find it in babies, so we're kinda getting a two-for-one here. We're getting protection for mom and at least some temporary protection for baby."
As Potts alludes to, it is unclear how long these antibodies will remain present in newborns and how long they will offer any protections. Vaccines remain the most effective and long-lasting way for humans to get protection from COVID-19. However, since no vaccine has emergency authorization for use in patients younger than 12, pregnant women getting vaccinated is one of the only ways to get protection for newborns.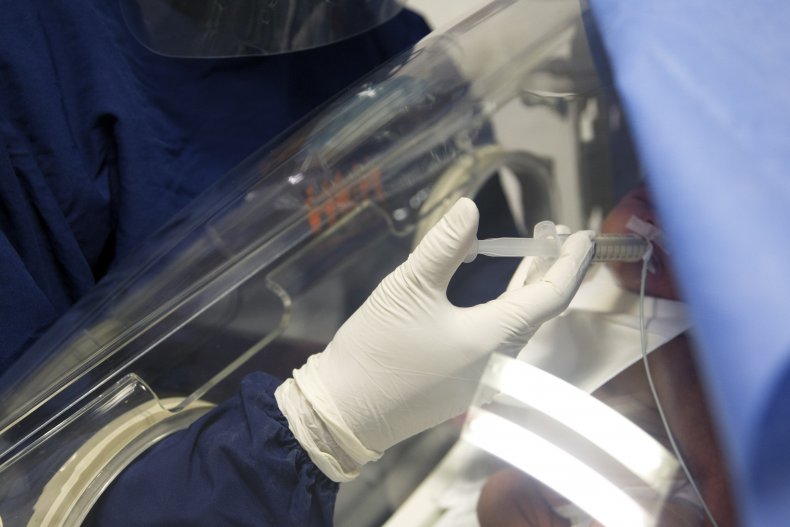 Missouri has been among the states that have struggled recently with vaccination and the resurgence of COVID-19 primarily caused by the Delta variant. According to the CDC, the state has seen over 20,000 new cases in the last week, or about 329 cases per 100,000 residents. This puts it in the CDC's most severe category for recent cases-per-capita, alongside Florida, Alabama, Mississippi, Louisiana and Arkansas.
Huber is not the only mother to have given birth to a baby with COVID-19 antibodies. Actress Emmy Rossum, best known for her role on the Showtime series, Shameless, revealed in July her then-2-month-old daughter had been born with antibodies present, thanks to her getting vaccinated while pregnant.
"When I was pregnant I got vaccinated," Rossum wrote in an Instagram post. "Not only did we have a healthy, beautiful baby girl but we also just learned our daughter now has antibodies... In short, stop being an irresponsible idiot and get the vaccine."