Horrifying Video Inside Arkansas ICU Shows Unvaccinated COVID Patients on Ventilators
A hospital in Arkansas has released footage of the current state of its Intensive Care Unit as the number of people getting hospitalized in the state with COVID-19 hits record-breaking figures.
The Mercy Hospital Northwest Arkansas posted a clip on Facebook showing two fathers from "very different walks of life" who are both receiving treatments at the ICU. Neither man is vaccinated.
In the footage, the hospital's chief medical officer Dr. Sonal Bhakta shows the intubated men receiving treatment after contracting COVID as the Delta variant continues to spread through the state and the entire country.
The video urging people to get the vaccine was released as Arkansas recorded its largest single-day increase in COVID-19 since the pandemic began, jumping by 103 on Monday to 1,376.
"I wanted to show you what our COVID unit looks like, including some of our patients," Dr. Bhakta said in the clip.
One of the men seen in the clip suffering severe symptoms from COVID is a 51-year-old law enforcement officer.
"Unfortunately he is very critically ill at this time," Bhakta said. "[His wife] understands the severity. She herself has gotten the first dose of the vaccine and will be getting her second very soon."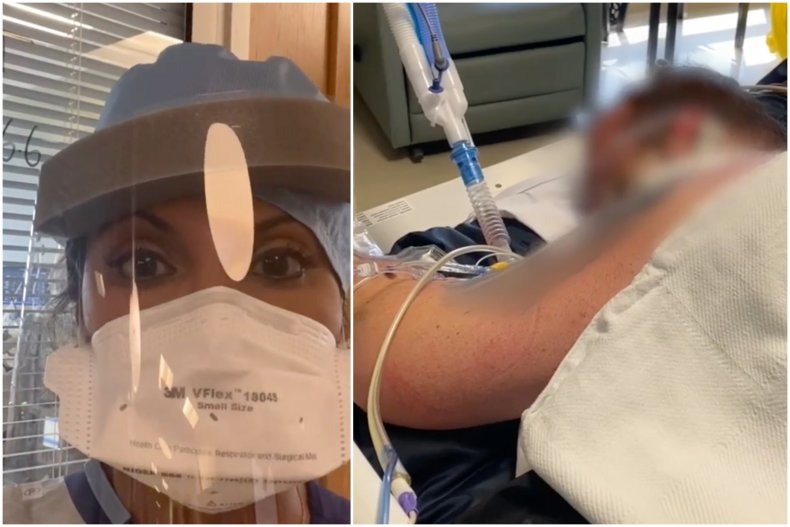 The second patient is a 40-year-old father to an 11-year-old girl. He is also in a critically ill condition.
He is described as a founder and president of a non-profit organization who "genuinely loves helping people'' and spending time with his family and friends.
"He married his childhood sweetheart, and their anniversary is today," Bhakta said.
Hospitals across the country have been urging people to get their vaccine as their ICU units are currently at breaking point due to the influx of new patients infected by the Delta variant, including children.
On Monday, the Arkansas Department of Health revealed that there are currently only eight ICU beds available in the state, with 286 patients currently on ventilators.
"Today's report shows some very startling numbers," Arkansas Governor Asa Hutchinson tweeted. "We saw the largest single-day increase in hospitalizations and have eclipsed our previous high of COVID hospitalizations.
"Vaccinations reduce hospitalizations," he added.
Elsewhere, Hutchinson said that he regrets signing a ban on mask mandates in schools as he asked the state legislature to reverse the decision amid the rise in cases.
"Well, facts change and leaders have to adjust to the new facts that you have and the reality of what you have to deal with," Hutchinson told CBS' Face the Nationon Sunday.
"Whenever I signed that law cases were low. We were hoping that the whole thing was gone in terms of the virus, but it roared back with the Delta variant," he added.
"We're pushing the vaccines out, but those under 12 cannot get vaccinated in the schools. I realized that we needed to have more options for our local school districts to protect those children.
"It was an error to sign that law. I admit that," Hutchinson said. "Thank goodness if the legislature did not act this week, which they didn't, the court stepped in and held that as unconstitutional.
"Now we have that local flexibility for schools to make their decision to protect the children based upon the unique circumstances of their district."