The U.S. Senate's vote to nix President Joe Biden's vaccine mandate for larger businesses highlights how measures aimed at curbing the spread of the coronavirus continue to divide the country.
Democratic Senators Jon Tester (D-MT) and Joe Manchin (D-WV) voted with Republicans to rescind the requirement using the Congressional Review Act (CRA), to try to roll back a key Biden policy that's seeking to bring the COVID pandemic under control.
Published under the Occupational Safety and Health Administration (OSHA), Biden's rule ordered businesses with at least 100 employees to require their workers get vaccinated or undergo regular testing by January 4.
Since Biden announced the measures in September, many Republicans have accused his administration of federal government overreach that violates civil liberties.
Republicans are hailing Wednesday's 52-48 vote as a victory, although it is considered to be a largely symbolic move and unlikely to become law. However, it comes on the heels of a string of setbacks for the Biden administration's push to curb the pandemic.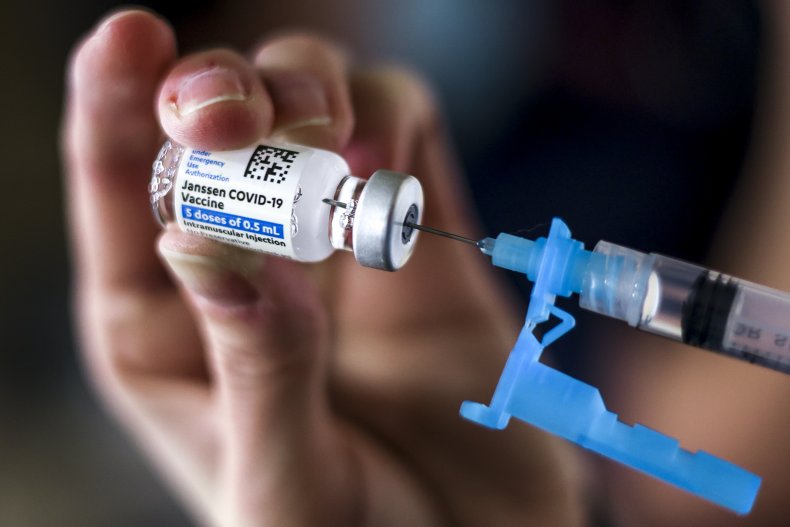 What Are the Legal Roadblocks to Vaccine Mandates?
Courts have put on hold all three of Biden's broad vaccine mandates, which in addition to applying to firms with more than 100 staff, include orders covering federal contractors and health-care workers.
On Tuesday, U.S. District Court Judge R. Stan Baker, in Augusta, Georgia, temporarily stopped the Biden administration from enforcing the mandate for federal contractors.
The ruling came in response to a lawsuit from several contractors and seven states—Alabama, Georgia, Idaho, Kansas, South Carolina, Utah and West Virginia.
It followed a week after a federal judge in Kentucky halted a mandate that applied only to contractors in Kentucky, Ohio and Tennessee.
Last month, a federal judge issued a preliminary injunction to halt the start of a national vaccine mandate for health-care workers.
Judge Terry A. Doughty said in the ruling that mandating a vaccine for 10.3 million health-care workers across the U.S. to have got their first shot by December 6 and to be fully vaccinated by January 4 "is something that should be done by Congress, not a government agency."
Meanwhile, also last month, three Republican-appointed judges on the U.S. Court of Appeals for the Fifth Circuit in New Orleans blocked the mandate that employees of large companies must be vaccinated or get tested weekly.
Where Are There State Worker Mandates?
As of December 9, vaccine mandates for state workers applied to 19 states and were banned in 10, according to the U.S. National Academy for State Health Policy (NASHP), which provides information on COVID mandates across the country.
State worker vaccine mandates apply in Washington, Oregon, California, Nevada, Colorado, New Mexico, Minnesota, Wisconsin, Illinois, North Carolina, Virginia, Maryland, New Jersey, Connecticut, Maine, New York and Vermont, Virginia, and Washington, DC.
However, the 10 states where such mandates are banned are: Montana, North Dakota, Utah, Texas, Arkansas, Tennessee, Indiana, Michigan, Georgia and South Carolina.
Among the highest profile mandate holdouts was Texas Governor Greg Abbott. He issued an order on October 11 banning all entities, including private businesses, from requiring vaccinations for employees or customers.
Where Are There Private Worker Mandates?
Only two states have banned private employer mandates—Montana and Tennessee—as of December 9, according to the NASHP.
Montana Governor Gov. Greg Gianforte signed HB 702, which "prohibits discrimination based on an individual's vaccination status," according to a statement.
"No employer in our state should use President Biden's OSHA rule...as a basis for imposing illegal vaccination requirements on employees," he said on November 16.
Meanwhile, on November 12, Tennessee Governor Bill Lee signed SB 9014, which prohibits a private business from compelling workers to provide proof of vaccination.
There are another nine states where vaccine mandates for private workers aren't banned although there are exemptions, typically based on grounds of religious belief, personal conscience or medical reasons.
These are North Dakota, Utah, Iowa, Kansas, Texas, Arkansas, Alabama, Florida and West Virginia.
Where Are There Health Worker Mandates?
With the aim of containing outbreaks in medical settings such as nursing homes, there are 23 states that have imposed their own vaccine mandates for health care workers.
These are; Washington, Oregon, California, Nevada, Colorado, New Mexico, Illinois, Minnesota, Kentucky, North Carolina, Virginia, Maryland, Pennsylvania, New York, Maine, Massachusetts, Connecticut, New Jersey, Vermont, Delaware, Rhode Island, Hawaii and Washington, DC.
Meanwhile, health worker mandates are banned in Montana, Texas, Arkansas, Tennessee, Indiana and Georgia.
There are also five states where although there are vaccine mandate bans, there are exemptions for health care institutions. These are Utah, Arizona, North Dakota and Michigan.
Where Are There School Faculty and Staff Mandates?
The debate over COVID vaccinations was ramped up after the Food and Drug Administration (FDA) authorized the emergency use of the jab for children aged five to 11.
California said it would be the first state to require the jab for elementary school pupils after it received full FDA approval. However, the debate over vaccine mandates on college campuses has been raging amid a number of lawsuits.
As well as California, school faculty and staff face vaccine mandates in 10 other states. They are Washington, Oregon, New Mexico, Illinois, New York, Connecticut, New Jersey, Hawaii and Washington, DC.
School vaccine mandates are banned in Montana, Utah, Texas, Arkansas, Tennessee, Georgia, Indiana and Michigan.
Where Are Vaccine Passports Required?
New York, California and Hawaii are the only three states that have introduced a vaccine passport program, which certifies an individual's vaccination status.
New York's Excelsior Pass allowed people to prove their vaccination status, or a recent negative COVID-19 test, to enter events and businesses.
However, some 21 states have so far banned vaccine passports. These are Idaho, Montana, Wyoming, Utah, Arizona, Texas, Oklahoma, Kansas, Iowa, Missouri, Arkansas, Alabama, Georgia, South Carolina, Florida, Michigan, Tennessee, Indiana, Alaska, Arizona, North Dakota and South Dakota.