Vaccine Mandates Were on the Ballot in California—and They Scored a Huge Victory
California Governor Gavin Newsom's victory in Tuesday's recall election is a major win for the embattled Democrat and may also be viewed as a victory for COVID-19 vaccine mandates in the state and elsewhere.
The effort to remove Newsom from the state's top job was prompted in large part by dissatisfaction with his response to the COVID-19 pandemic, including the imposition of a mask mandate and a stay-at-home order.
California also introduced first-in-the-nation vaccine requirements for state employees, healthcare workers, teachers and other school staff over the past two months - mandates that all the Republican replacement candidates said they would reverse.
All healthcare workers in the state must be vaccinated against COVID-19 by September 30 and there is no opt-out for those who agree to be tested regularly.
The requirements for state employees and school staff are less stringent. They must show proof of vaccination or be tested on a weekly basis.
Now that Newsom has survived the recall, as a slew of polling predicted before Tuesday's vote, those requirements will remain in place despite opposition from critics.
If the results can be interpreted as an endorsement of vaccine mandates, that could also be good news for President Joe Biden, who campaigned for Newsom in Long Beach, California on Monday.
Though the president was met with protesters who opposed his newly introduced vaccine requirements during his trip, the results from the recall election may buoy up the White House as the administration faces Republican criticism of the move.
Biden issued two executive orders last week requiring federal employees and contractors to be vaccinated against COVID-19 or get tested on a weekly basis. He also asked the Department of Labor to issue an emergency for businesses with more than 100 employees to ensure their workers are either vaccinated or tested weekly.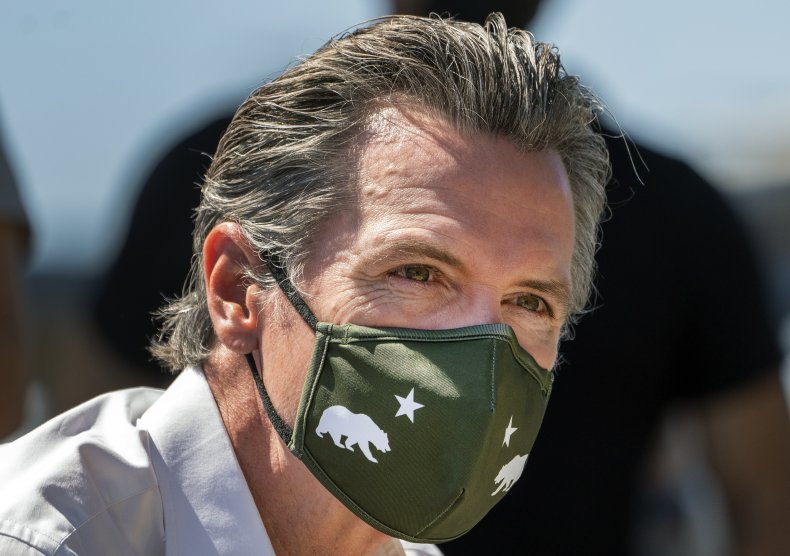 Mark Shanahan is an associate professor at the Department of Politics and International Relations at Reading University and co-editor of The Trump Presidency: From Campaign Trail to World Stage. He told Newsweek the recall could be viewed as a referendum on vaccines mandates.
"Increasingly, as this race came to its conclusion, Newsom, and his leading replacement challenger, the Trumpist Republican Larry Elder made it a referendum on mask and vaccine mandates," Shanahan said.
"Elder played to the rugged individualism of GOP voters, focusing heavily on individual rights and a belief in personal responsibility to build back California. However, 68.1 percent of the state's population are now fully vaccinated with millions more having had a first shot.
"These Californians fell more easily into the Newsom camp, getting behind the governor's message that vaccine mandates for health and education workers, for instance, are the only way out of the pandemic. Newsom is certainly not universally liked, even among Democrats, but was simply seen as the safer pair of hands to manage the COVID response - as one of his final TV ads stated: 'fighting the pandemic based on science, compassion and common sense,'" he said.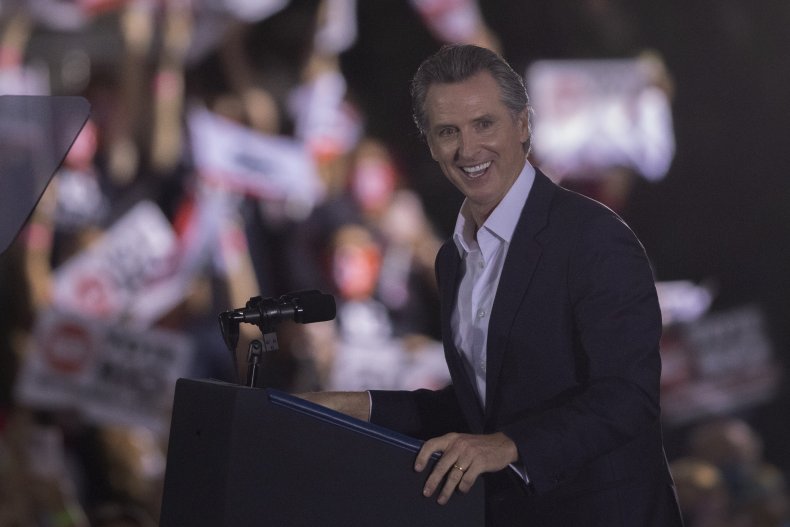 Thomas Gift, founding director of University College London's Centre on U.S. Politics, told Newsweek that Newsom's victory involved other factors and not just vaccine mandates.
"It's unsurprising that observers are interpreting Newsom's victory as a simultaneous win for vaccine mandates. That may indeed have some truth to it. But it's important to remember that the recall election was also about a broader set of policy issues that extend beyond COVID," Gift said.
"Additionally, it's hard to extrapolate too much from public opinion in California on vaccine mandates to the rest of the country. What plays well in Los Angeles or San Francisco doesn't necessarily resonate in Peoria - in fact, it hardly ever does," he said.
Newsom's victory this week means California's vaccine requirements will remain in place and though voters may have had a variety of issues in mind, COVID-19 mandates don't appear to have cost the governor the support of a broadly Democrat-supporting electorate.
If California's results are any indication of Democrats' views nationwide, that will be welcome news for the Biden administration amid vaccination efforts.