Vaccine Refusal Prompts More Than 100 Employees to Quit at Major Indiana Hospital System
Some employees at Indiana University (IU) Health quit their jobs over the COVID vaccine mandate as cases continue to surge amid the highly transmissible Delta variant.
On Thursday, a spokesperson for the nonprofit health care organization told Newsweek that 125 employees resigned from their jobs after refusing to take the COVID vaccine. There are 35,800 employees working for the hospital system.
"Most of the employees who chose not to be vaccinated worked part time, less than part time or have not worked for a number of months and will have a minimal effect on staffing. IU Health has been working for several months to hire for positions in areas where team members have shown non-compliance," the spokesperson said.
According to the spokesperson, Indiana University Health required employees to be fully vaccinated against COVID-19 by September 1.
IU Health said that employees who didn't comply with the September 1 deadline were placed on a two-week unpaid suspension period ending September 14 with the 125 employees resigning afterward, according to the spokesperson.
"A total of 125 employees, the equivalent of 61 full time employees, chose not to receive the COVID-19 vaccine and have left the organization," the spokesperson added.
The spokesperson did not confirm if the employees who were suspended will affect staffing at IU Health. However, another spokesperson for IU told Newsweek that IU Health faces staffing shortages like other hospitals, but its hospital and outpatient units are currently staffed and operational.
"We continue to aggressively recruit and are confident we can safely manage the volume of patients who need our care," the spokesperson said. "IU Health has been working for several months to hire for positions in areas where team members have shown non-compliance."
She also added that most employees who chose not tor receive the COVID vaccine worked in nonclinical positions.
According to the spokesperson, 100 percent of team members system-wide were compliant with the vaccine mandate as of Friday.
On September 9, President Joe Biden announced COVID vaccine requirements for all healthcare workers and places with over 100 employees among others in an effort to curb the spread of the virus.
During his speech at the time, Biden said that he is expanding vaccination requirements to "cover those who work in hospitals, home health care facilities, or other medical facilities—a total of 17 million health care workers."
"If you're seeking care at a health facility, you should be able to know that the people treating you are vaccinated. Simple. Straightforward. Period." he added.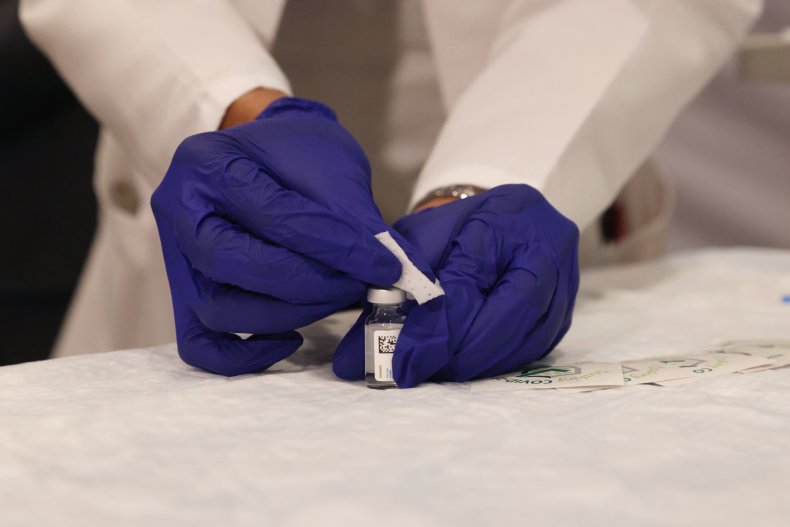 The president previously announced that workers at nursing facilities, who are treating patients on Medicaid and Medicare, are required to get vaccinated against COVID.
Around 80 million U.S. citizens haven't received a single dose of the COVID vaccine, according to the Biden administration, despite the vaccines being free and available for anyone above the age of 12.
Following Biden's announcement of COVID vaccine and testing requirements, a number of Republicans said that they plan to take legal action against the president.
Update: 12:07 p.m. 9/17/2021: The story was updated to include comments from another spokesperson for Indiana University Health.