Val Demings Chances of Beating Marco Rubio, According to Polls
Congresswoman Val Demings won Florida's Democratic primary in her Senate bid Tuesday night, and Democrats hope she can help the party rebound in a state that has trended Republican.
Demings, a former Orlando police chief, is set to face Florida Republican Senator Marco Rubio, who has held on to his U.S. Senate seat since 2011.
Some recent polls indicated the race may be closer than expected as Republicans deal with political fallout from the overturn of Roe v. Wade and Democratic candidates rising in polls nationwide.
Rubio remains the favorite to win reelection, but his lead continues to narrow, according to polls.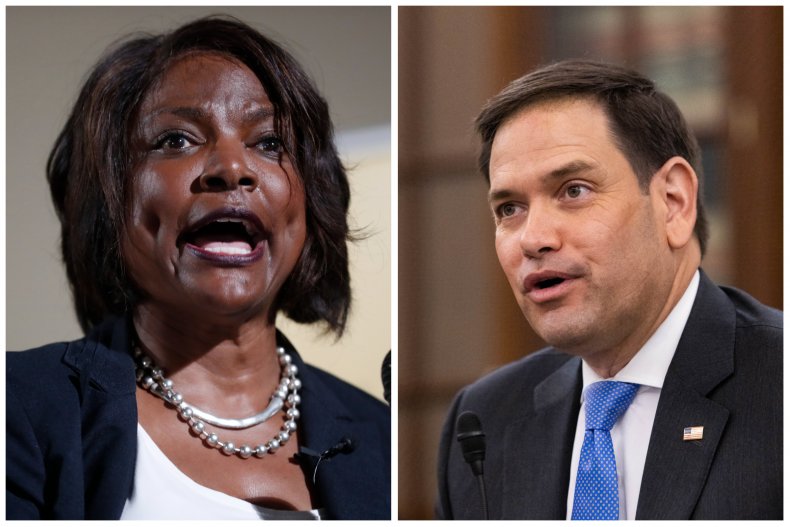 The latest polling of the race showed Rubio with a double-digit lead against Demings. A poll of likely voters conducted by Center Street PAC from August 12 to 14 has Rubio securing 52 percent of support, while Demings earned 41 percent backing.
But other recent polls showed the contest between Rubio and Demings as being much closer.
An August 8 to 12 poll by the University of North Florida found Demings holding a lead of four points against Rubio. She garnered 48 percent of support from poll respondents, while 44 percent said they would back Rubio. Another 7 percent said they'd vote for someone else, and 2 percent said they weren't sure who they'd support.
Meanwhile, another Democratic-leaning survey, conducted by Change Research and sponsored by EMILY's List from August 2 to 5, found the race was tied—with both candidates receiving the support of 46 percent of respondents among likely voters.
Even as Rubio maintains an advantage in other recent surveys, his lead has shrunk from polls conducted in the winter and early spring—several of which showed him leading Demings by 20 points or more, according to an aggregate of polling from FiveThirtyEight.
Demings has also out-fundraised Rubio throughout the campaign. She has raised $47,857,271 compared to Rubio's $36,748,816—according to the latest Federal Election Commission data as of Tuesday—allowing her to spend more money on campaigning and television ads.
Democrats hope Demings will bolster their odds of expanding their majority in the Senate, despite a national environment perceived to be slightly more favorable to Republicans
Still, the contest in Florida isn't likely to be the Democrats' top focus in November. Polling points to Senate races in Pennsylvania, Wisconsin, Ohio and North Carolina as being the Democrats' stronger pickup opportunities as the GOP deals with potentially polarizing candidates in some swing states.
Rubio, who won reelection in the Florida Senate race by almost eight percentage points in 2016, has enjoyed some crossover support in the past in a state long considered one of the closest battlegrounds in the U.S.
Newsweek reached out to Demings' and Rubio's campaign representatives for comment.
This article has been updated to reflect Val Demings won the Democratic primary.