Who is Valery Gerasimov? Top Putin General Surveying Ukraine Front Lines
A top Russian general reportedly visited the frontline of Russia's war in Ukraine last week in an effort to help work out issues in the Russian troops' offensive.
The New York Times reported Sunday that General Valery Gerasimov, ​​Russia's chief of the General Staff of the Armed Forces, made the visit in eastern Ukraine, citing a senior Ukrainian official and two unnamed U.S. officials with knowledge of the visit. One of the two U.S. officials said that their "working assumption is that he was there because there's a recognition they haven't worked out all their problems yet."
Gerasimov's reported visit came as Russian troops are allegedly suffering from low morale and heavy losses — though counts have varied — more than two months into the war. Last month, Russia initiated a new phase of the war by shifting focus to the eastern Ukrainian region of Donbas, but the U.S. has recently said that their progress in the area has not been extensive.
"We continue to see minimal, at best, progress by the Russians in the Donbas," a senior Defense Department official said Monday. "They are not making the progress that they had scheduled to make and that progress is uneven and incremental."
The official added that the Pentagon has assessed that Russian forces appear to have a risk and casualty aversion.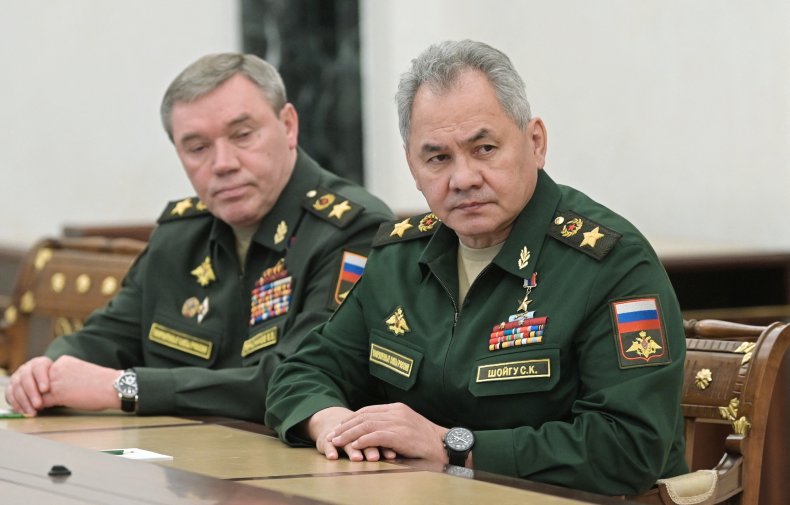 Newsweek was not permitted to access a page for Gerasimov on the website for Russia's Defense Ministry, but a preview of the page and other reports indicate that he was appointed to the position in 2012, which means that he has been serving as Russia's highest ranking uniformed officer for about a decade.
He was a veteran commander from the Second Chechen War and previously served as deputy for Nikolai Makarov, the man he replaced in the position, the BBC reported. Defense Minister Sergei Shoigu described him around the time of his appointment by Putin as "a military man to the roots of his hair."
He is one of three people, alongside Russian President Vladimir Putin and Shoigu, who had top roles in determining the course of the war, the Times reported.
His visit to Ukraine reportedly lasted several days and included a stop at School No. 12 in the Russian-held city of Izium, which Ukrainian forces attacked Saturday night. The Ukrainian official who spoke to the Times said that about 200 soldiers and at least one general were killed, but Gerasimov was already gone by that time.
The official also told the Times that the decision to attack the base was not due to Gerasimov's visit, but because of the base's importance for operations.
Gerasimov's visit to survey the frontlines was not the only time he made headlines in recent days.
Amid previously unconfirmed reports of his visit, some rumors circulated that Gerasimov was wounded while surveying the frontlines. An unnamed senior U.S. official who spoke on condition of anonymity told reporters Monday that his presence in Donbas was confirmed, but they weren't able to verify that he was wounded, Reuters reported.
Newsweek reached out to Russia's Foreign Ministry and Defense Ministry for comment.
Update 5/4/22, 2:50 p.m. ET: This story was updated with additional information and background.