Vanessa Bryant Hits Back at Demand for Psychiatric Exam Over Kobe Crash
Kobe Bryant's widow Vanessa Bryant has hit back at a demand to take a psychiatric exam amid a lawsuit over leaked photos of the helicopter crash that killed the NBA legend.
Kobe Bryant, his 13-year-old daughter Gianna, and seven others were killed when the helicopter they were flying in crashed just outside Calabasas, California, on January 26 last year.
In a civil lawsuit against Los Angeles County, Vanessa Bryant argued that Los Angeles deputies who responded to the crash scene "used personal cell phones to take and share gratuitous photos of the dead children, parents and coaches."
It added: "Making matters worse, Sheriff's Department personnel showed off the photos of the victims' remains to colleagues in settings that had nothing to do with investigating the crash."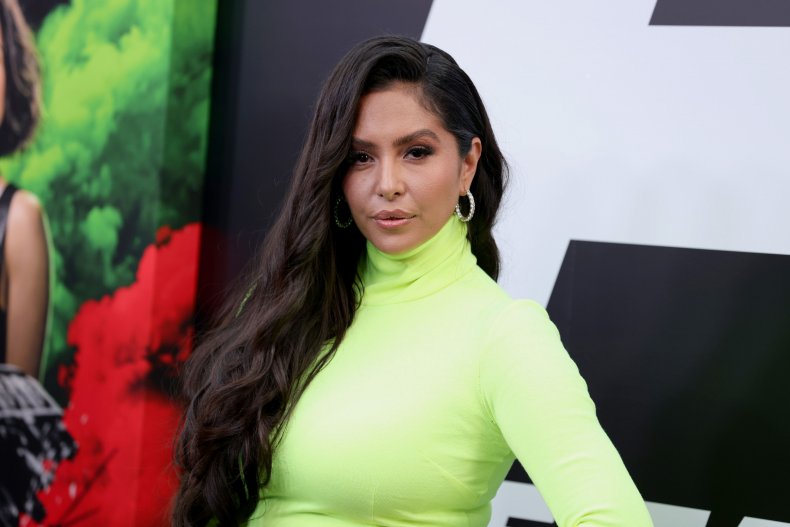 The lawsuit is seeking undisclosed damages, claiming civil rights violations, negligence, emotional distress and violation of privacy.
Los Angeles County officials argued in a motion on Friday that independent medical examinations are necessary to determine if the emotional distress suffered by Bryant and others were caused by the leak of the photos or the helicopter crash itself, CNN reported.
In Friday's filing, the county argued that "severe emotional and mental injuries were not caused by any conduct of Defendants, but rather by the tragic helicopter crash and resulting deaths of their loved ones."
It adds that plaintiffs "cannot be suffering distress from accident site photos that they have never seen and that were never publicly disseminated."
Attorneys for Vanessa Bryant argued against the exams, saying the county should use "less intrusive means."
"It does not take an expert—and it certainly does not take an involuntary eight-hour psychiatric examination—for a jury to assess the nature and extent of the emotional distress caused by Defendants' misconduct," the attorneys said, according to the CNN report.
The plaintiffs' distress "are the feelings that any reasonable person would experience if the public officials entrusted to protect the dignity of their deceased family members snapped graphic photos of their loved ones' remains, used the photos for cocktail-hour entertainment, and failed to contain and secure the photos."
A hearing on the matter is reportedly scheduled for November 5 and a trial is expected to begin in February next year.
Earlier this year, Vanessa Bryant and the relatives of the other crash victims reached a confidential settlement agreement in a wrongful death lawsuit against the estate of the pilot and the company that owned and operated the helicopter that crashed.
Attorneys for Vanessa Bryant and Los Angeles County have been contacted for comment.