Snake Catcher Vava Suresh Was Treated with 65 Bottles of Antivenom after Cobra Bite
A famous snake catcher in India was treated with 65 bottles of antivenom after a cobra bite nearly killed him.
Vava Suresh had been rescuing the cobra in the Kottayam district of Kerala on the evening of January 31 when, in a quick movement, it bit him above the knee. Suresh suffered a cardiac arrest while being rushed to the Kottayam district hospital.
Suresh was in the intensive care unit for a week. Local news outlet Onmanorama reported that those bitten by cobras are usually given 25 bottles of antivenom; however, the medical board decided to inject 65 after no progress was made in Suresh's health.
On February 4, Suresh was taken off a ventilator and began breathing on his own. He was discharged on February 7, having no health issues except for a mild fever.
Cobras are highly venomous snakes native to India, southern China, and Southeast Asia. Their venom is not the most potent among snakes but a single bite contains enough poison to kill 20 people.
Snakes are a huge public health problem in India. In 2020, it was estimated that 1.2 million people in the country died as a result of snake bite between 2000 to 2019.
Suresh is a well-known wildlife conservationist and snake expert in India. He made his name by saving snakes that have strayed into human-inhabited areas in Kerala.
The cobra bite could have proven fatal for Suresh. He has previously suffered 250 venomous snake bites, which made his treatment complex.
Doctors have previously warned Suresh that snake antivenom may have little impact on him due to the number of bites he has suffered. Local newspaper Deshbhimani reported that a team of experts had been overseeing his medical care.
While he was still in hospital, Suresh told Onmanorama that he gradually lost his eyesight after the incident. "At that point of time, I was scared that I would never come back to life again," he said.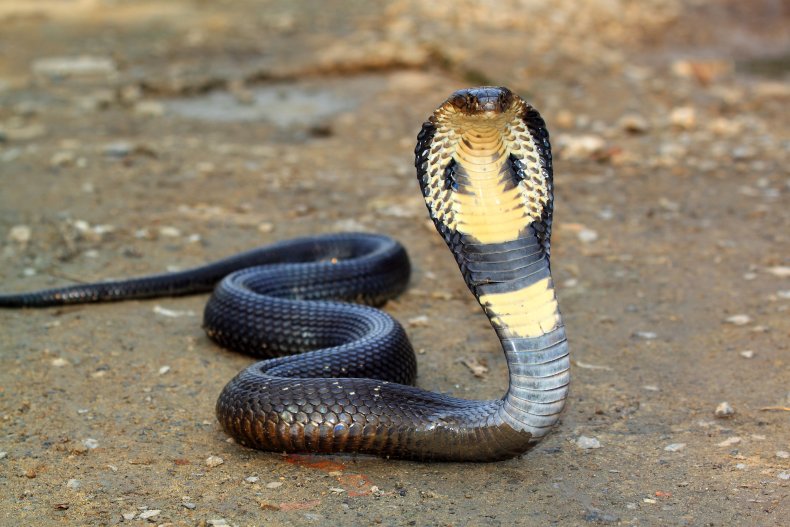 A cell phone video taken by a villager captured the moment Suresh was bitten. It can be seen here.
The footage shows him holding the cobra by the tail. As Suresh attempts to put it into a bag, the snake then lunges at him and bites him above the knee. The onlookers scream in fright. Suresh drops the snake and it begins to slither away, further scaring the crowd.
However, villagers said that Suresh then managed to place the snake inside the bag before locals rushed him to the hospital. He fell unconscious shortly after capturing the snake.
Suresh has previously lost a finger to a cobra bite. Another snake bite has also caused him to loose the movement in his right wrist.