Venezuela Crisis: Protesters' 'Poop Bombs' Are 'Biochemical Weapon,' Government Says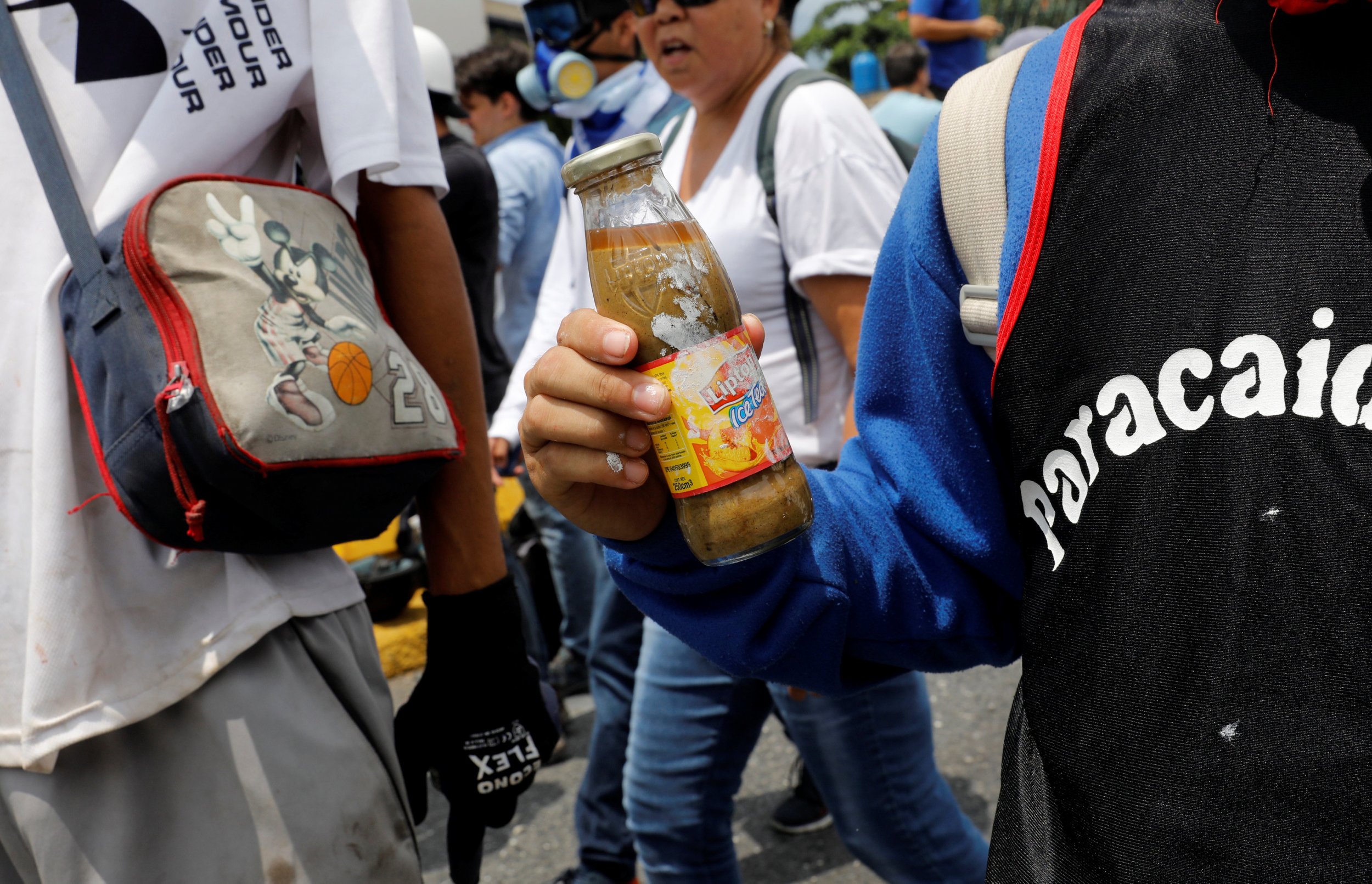 With an economic crisis that has gripped the country, leaving basic food and medicine in short supply and the infant mortality rate soaring, the situation in Venezuela has been far from pleasant for some time. But this week, things have taken a decidedly ugly turn.
Related: Venezuela's Opposition Takes to the Streets over Maduro 'power Grab'
As part of an ongoing campaign against the government of President Nicolas Maduro, protesters held a "La Marcha de la Mierda," or "Shit March," Wednesday. And it lived up to its name. Deploying a novel weapon, they launched plastic bottles filled with human feces and water. They were quickly dubbed "poop bombs" or even "poopootov cocktails" for their likeness to the more deadly, but perhaps more palatable, Molotov cocktail.
Now, however, Venezuela's government has hit back. The bombs, it says, represent a biochemical weapon and there will be serious punishments for using them.
"It is a biological weapon," Inspector General of courts Marielys Valdez told state television Wednesday, Telesur reported. "The use of biochemical weapons is a crime, it is completely typified, and it carries high penalties."
The first use of the excrement bombs came this past weekend in the city of Los Teques, just outside the capital Caracas, when demonstrators launched them at National Guard officers. Reports claim that the weapons reduced the militarized officers to vomiting. The deployment was quickly followed by users sharing "recipes" for the bombs online, according to Spanish publication El País.
The message "they have gas, we have excrement" quickly caught on and by Monday the use of the bombs had spread to several cities across the country, including the capital.
At least 37 people are reported to have died in the recent unrest, with more than 700 injured, some from the effects of tear gas. The government, however, has claimed that the protestors are mercenaries paid by the right-wing opposition and that the deaths were as a result of shots from homemade weapons.
The latest wave of demonstrations began in March after the pro-government Supreme Court attempted to seize powers away from the opposition-controlled legislature. Just days later the court revised the decision, but the protests have continued.
Pressure on Maduro has mounted since the country's economy imploded following a rapid decline in oil prices in 2014. This week, the country's congress declared that inflation for the first four months of this year stood at 92.8 percent. Also in recent days, the health ministry released data that showed that infant mortality rose 30 percent last year, while maternal mortality increased by 65 percent.