Venezuela's Presidential Race: Nicolás Maduro Wins Amid Fraud Allegations
Venezuelan strongman Nicolás Maduro emerged victorious in a controversial presidential election Sunday, despite a call from several countries to halt the general vote. Amid socioeconomic turmoil, the incumbent leader will run Venezuela for the next six years.
"We are a popular victory. Thanks for so much popular conscience, for accompanying me in so many combats and making me president of the Bolivarian Republic of Venezuela for the period 2019-2025," Maduro reportedly said, according to Venezuelan newspaper El Universal.
With 5.8 million votes, the incumbent leader trounced other presidential hopefuls such as retired serviceman Henri Falcón, who obtained 1.8 million votes; evangelical pastor Javier Bertucci, who received 942,042 votes; and electrical engineer Reinaldo Quijada, who acquired 34,600 ballots, El Universal reported. Falcón asked authorities that these elections not be recognized, and urged a new election process in October.
On May 17, members of the opposition, who refused to be part of the race because their leaders were either incarcerated, exiled or barred from participating, called on the candidates to withdraw from the poll because they considered it an "electoral fraud," website Infobae reported.
In January, Maduro announced that he was ready for reelection following an announcement from the Constituent Assembly, a legislative body created in 2017 that has the power to override any decision from the opposition-run National Assembly, that a 2019 presidential poll would be pushed back to April of this year. The call for an earlier election drew criticism from several Latin American countries, the United States and the European Union.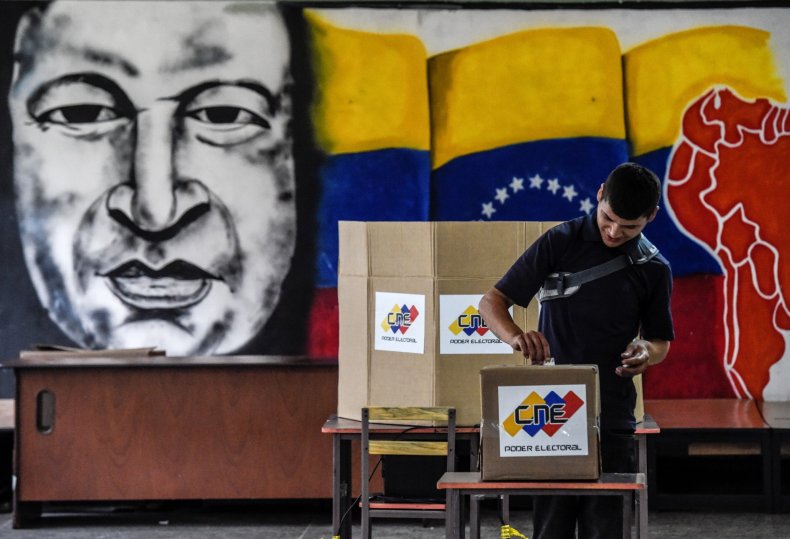 In February, the Organization of American States passed a resolution supported by 19 member countries urging Caracas to postpone the presidential vote in order to guarantee a "just and free process" under international oversight. The National Electoral Council (CNE) said this month that it had postponed the vote to May 20 after Maduro and several opposition parties reached an agreement, Reuters reported. The Constituent Assembly also approved that the presidential election coincide with a race for state and municipal legislative council seats, a decision that was also ratified by the CNE in March.
During a campaign rally in Caracas Thursday, Maduro received the support of Turkish President Recep Tayyip Erdoğan and Argentinean soccer star Diego Armando Maradona. In a split-screen chat on Venezuelan state television, Erdogan said, "I have faith you will be triumphant," to which Maduro responded, "Venezuelans are going to give a lesson on democracy and liberty to the world on Sunday," Reuters reported.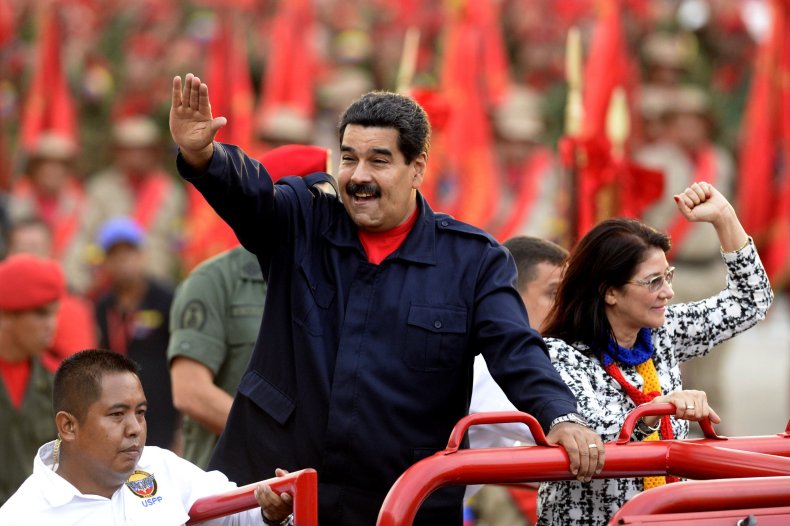 But some experts don't believe the so-called democratic process.
"This election will not consolidate Maduro in power; rather, this is the institutionality of the illegitimacy of the Maduro regime," Guillermo Zubillaga, head of the Venezuela Working Group from the Americas Society/Council of the Americas, told Newsweek. "You're going to see more of the humanitarian crisis. The oil production that is plummeting already will get worse and worse, and public services, including water pipes and cooking fuel, are collapsing."
In fact, a lower turnout was expected during Sunday's elections. Growing disappointment, lack of trust in politicians and indifference toward the elections seem to be the norm in the streets of Venezuela, NBC News reported. Despite Maduro's unpopular government, he was projected to win this election.
"These elections were held unconstitutionally. The laws indicate that elections should take place six months prior to a government change, and in this case, the race should occur in January of 2019 so that candidates can take the time to launch campaigns and voters can evaluate their proposals, So why are we doing them in May?" Luis Carlos Díaz, a Caracas-based journalist and cyber activist, told Newsweek. "On Sunday we're also electing members of state and municipal legislative councils, but our laws separate presidential and local legislative elections to avoid that the ruling party [in this case, Maduro's United Socialist Party of Venezuela] order these council people to forcefully vote in favor of the government."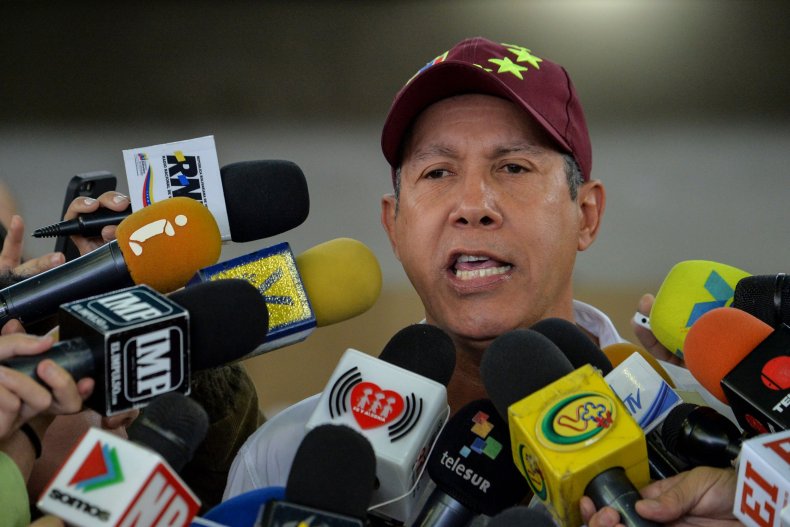 In late 2012, when then-President Hugo Chávez underwent a cancer treatment that prevented him from running the country under a fourth term, he named Vice President Maduro as his successor. Chávez passed away on March 5, 2013, and Maduro temporarily assumed power until a new call for elections, as stipulated by the Venezuelan constitution. In April of that year, Maduro won by a razor-thin margin—50.6 percent, or 7.5 million votes—whereas rival Henrique Capriles Radonski clinched 49 percent, or 7.2 million votes. However, Maduro's election was smeared with accusations of fraud and poll irregularities, and the opposition demanded a full recount of votes after Maduro proclaimed victory.
Venezuela enjoyed a bonanza during 2011 and 2014 thanks to an international price that hovered at around $84-$100 per barrel. But in 2015, the price of oil declined steeply, and revenue from its production dropped from $40 billion in 2014 to $12 billion in 2015. Maduro decreed a state of economic emergency, which allowed the government to take control of services and basic goods. Critics believed that was an opportunity for Maduro to expropriate private enterprise.
Lacking the charismatic traits that characterized Chávez, Maduro has grown more and more totalitarian over the years. In February 2014, 43 people died during protests against the government across the country, and 127 more died after months of anti-government demonstrations in 2017.
Maduro has also incarcerated leaders of the opposition such as Leopoldo López, who was sentenced to 14 years for allegedly "inciting violence" during the 2014 protests, while Caracas Mayor Antonio Ledezma escaped his house arrest last year after the government accused him of promoting a coup—a charge he denies. Earlier this year, the Venezuelan police killed renegade pilot Oscar Pérez, the man who hurled grenades at government buildings from a helicopter in 2017, in a nine-hour siege, despite videos showing his willingness to surrender.
In the wake of Venezuela's unrest, President Donald Trump said last year that he would not rule out an military intervention, and his administration slapped sanctions on Venezuelan officials who had been allegedly involved in corruption cases, as well as Maduro's efforts to undermine electoral processes. Two days before Sunday's elections, the U.S. Treasury Department imposed sanctions against politician Diosdado Cabello, who has been accused of money laundering, drug trafficking and extortion, among other charges. Sanctions include a freeze of Cabello's assets in the U.S.
In addition to the excessive use of force, Venezuelans have grappled with other woes. The government's over reliance on oil, economic mismanagement, deterioration of competitiveness, expropriation of private property and control over foreign exchange have created a serious economic crisis.
The Maduro administration hasn't stopped printing bank notes to cover a gargantuan budget deficit, which has led to the world's highest inflation rate. In March and April only, hyperinflation went from 4,966 percent to almost 18,000 percent, meaning a citizen could spend an entire monthly paycheck just by buying few eggs and some bags of pasta, as Mic reported. Rampant crime, severe child malnutrition and food scarcity have exacerbated a humanitarian crisis, forcing nearly 800,000 Venezuelans to move to Colombia in recent months. The crisis has also spilled over neighboring nations such as Brazil and Guyana.
With the election of Maduro, the future of Venezuela is even more uncertain.
"If the government continues to face challenges in exporting oil, they would turn more and more to illicit businesses like drugs," Zubillaga said. "If the international community thinks about more sanctions, they also have to think what comes next and the help Venezuelans need, [because] there has to be a two-fold effort."
To Diaz, tension on the streets seems very likely. "Oppression will increase, and the government will exert more abuse of power," he said. "Protests occur every single day, but there is no rumor of a large, organized manifestation. However, there will be pockets of local protesters that the government will try to quell. The outlook, for now, is very bleak."