Venezuela Says Russia May Send More Military as U.S. Warns of Potential Action
Venezuela has said that Russia may send more military personnel there as the United States seeks to overthrow the Latin American state's leftist-led government.
Venezuelan Foreign Minister Jorge Arreaza told a press conference Monday in Moscow that he and Russian Foreign Minister Sergey Lavrov were working to promote "military-technical" ties between the two countries as the U.S. endorsed opposition leader Juan Guaidó's challenge to Venezuelan President Nicolás Maduro. Arreaza said that "a commission" of Russian specialists were already in Venezuela and their numbers "could be expanded, of course."
Arreaza also asserted that his country was "ready for any scenario." He said Venezuela preferred the path of "diplomacy" and "peace" but would "be able to not only resist and fight, but to overcome and defeat any army, however powerful it may be" should the U.S. opt for force, as members of President Donald Trump's administration have warned was an option.
One such U.S. official who warned that "military action is possible" was Secretary of State Mike Pompeo, who met with his Russian counterpart on Monday on the sidelines of the Arctic Council summit in Finland. Speaking to reporters on the flight there, Pompeo confirmed that the agenda for his talks with Lavrov included Venezuela, a major issue that has again divided the world's top two military powers.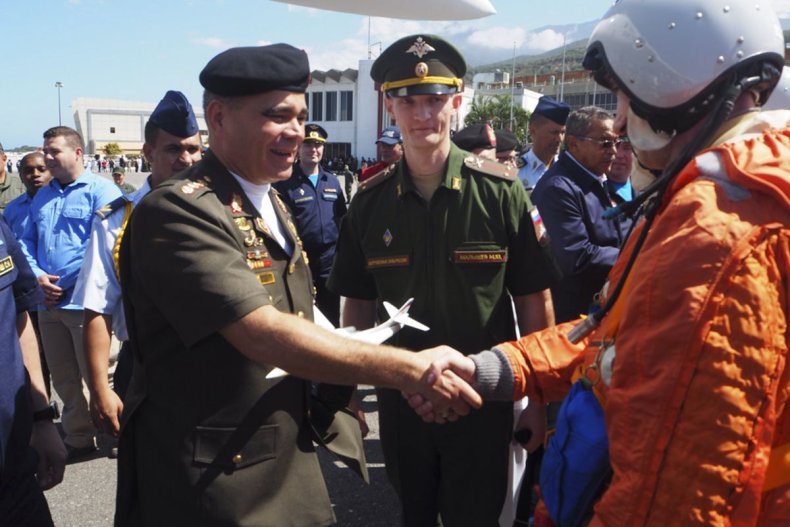 Russia has recently strengthened its bilateral ties with Venezuela, an oil-rich country whose spiral toward virtual economic collapse has been blamed on internal mismanagement by Maduro's socialist leadership and U.S. sanctions designed to pressure him into stepping down. About a month after Moscow sent nuclear-capable bombers to conduct joint drills with Venezuela late last year, Guaidó declared himself acting president in a move swiftly backed by the U.S. and its allies.
Other nations, such as Russia, have continued to back Maduro, and Moscow has continued to send personnel to Caracas to fulfill agreements signed between Russian President Vladimir Putin and Maduro's predecessor, the late Hugo Chávez, who survived a 2002 coup attempt reportedly linked to the U.S. Last Tuesday, Maduro managed to weather a push out of office after Guaidó called for the military to defect. Only a small faction followed the call, leading to clashes between rival factions.
Later that day, Pompeo claimed that Maduro "had an airplane on the tarmac, he was ready to leave" to Cuba, but "the Russians indicated he should stay." Moscow dismissed this account, and following a telephone conversation Friday with Putin, Trump—who previously warned "the Russians have to get out" of Venezuela—appeared to strike a different tone, arguing that Putin was "not looking at all to get involved in Venezuela, other than he'd like to see something positive happen."
Pompeo defended his version of events when pressed during a CBS News interview Sunday about the apparent contradiction in his and Trump's positions.
"No difference," Pompeo told the outlet. "The president has said—I think he, in fact, tweeted—that the Russians must leave Venezuela, and we have asked every nation that is interfering with Venezuelan democracy."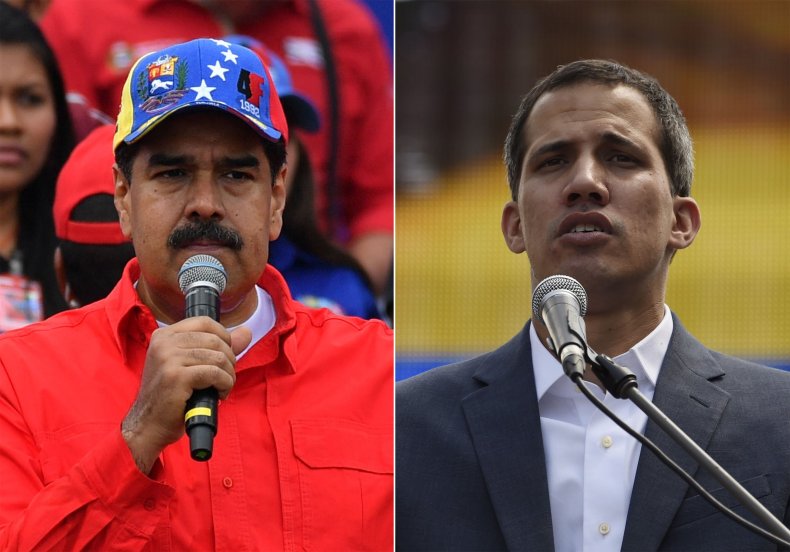 Russia has backed the Venezuelan government's view that U.S. support for Guaidó amounted to a violation of the charter of the United Nations, which continued to recognize Maduro as head of state. As the U.S. has rallied much of Latin America and Europe in favor of Guaidó, Russia has vowed to rally countries backing Maduro, such as China, Iran and Turkey.
Following his talks with Pompeo, Lavrov told reporters that any military action in Venezuela would lead to "catastrophe," and claimed Pompeo understood this despite the increasingly bellicose rhetoric coming from the Trump administration.
The crisis in Venezuela is only the latest topic to split the U.S. and Russia, whose relationship has suffered considerably in recent years. Moscow and Washington have fallen out over rival positions on conflicts in Ukraine and Syria, and have failed to find common ground in maintaining arms control treaties such as the 1987 Intermediate-range Nuclear Forces (INF) treaty, a deal that restricts the deployment of land-launched missiles ranging from 310 to 3,420 miles.
Both countries have accused the other of violating the treaty. The White House suspended the agreement in February, with the Kremlin following suit shortly afterward.