Steven Seagal Gifts Samurai Sword to Venezuela's Nicolás Maduro
Hollywood star Steven Seagal has given the Venezuelan president Nicolás Maduro a gift that would not be out of place in one of the action movies he has starred in.
Dressed all in black but minus COVID protection, Seagal was shown on Venezuelan state television meeting a masked Maduro with a fist bump at the presidential palace in Caracas.
The Venezuelan leader threw a couple of mock punches at the actor who has starred in high-octane films such as Hard to Kill and Under Siege.
The video clip later shared by Maduro on Twitter describes Seagal as a special envoy for the Russian Ministry of Foreign affairs.
Seagal has been a vocal supporter of President Vladimir Putin, whom he has considered a friend for years. Putin even personally handed him a Russian passport in 2016 in a televised meeting.
During Tuesday's meeting, Seagal took the sword, carefully unwrapped it from a cloth covering, unsheathed it and handed it to Maduro.
The Venezuelan leader took care as he swiped it in the air but Seagal then appeared to offer Maduro a gentle warning when he put his fingers too close to the blade as he returned it to its scabbard.
Along with the video, Maduro tweeted still images of Seagal's meeting with him and his representatives seated next to a single Venezuelan flag. No Russian flag could be seen.
"Pleased to receive the pleasant visit of the American actor, Steven Seagal. Without a doubt, Steven is not only one of the greats of cinema, he is also a dedicated fighter for the peace of the peoples. Welcome!" Maduro tweeted.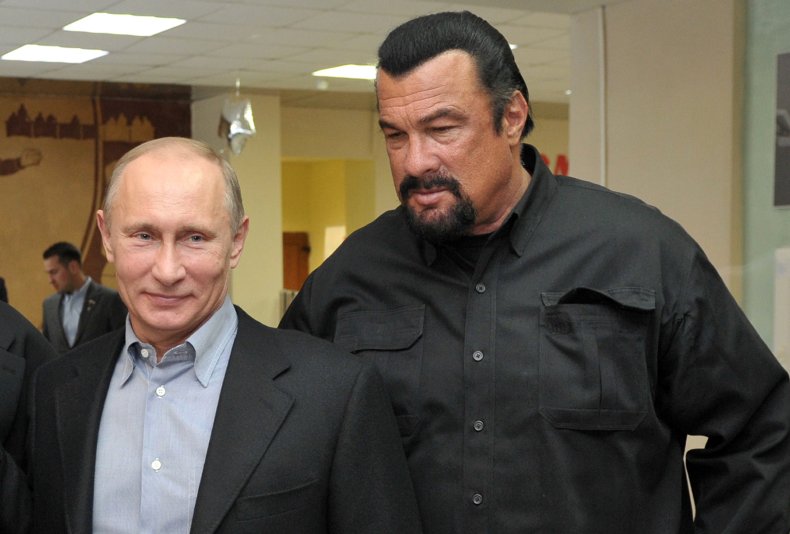 When Moscow appointed Seagal as a "special representative" for humanitarian ties with the U.S. in August 2018, Russia's Foreign Ministry said in a statement that the unpaid role was aimed at "strengthening direct contacts, mutual understanding and trust between the Russian and American peoples."
His voluntary role representing Moscow aims to increase cooperation in the fields of "culture, arts, science, education, sports, public and youth exchanges," Russia's Foreign Ministry said.
Seagal's paternal grandparents were Russian Jewish immigrants, according to an IMDB biography
This week's meeting comes amid Moscow's continued support for Maduro, who has been condemned internationally after his reelection win in 2018 was deemed fraudulent.
The U.S. is among 50 countries that recognize opposition leader Juan Guaido as the leader of the South American country, currently subject to Western sanctions.
Newsweek has contacted Russia's Foreign Ministry for comment.