Venezuela Uprising: Gunshots, Tear Gas and Vehicle Attack Seen on Video as Government Clashes With Opposition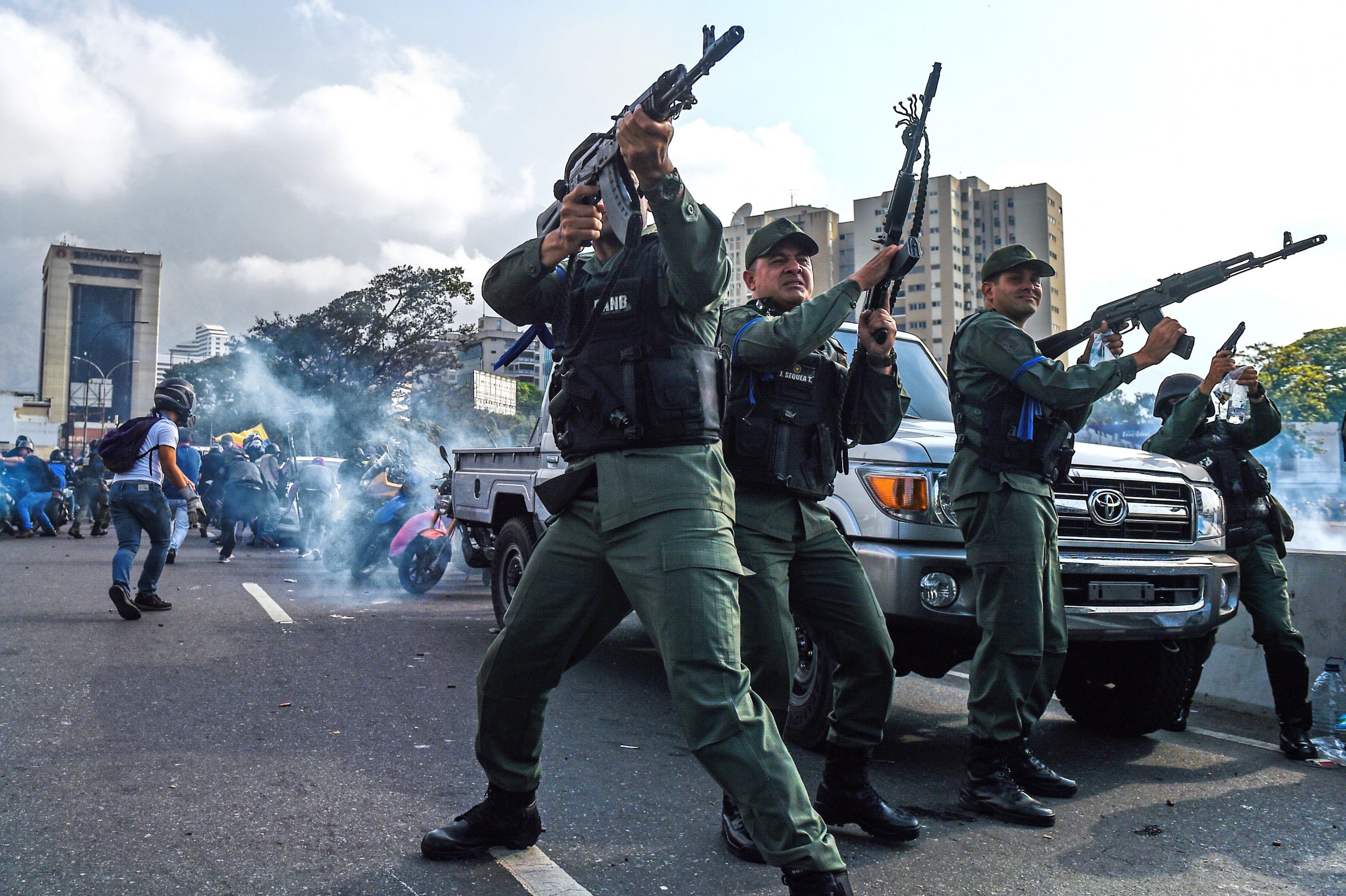 A three-month political standoff between Venezuelan President Nicolás Maduro and parliament speaker Juan Guaidó has turned violent as forces loyal to the two factions clashed in the capital Caracas.
The latest unrest began when Guaidó, who declared himself acting president in January with the support of the U.S. and its allies, called on the military to defect against Maduro, to whom they have so far remained loyal. The opposition leader made the remarks at a rally outside the La Carlota air base in Caracas, Venezuela, while surrounded by what appeared to be personnel who had broken ranks to support him.
Maduro and his top officials vowed to disrupt the uprising and deployed the Bolivarian National Guard, a powerful paramilitary group, that then exchanged fire with former personnel who joined the opposition, according to witnessed cited by Reuters.
Security forces attempted to disperse the rally using tear gas, but footage filmed by Reuters showed demonstrators attacked incoming government armored vehicles with sticks and stones.
In one case, a Bolivarian National Guard vehicle appeared to drive through a small crowd and run over several protestors. Once the vehicle reversed, several individuals rushed to pick up what appeared to be an injured protestor as they continued to hurl objects at the vehicle.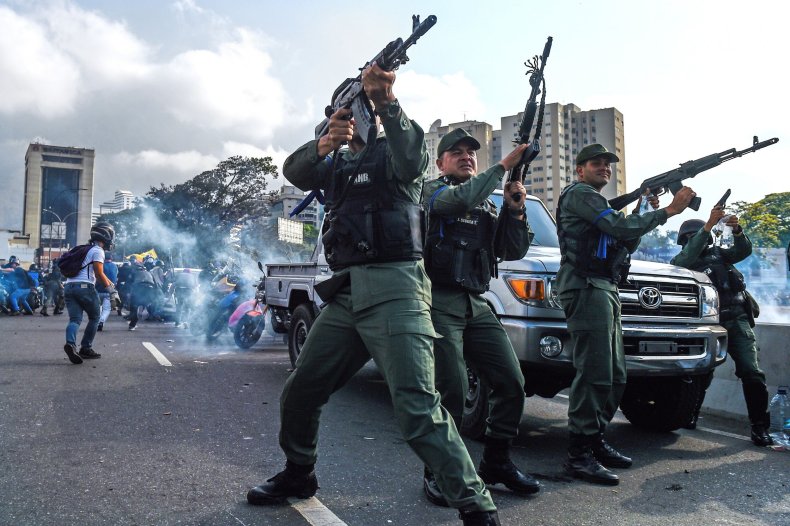 Venezuelan Defense Minister Vladimir Padrino reported on Twitter that the uprising has "been partially defeated," though he claimed Bolivarian National Guard Colonel Yerzon Jimenez Baez had been shot in the neck and said responsibility lay with the "political leadership of the opposition."
The clashes appeared to be the most serious challenge yet to Maduro, who blamed the U.S. for previous attempts to unseat him, including an assassination attempt via bomb-bearing drones in August. It also appeared to be the gravest threat to the ruling United Socialist Party since a 2002 mutiny against Maduro's predecessor Hugo Chávez, who survived an attempted coup also reportedly linked to the U.S.
Relations between the two countries have been largely hostile since President Donald Trump stepped up sanctions against Venezuela's already struggling economy in 2017. Critics of Maduro have blamed historic hyperinflation and goods shortages on his policies, while supporters have argued they were largely the product of outside intervention and the latest salvo in a decades-long history of Washington's intervention against leftist forces in Latin America.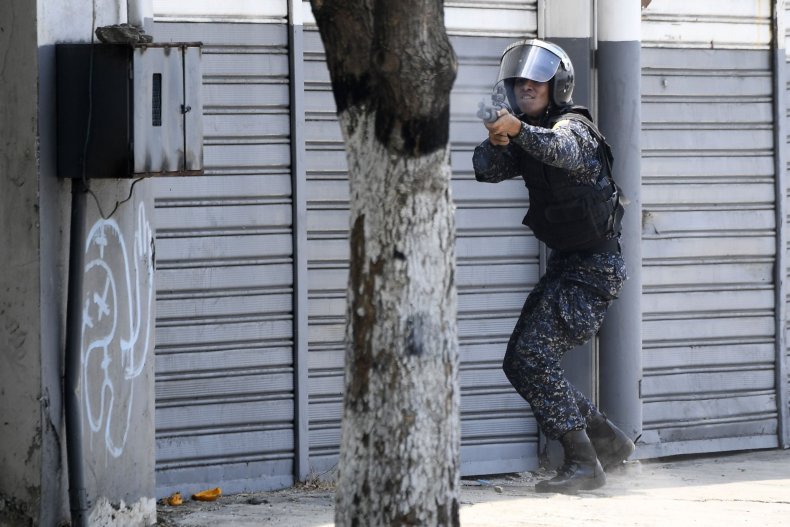 The Trump administration maintained that "all options" were available in ensuring Maduro's departure, and top officials such as Vice President Mike Pence, Secretary of State Mike Pompeo and White House National Security Adviser John Bolton have welcomed Tuesday's developments. A number of Latin American states, including Argentina, Brazil, Colombia and Peru, echoed calls for Maduro to step down.
The mood was less enthusiastic in Moscow, one of Maduro's biggest international backers. Russian President Vladimir Putin met Tuesday with members of his Security Council and, though some defense personnel are in Caracas to fulfill "military-technical cooperation," Moscow's embassy suggested they would not intervene.
Meanwhile, other pro-Maduro powers such as Bolivia, Cuba, Iran and Turkey issued statements Tuesday condemning what they saw as a regime change attempt orchestrated by the U.S. and its allies.