U.S. Military Must Be 'Ready to Go' in Venezuela, John Bolton Says
White House national security adviser John Bolton warned Wednesday of potential military action against Venezuela, whose socialist government appeared to have countered an uprising backed by the United States.
Speaking to radio host Hugh Hewitt, Bolton again accused Russia of convincing Venezuelan President Nicolás Maduro not to flee the country and said Cuba protected the leader as opposition-controlled National Assembly leader Juan Guaidó called Tuesday for a military mutiny. Sporadic clashes between security forces and defectors have erupted throughout Caracas since yesterday, and Bolton said he was in contact with acting Defense Secretary Patrick Shanahan and Secretary of State Mike Pompeo.
"There are a lot of options underway," Bolton said. "I spoke with Pat Shanahan myself. Mike Pompeo and I have been talking. We've been talking to the intelligence community."
He then referenced a "great line" during a Foreign Policy interview last month with U.S. Southern Command chief Navy Admiral Craig Faller, who said the military was "on the balls of our feet," and—as Bolton added—"ready to go"—in support of Guaidó's self-declared presidency. Bolton said Wednesday, "That's the kind of attitude we need."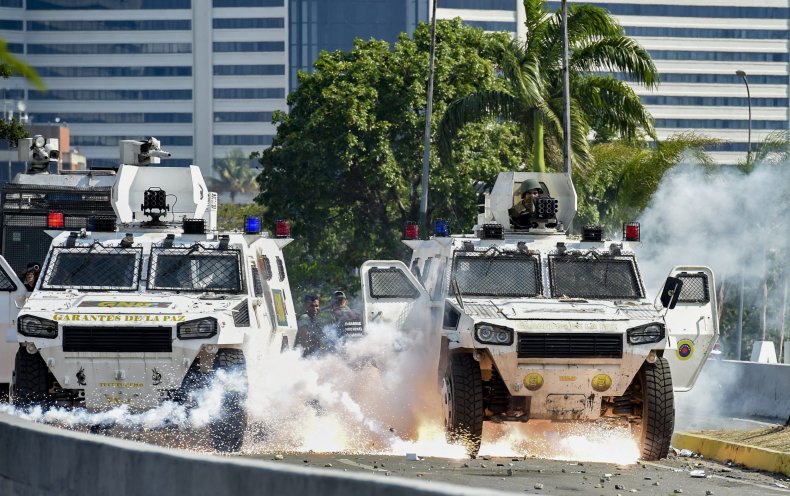 While Bolton argued that "the United States was not directly involved" in Tuesday's unrest, he repeated his claim that Guaidó's move was made with the knowledge that three of Maduro's top officials—Defense Minister Vladimir Padrino, Supreme Court Chief Justice Maikel Moreno and Presidential Guard Commander Hernandez Dala—had agreed to defect. As of Wednesday, none of these men were known to have switched sides, and the first two have continued to publicly defend Maduro's legitimacy.
Pompeo revealed Tuesday that the plot against Maduro had gone so far that the president "had an airplane on the tarmac, he was ready to leave" for Cuba, but "the Russians indicated he should stay." Bolton reaffirmed this on Wednesday, though both countries have denied the roles ascribed to them by the U.S. in the crisis that has gripped Venezuela since Guaidó challenged Maduro in January.
The Russian Foreign Ministry on Wednesday called the U.S. version of events "fake" and part of an "information war" being waged against Washington's opponents abroad. That same day, Cuban President Miguel Díaz-Canel tweeted that there were "no Cuban military operations or troops in #Venezuela," while rejecting the "threat by Trump of full and complete embargo against #Cuba."
Díaz-Canel called "upon the international community to stop dangerous and aggressive escalation and to preserve Peace" and emphasized, "No more lies." Maduro himself also dismissed Pompeo's "lies and manipulation" during a televised address later Tuesday.
Also on Wednesday, Faller himself told the House Armed Services Committee that Pentagon leadership has indicated Maduro's downfall "has to be, should be, a democratic transition." He called for "diplomacy," but warned that Maduro's foreign supporters such as Russia, China, Iran and Cuba must withdraw their presence in the embattled Latin American state.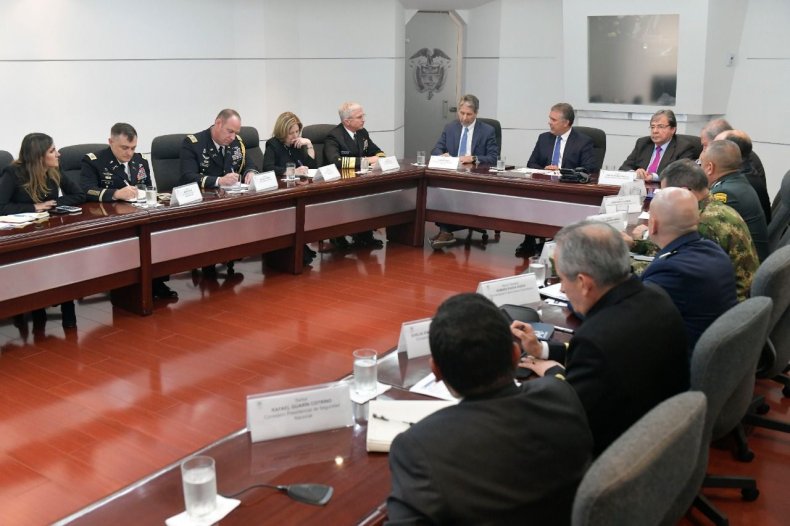 Russia has boosted "military-technical" ties with Venezuela, holding joint air drills there in December, one month before Guaidó's political rebellion. Since the government and opposition's standoff, Moscow has sent military personnel to Caracas, though it has suggested they would not directly intervene in the street fighting that broke out on Tuesday.
China and Iran too have sent officials to Venezuela in order to support Maduro and provide humanitarian assistance as the country's economy continued to collapse. The Iranian Foreign Ministry called for calm in Venezuela on Tuesday, arguing "that chaos cannot be a solution to political differences in Venezuela in any way" and requested a dialogue to address domestic concerns "under the direction of the Venezuelan government."
Maduro and Guaidó have called on their followers to make massive showings across Venezuela on Wednesday, as the country underwent its most serious period of destabilization since a 2002 coup attempt against Maduro's predecessor, United Socialist Party founder Hugo Chávez, reportedly one of many U.S.-backed attempts to oust leftist political forces across Latin America and beyond. Since Chávez's death and Maduro's succession, in 2013, oil-rich Venezuela's economy has steadily deteriorated, with critics mostly blaming Maduro's policies and supporters largely pointing to mounting U.S. sanctions designed to force the leader to step down.