Venezuela Avoids War for Now with Talks, but John Bolton Is Still Fighting on Twitter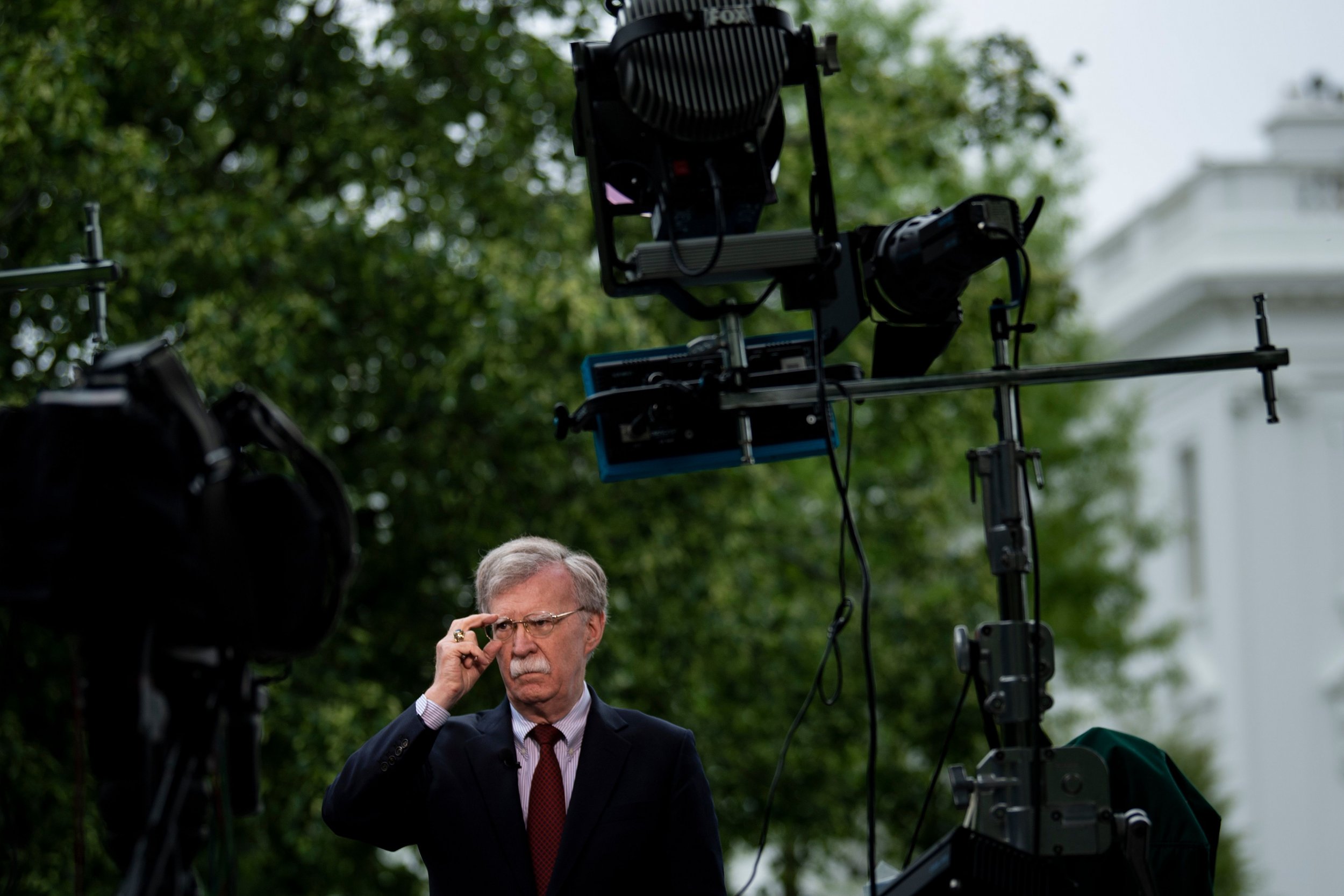 The Venezuelan government and opposition have entered into talks in hopes of finding a settlement to the country's four-month political crisis, but White House national security adviser John Bolton has continued firing away against the socialist leadership no longer recognized by the United States.
Opposition-controlled National Assembly leader Juan Guaidó's political challenge to President Nicolás Maduro appeared to crescendo with an abortive uprising last month that was quashed by the very same security forces that Guaidó claimed had switched sides. Though the U.S. swiftly endorsed Guaidó when he proclaimed himself acting president in January, Maduro has since shown little signs of stepping down, even amid international pressure and Guaidó's decision last month to meet with government representatives in Norway for negotiations that appeared to represent a turning point.
Bolton, one of the most outspoken proponents of regime change within President Donald Trump's administration, however, has yet to show any signs of abating his calls for Maduro's unconditional surrender.
"Maduro continues to fear the voice of the people, has been blocking access to the internet for weeks, and seeks to undermine the democratically-elected voices in Venezuela," Bolton tweeted Wednesday. "Maduro is desperate to distract from the only real solution in Venezuela: his exit."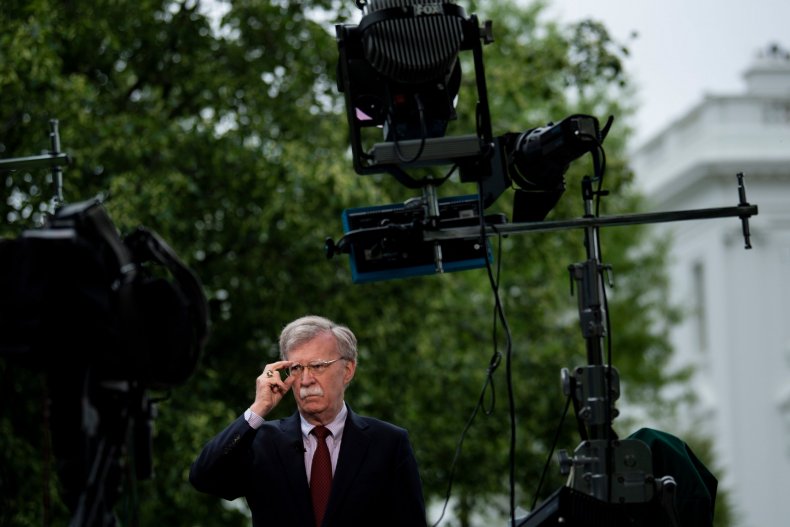 The tweet was one of several calling for Maduro to be ousted from power, even as a number of Guaidó's allies were arrested. There was also little to show from a request last week by Guaidó's envoy to the U.S. for "strategic and operational planning" from the Pentagon's Southern Command in order to "restore our democracy" in Venezuela. The U.S. has continued to expand sanctions on Maduro's government, accusing him and his officials of mismanaging the oil-rich country's failing economy and committing human rights abuses.
"Maduro continues to care more about stealing wealth than the Venezuelan people. We will continue alerting financial institutions of Maduro's ongoing illicit schemes to evade sanctions and maintain his grip on power, including the diversion of humanitarian assistance," Bolton wrote Tuesday on Twitter.
Two days earlier, Bolton tweeted that the "democratically elected government of Venezuela continues to fight for an end to Maduro's regime," adding that the U.S. stood with Guaidó "in demanding an end to the dictatorship in Venezuela."
While Guaidó too has continued to argue for an end to Maduro's "usurpation" of power on social media and said during a speech Thursday he would reject any "false negotiations," he also acknowledged then that he had sent "some envoys to Norway." The following day, Maduro confirmed that he sent representatives "to start exploring a conversation and dialogue with the Venezuelan opposition in order to build a peaceful agenda for the country."
Norway, too, acknowledged the first steps of potential dialogue between the rival factions on Friday.
"Norway announces that it has had preliminary contacts with representatives of the main political actors of Venezuela, as part of an exploratory phase, with the aim of contributing to finding a solution to the situation in the country," the ministry wrote in a statement. "Norway commends the parties for their efforts. We reiterate our willingness to continue supporting the search for a peaceful solution for the country."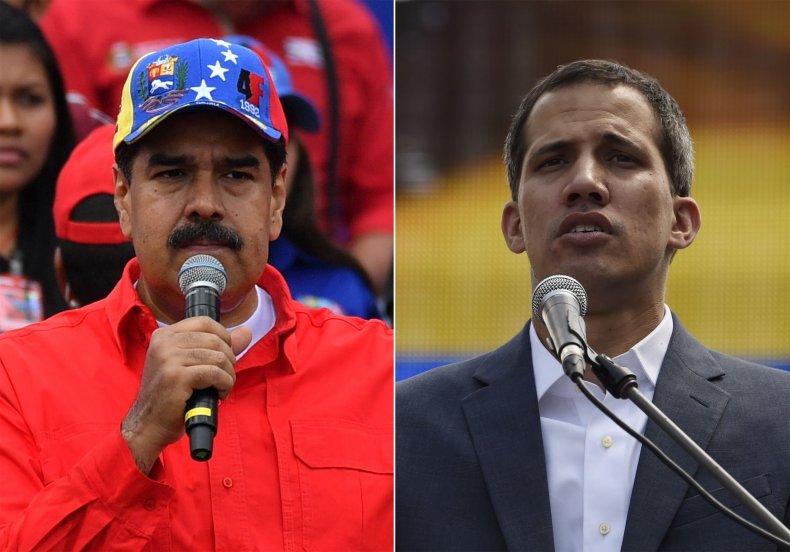 The U.S. has claimed that Guaidó has earned the support of at least 50 countries, including most of Latin America, the European Union, Albania, Australia, Canada, Georgia, Israel, Japan, South Korea and Taiwan. At the same time, Maduro had the backing of fellow Latin American leftist-led Bolivia, Cuba, Mexico, Nicaragua and Uruguay in addition to the United Nations and others abroad, including Belarus, Cambodia, China, Iran, Lebanon, North Korea, Serbia, South Africa, Syria and Turkey.
Moscow has been among Maduro's top international supporters and has sent defense personnel to Caracas to fulfill what it called "military-technical cooperation" agreements, though its embassy there has denied any desire to intervene in the country's unrest. In remarks carried by the state-run Tass Russian News Agency, Russian Deputy Defense Minister Sergey Ryabkov said: "We will continue to resist attempts to stage a coup in Venezuela that have been a failure so far, however, these attempts will continue at the U.S. behest."
In addition to Russia, Venezuela has also received political and humanitarian assistance from China and Iran, prompting Bolton to invoke the 19th-century Monroe Doctrine, a deeply controversial policy once used to push European colonialists and more recently applied as a means of combatting the spread of political trends deemed adversarial to U.S. interests in the Western Hemisphere.
"Cuba, Nicaragua and Venezuela face a new attack by imperialism," Venezuelan Foreign Minister Jorge Arreaza was cited by his ministry as saying Tuesday in a reference to what Bolton has called a "troika of tyranny" now subject to harsher U.S. sanctions. "The outdated Monroe Doctrine is in force so we must be vigilant."