Russia Warns U.S. 'Getting Ready' for War on Venezuela, China Says Leave Cuba Alone Too
Russia and China have condemned recent U.S. moves in Latin America, where they accuse President Donald Trump's administration of warmongering and interfering in the affairs of sovereign countries.
As the U.S. stepped up efforts to oust Venezuelan President Nicolás Maduro in favor of political challenger and parliament speaker Juan Guaidó, U.S. Southern Command chief Navy Admiral Craig Faller told Foreign Policy last week that defense officials "are on the balls of our feet" in anticipation of taking action. Russian Foreign Ministry spokesperson Maria Zakharova responded Thursday to these remarks, saying this "reaffirms our fears that U.S. military action in Venezuela is not an abstraction, but a possible reality that is admitted in Washington."
"Another pseudo-reason for getting ready for a military invasion is the need to contain Russian influence in Venezuela," Zakharova told reporters, referring to recent reports that the U.S. had held high-level meetings considering the use of force against the crisis-stricken socialist-led state.
"Once again I would like to repeat: all Russian actions on Venezuelan territory are consistent with the legal government of the Bolivarian Republic," she added, recalling U.S. invasions of countries such as Yugoslavia and Iraq. "Apparently, the U.S. military is really considering the possibility of repeating this sad experience—to start bombing civilian structures and people, who are guilty only of supporting the legitimate president of their country that does not like Washington."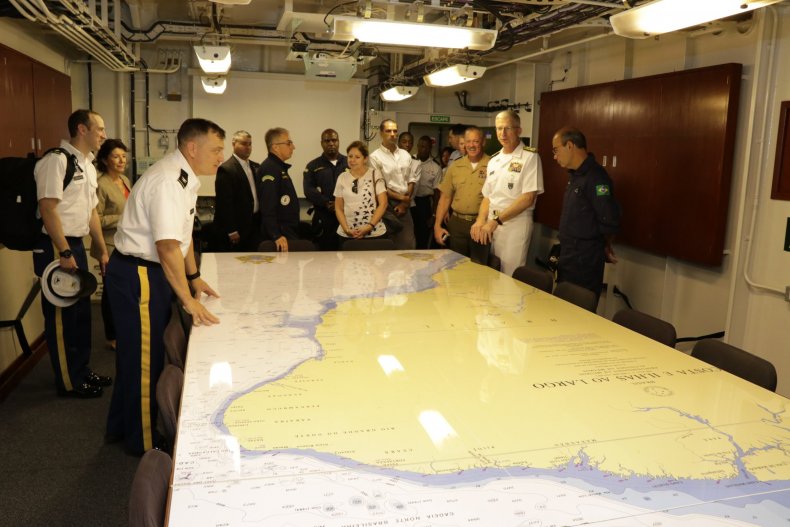 Russia, which has sent up to 100 military personnel to fulfill "military-technical cooperation" with Venezuela, has warned that, after Venezuela, fellow leftist-led Cuba and Nicaragua would be next on the U.S. hit list. These three countries have been referred to as a "troika of tyranny" by White House national security adviser John Bolton, who previously added Cuba—along with Libya and Syria—to former President George W. Bush's "axis of evil" comprised of Iran, Iraq and North Korea in 2002.
In addition to cracking down on Venezuela via sanctions that have exacerbated an economic crisis also attributed to internal mismanagement, the U.S. announced new restrictions Wednesday intended to limit the flow of U.S. and foreign capital to Cuba. Bolton again invoked the Monroe Doctrine, a 19th-century policy designed to kick European powers out of Latin America and later repurposed to suppress the rise of left-wing movements across the region, arguing "we must all reject the forces of communism and socialism in this hemisphere."
The U.S. has been tied to past attempts to overthrow the governments of the so-called "troika of tyranny" as well as many other leaders across the Western Hemisphere. Zakharova said Thursday that, "regardless of whether it is Cuba, Venezuela or any other country in the world, unilateral sanctions are illegitimate."
Chinese Foreign Ministry spokesperson Lu Kang took a similar stance, telling a press briefing Thursday that Beijing "opposes such wrong practices as unilateral sanctions and long-arm jurisdiction based on domestic laws outside the U.N. Security Council." He said that "China believes that mutual respect, equality, peaceful co-existence and win-win cooperation should serve as the guidance" for international relations.
China too has sent a delegation carrying humanitarian assistance to Venezuela. Iran has as well, via the privately-owned Mahan Air sanctioned by the U.S. over allegations it was used to transport personnel and equipment for the elite Revolutionary Guards that the U.S. recently designated a terrorist organization.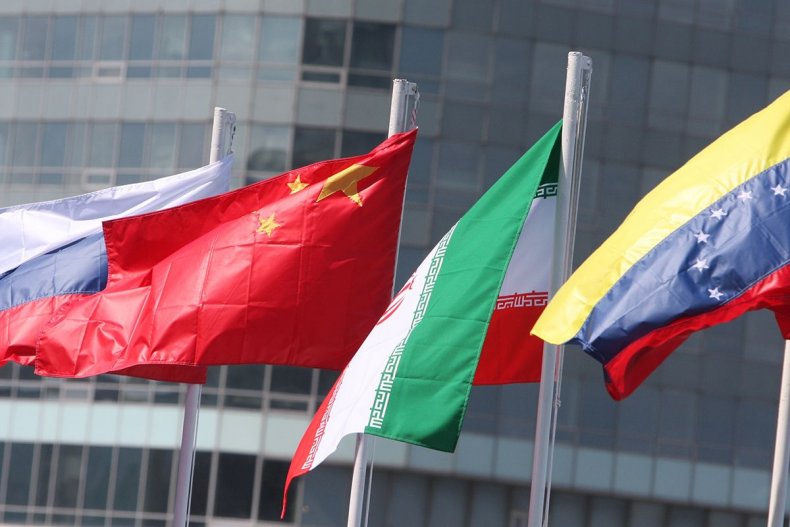 Responding to Newsweek's coverage of the three countries establishing a presence in Venezuela, Bolton told radio host Hugh Hewitt last week that "President Trump is determined not to see Venezuela fall under the sway of foreign powers."
Russia, China and Iran all blasted Bolton's remarks and similar threats repeating Trump's stance that "all options" were available in ensuring Maduro was ousted, along with his foreign allies. Though much of Latin America sided with the U.S. and its closest foreign allies in backing Guaidó, many others have continued to recognize Maduro and the United Nations has still viewed him as head of state.
Back in Caracas, the power struggle between Maduro and Guaidó continued, but the former still enjoyed the support of the armed forces. Earlier this week, Maduro ordered his country's national militia to increase by one million and Vice President Delcy Rodriguez—who, like Moscow cited reports of closed-door meetings among U.S. and regional officials—warned of imminent U.S. plans to attack.