Venezuela's increasingly dire food shortage continues to drive thousands of human residents to neighboring countries, but animals trapped in the nation's zoos are also facing starvation at staggering rates.
As hyper-inflation and a downward spiraling economy continue to wreak havoc on the country, photos emerged this week showing a wide range of rare beasts at the Zulia animal park visibly suffering from malnutrition. Bengal tigers, jaguars and several South American birds are among the animals shown suffering in the Maracaibo zoo from clear signs of starvation.
Venezuelan animal rights leaders said ducks, pigs and goats are among the animals that have been slaughtered in order to feed the other animals in the zoo.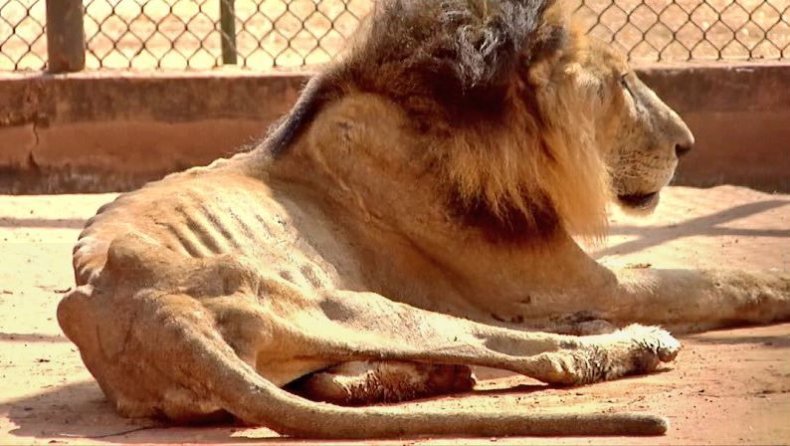 A male and female couple of Andean condors brought into captivity in order to save the species from extinction have not been fed for weeks, El Pais reports. In two other cases of raw survival, a pair of crested caracaras and owls resorted to eating another bird of prey in their cage out of hunger.
San Francisco Mayor Dirwings Arrieta announced this week that the zoo would be restructured and the water system would be rerouted as reports of the animals' malnourishment began to spread on social media and local news reports. However, Arrieta made no reference to an improvement for the malnourishment crisis within the zoo.
Animals in the zoo photos can be seen with their spines protruding under their skin and bones clearly present in their emaciated limbs.
This comes as a recent survey indicates nearly two-thirds, or 64.3 percent, of Venezuelans report losing 24 pounds as a means of survival amid the food shortage. Food scarcity has been exacerbated by government food packages that are intended to help the population at large but are only reaching about 12.6 million people, or about one-third of the population, El Pais reported.
Several celebrities and religious leaders including actor Raul Julia Levy have pledged their support to help the animals in the zoo, "I want to put my foundation at your service to save the animals of all the zoos in Venezuela."
But Venezuelan veterinarians such as Dr. Carlos Silva say they have seen how the government and private enterprises will respond to such animals crises and they are pessimistic.
"What I saw in Zulia could only be understood in countries where there is armed warfare," he said. "And it's all over political issues that the animals know nothing about."