Venezuela's Maduro Slams Donald Trump Government: 'White Supremacy Governing the White House Despises Our People'
Venezuela's President Nicolas Maduro warned the U.S. government to stay out of his country's crisis, warning President Donald Trump that the White House would be "stained with blood" if there was any military intervention.
The embattled leader rejected an EU-imposed deadline of Sunday to call snap elections and responded to Trump's remarks to CBS that military force in the South American country "remains an option."
Amid rampant inflation, protests and violence, Maduro said the prospect of civil war depends on "the level of madness and aggressiveness of the northern empire and its Western allies."
"We ask that nobody intervenes in our internal affairs…and we prepare ourselves to defend our country," he told the Spanish television program Salvados, which was broadcast on Sunday on the channel La Sexta.
Newsweek subscription offers >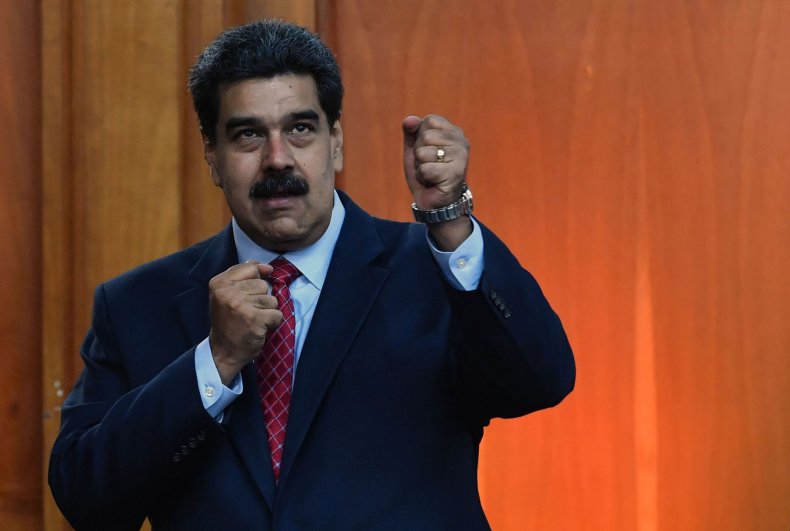 "Stop. Stop. Donald Trump! You are making mistakes that are going to stain your hands with blood, and you are going to leave the presidency stained with blood," he said.
"Let's respect each other, or is it that you are going to repeat a Vietnam in Latin America?" he said, referring to the Vietnam War that took place between 1965 and 1973. "The white supremacy governing the White House despises our people," Maduro added.
The U.K., Spain and a number of other European countries have recognized opposition leader Juan Guaido as the interim president. Head of Venezuela's National Assembly, Guaidó declared himself president on January 23.
Newsweek subscription offers >
Over the weekend, thousands took to the streets of the capital Caracas in support of both Maduro and Guaidó.
Maduro is still backed by the military, the BBC reported, although Guaidó was boosted when the air force general, Francisco Yanez, became the highest-ranking military official yet to pledge support for him.
In an unusual turn at the end of the interview, presenter Jordi Évole urged the pair to talk over a phone call. When the call went to an answering service saying the voice mailbox was full, he asked Maduro to give a message to Guaidó.
Maduro then said: "Think about what you're doing. You're a young man, you have many years of fighting left. Politics is not a game for children, it demands a lot of responsibility, a lot of good sense… Do not let yourself be used by foreign governments or the old figures from the right."
Guaidó has called for local and foreign groups to help get humanitarian aid to three collection points. He also demanded that the military allow aid to reach the country and has asked Europe to protect Venezuela's assets abroad, CNN reported.
Venezuela's Maduro Slams Donald Trump Government: 'White Supremacy Governing the White House Despises Our People' | World