Mark Dimondstein, the president of a national labor union representing United States Postal Service (USPS) workers, relayed firsthand accounts of federal policies fueling delivery delays on Sunday.
During an interview with CNN's Wolf Blitzer, the American Postal Workers Union (APWU) chief discussed ways in which Postmaster General Louis DeJoy's new protocols are contributing to significant slowdowns.
"What we're hearing from the workers throughout the country is that the policies that the new Postmaster General has implemented—cutting back the hours that employees are working, changing transportation and cutting back transportation of mail, strict guidelines where somebody can't wait 10 minutes to get all the mail on a truck to get delivered that day, even though it should be delivered that day—that all these policies are slowing down the mail," Dimondstein said on Sunday.
The APWU is one of the largest postal service unions, representing more than 200,000 current and retired USPS employees nationwide. Dimondstein told CNN union members are "very troubled" by the functional regulations feeding service efficiency issues, whether they are politically or economically motivated.
"We've never seen anything like this, even in a Christmas rush," he continued during Sunday's interview. "So, it's very troubling to postal workers, that we should be delaying the mail."
The recent structural and operational changes to USPS have raised alarms among lawmakers and members of the public alike, given the high volume of voters expected to participate in November's election using mail-in ballots.
President Donald Trump, who insists widespread vote-by-mail procedures will prompt fraudulent results despite a lack of evidence, sparked increased concerns about government manipulation last week. During a Thursday interview with Fox Business, Trump suggested the reason he does not support Democrats' proposed stimulus funding to USPS was rooted in his opinions about mail-in voting.
Postmaster General DeJoy became subject to heightened scrutiny for his role in the changes to USPS. Earlier Sunday, Congressional Democrats formally requested he testify at an upcoming hearing they said will examine the postal service's "sweeping" operational amendments and their anticipated impacts on voting.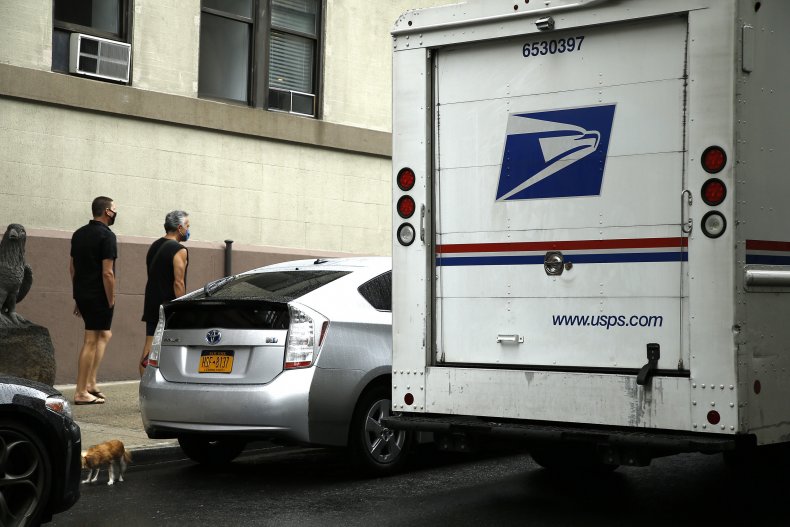 DeJoy has not directly addressed accusations that new USPS policies came at the behest of federal superiors. During a Board of Governors meeting on August 7, the Postmaster General said USPS leadership is "vigorously focusing on the ingrained inefficiencies in our operations" and altering protocols as a result.
"We have taken immediate steps to better adhere to our existing operating plans, which were developed precisely to ensure that we meet our present service standards in an efficient and effective manner," DeJoy said at the meeting, according to a USPS press release. "By running our operations on time and on schedule, and by not incurring unnecessary overtime or other costs, we will enhance our ability to be sustainable and to be able to continue to provide high-quality, affordable service."
Newsweek reached out to the APWU for comments, but did not receive a reply in time for publication. A USPS representative referred Newsweek to DeJoy's August 7 statement.