Veteran Groups: Our Community Has an Extremism Problem
Each member of the U.S. armed forces swears an oath to protect the homeland, but a concerning number of former military personnel appear to be contributing to the greatest threat to the nation: domestic extremism.
Veteran groups tell Newsweek this is a major problem, and many are calling for greater accountability both from within the community and from President Joe Biden's administration, which has acknowledged this issue.
The inordinate number of veterans turning to radical ideology was put on display for the nation on January 6, when the deadly riots in support of then-President Donald Trump marked the first attack on the iconic Capitol Building in nearly 180 years. Rather than facing a foreign army, however, Washington found itself overrun by an internal threat, one whose ranks were swelled with veterans.
Will Fischer, senior adviser to the VoteVets progressive political action committee, said he was troubled by the role veterans played in the events of that fateful day.
"The amount that veterans and servicemembers are being bombarded with disinformation, leading to many latching on to conspiracies and the kind of radical insurrectionist act that we saw on January 6th, is disturbing," Fischer told Newsweek.
He said that veterans organizations such as his own and the federal government both have a role to play in combating dangerous trends laced with fallacy and mistruth.
"We must do a better job at monitoring the spread of online disinformation, and nipping it in the bud, before it takes hold," Fischer said. "We have to empower veterans who believe in the truth to spread the truth—especially to their fellow veterans and service members. We cannot afford to sit back and just think that no one will believe in these conspiracies."
"People do, and people are," he added.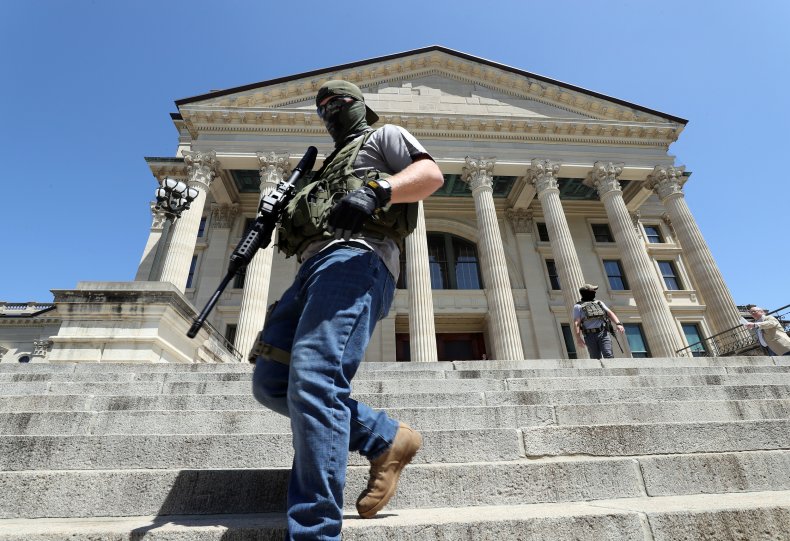 None of the reporting suggests that veterans are naturally predisposed to turning on the country they previously served. Rather, it's a far-right misinformation machine that has perfected its ability to exploit a population that sees itself as alienated and underserved.
"The disenfranchisement that so many veterans face when returning home after service, compounded by feelings of helplessness and disillusionment, and often the lack of access to mental health care, is showing to be one of the leading causes of radicalization within the veteran community," Minority Veterans of America co-founder and Executive Director Lindsay Church told Newsweek.
Church likened the recruitment techniques used by domestic extremist groups to those used by other fundamentalist forces such as the Ku Klux Klan and the Taliban.
"Domestic extremist groups have designed exploitative recruitment campaigns and tactics that prey on disenfranchised people by promising to fill the void left by the government," Church said. "Until those gaps are closed, we will continue to see veterans that are seeking a community fall victim to radicalization."
Echoing Fischer of VoteVets, Church said the onus fell on veteran organizations and U.S. government agencies to address this challenge.
"The military has invested heavily into transitioning folks into service members," Church said, "but do little to nothing to ensure they are ready to re-enter civilian life once their service to our nation is complete."
But this may be changing.
The Biden administration ordered the Pentagon last month to initiate a 60-day stand-down to address the potential issue of extremism among the ranks. Earlier this month, Pentagon spokesperson John Kirby addressed the insider threat in comments referred to Newsweek by the Defense Department.
"I think what January 6th brought to light—and I've talked about this before—is how much it is still a problem, and certainly, within the veteran community," Kirby said. "And it gave us all pause here at the Pentagon to ask fresh questions about the degree to which it's a problem inside the ranks, and that's what we're trying to get at."
The Defense Department also referred to its own instruction guidelines, which include a list of "prohibited activities" that begins with a general ban on radical or discriminatory views.
"Military personnel must not actively advocate supremacist, extremist, or criminal gang doctrine, ideology, or causes, including those that advance, encourage, or advocate illegal discrimination based on race, creed, color, sex, religion, ethnicity, or national origin or those that advance, encourage, or advocate the use of force, violence, or criminal activity or otherwise advance efforts to deprive individuals of their civil rights," the guideline reads.
And while the Biden administration strives to bring the issue to light and remedy it, there is still no concerted effort to address it by the main U.S. agency dedicated to supporting the veteran community: The Department of Veteran Affairs.
"Extremism and radical behavior is something V.A. is deeply assessing," V.A. spokesperson Terrence Hays said in a statement sent to Newsweek. "Currently, the Department has no dedicated program or office in place to specifically combat extremism or radical behavior. However, V.A. remains fully committed to our Veterans, their families, caregivers and survivors and works tirelessly to deliver the best holistic care possible."
With no federal program in place, veterans groups have had to confront the problem on their own.
Veterans of Foreign Wars Communications and Foreign Affairs Director Rob Couture said his group, which calls itself "the largest and oldest war veterans service organization" in the country, would punish and perhaps even expel those whose views didn't fit with its commitment to represent veterans of all backgrounds.
"The VFW is a place of diversity, inclusion and patriotism where our veterans pledge to honor one another," Couture told Newsweek. "The targeting and exploitation of service members and veterans through extremist disinformation is of great concern, and we maintain that any member who displays conduct unbecoming to the organization can be brought up on disciplinary charges up to and including termination of membership."
John Raughter, deputy media director of the American Legion, also said those no longer supportive of the country they promise to protect would find it uncomfortable in the ranks of his organization, which bills itself as "the nation's largest wartime veterans service organization."
He pointed to the fact that the preamble to the U.S. Constitution, a document all U.S. personnel swear to uphold, is featured on the back of every American Legion membership card.
"Anyone who feels that they are opposed to our way of government in our system would not have a home in the American Legion," Raughter told Newsweek. "They would not be comfortable, because every single time they had a meeting, or look back at our membership card, their very words that they promise in our meetings when they recite the preamble, flies in the face of these groups that are trying to overthrow the government."
He urged those who have fallen into "the fringe" to seek help, and to remember their initial oath.
"We hope that veterans remember their oath to this day," Raughter said. "At least one time they believed that this country was worth serving for and worth dying for. It's the same great country, they just need to remember that."
David Tenenbaum, CEO of Honor Media, a nonprofit media company for the veteran community, issued a condemnation of the hate groups looking to harm.
"I pray veterans guard themselves from predatory tactics by extremist groups looking to take advantage of their fidelity to this country," David Tenenbaum, CEO of Honor Media, a nonprofit media company for the veteran community, told Newsweek. "What could be more abhorrent than groups determined to undermine our national well-being, than to additionally recruit from those who swore to protect it?"
He also recalled the diversity of a group numbering more than 17 million, or about 7% of the nation's population.
"We're White, we're Black, we're every color, race, culture, language, religion and sexual orientation as can be and as diverse as America," he said. "Our loudest voices are not our majority's voice and do not speak on behalf of all of us. Many of us still uphold being apolitical as we were required in uniform, but who we were then and yet now remains the same, a diverse sampling of the same country we swore to serve."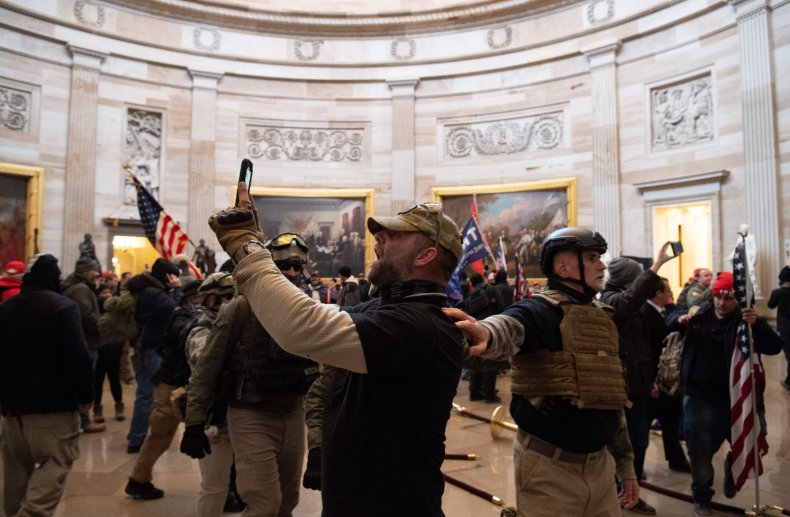 Yet hateful mindsets continue to persist and plague U.S. military communities, both active and veteran. Some worry the messaging being put forward by official channels is too broad. Neither the Pentagon nor V.A. specifically identify which extremist or radical ideology is of concern.
A number of conservative politicians and commentators have sought to capitalize on the ambiguity in official statements regarding turmoil at the Capitol to shift the blame from organizations associated with the political right to those more commonly linked to the left. Scores of Republicans named organizations such as Black Lives Matter and antifa as being behind the attack, despite the event's overt pro-Trump tones.
Carla Hill, associate director of the Anti-Defamation League's Center on Extremism, said the record must be set straight to truly understand what has brought the nation to this point.
"The Capitol insurrection was a product of far-right extremism and QAnon conspiracies," Hill told Newsweek. "We need to be clear-eyed about the nature of this threat. Blaming Antifa or Black Lives Matter for the Capitol insurrection is irresponsible and plays into false conspiracy theories."
Naveed Shah, head of government affairs at the Common Defense political action committee, said the Biden administration must come out in no uncertain terms to identify the specific threat of white supremacy and other far-right strains.
"For them to keep saying that extremism is a problem without saying explicitly that white supremacy or Christian identity-type extremism is the issue is really missing the point," Shah told Newsweek.
He said that federal law enforcement bodies such as the FBI have dedicated insufficient resources to tackling domestic extremism, while investing heavily in combatting Islamic extremism, an ideology that has hurt and killed considerably fewer people on U.S. soil than far-right violence since 9/11.
This blind spot, he said, has allowed the domestic threat to fester.
"The results of that were the insurrection on January 6, that was a movement that grew in large part because it was ignored, because it was not addressed directly by our leaders," Shah said. "That's a huge problem, and if we continue to not address it, it's the elephant in the room that will continue to grow, and cause further conflicts like that, and next time more people might get hurt."