Veterans Call on Dan Crenshaw to Resign for Alleged Role in Disparaging Female Vet
At least two veterans groups, along with more than a thousand individual former service members and Department of Defense civilians, have called for the resignation of Rep. Dan Crenshaw (R-Texas) over his alleged role in helping a top Trump administration official collect discrediting information about a female veteran who said she was sexually assaulted.
Common Defense, a progressive veterans group, joined the likes of the left-leaning organization Vote Vets on Wednesday in calling for the first-term lawmaker to step aside after an independent government watchdog report said he tried to disparage the victim, Andrea Goldstein, by feeding information to Department of Veterans Affairs Secretary Robert Wilkie that could disparage her reputation.
Crenshaw, a former Navy SEAL, and Goldstein, a Navy veteran, at one point served in the same command unit together.
"As a veteran, Dan Crenshaw swore the same oath we did to protect the Constitution, yet in Congress, he's doing the exact opposite, enabling Trump and now, silencing and smearing his fellow veterans," Common Defense said in a statement. "It's clear: Dan Crenshaw is not morally fit to be a member of the House of Representatives."
The push comes as Vote Vets and hundreds of individual veterans have also said Crenshaw should vacate his office.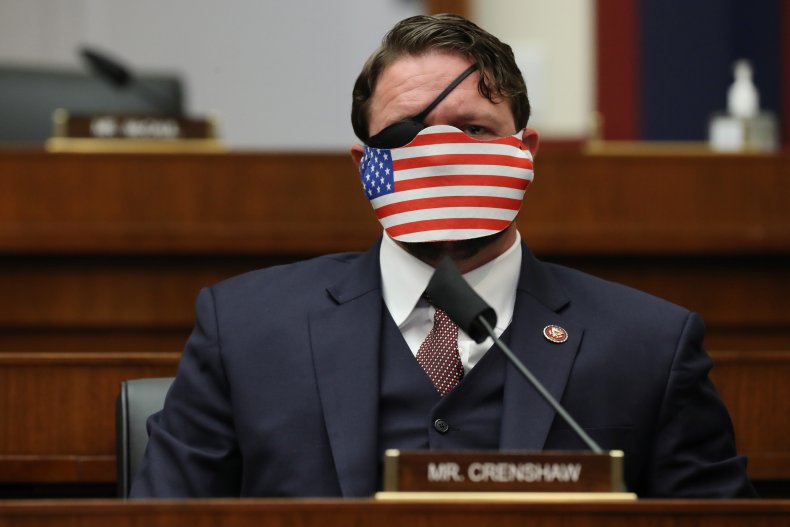 A nearly yearlong investigation by the VA inspector general (IG) released last week showed an orchestrated effort by Wilkie, a Trump appointee, to collect dirt on Goldstein that could discredit her claim that a man sexually assaulted her at a VA facility in September 2019. Crenshaw told Wilkie that Goldstein has made past frivolous sexual assault allegations in the Navy, Wilkie's top deputies told investigators, an allegation that Crenshaw has vehemently denied.
Common Defense described Crenshaw's alleged actions as "unethical and dishonorable," adding that they were "only the latest example" of how Crenshaw "has failed to serve his constituents and country with honor and integrity."
"As an elected member of the U.S. House of Representatives, Dan Crenshaw has failed to act in a manner that reflects credibly on the House and has broken the public trust necessary to represent his constituents and fellow veterans," the statement added.
Crenshaw's communication director, Justin Discigil, provided the same statement to Newsweek that it did earlier this week when two of Crenshaw's Democratic veteran colleagues—Reps. Jackie Speier (D-Calif.) and Jason Crow (D-Colo.)—called for a congressional ethics probe into the Republican.
"This is a completely fabricated narrative that has no truth to it. Rep. Crenshaw never participated in a 'smear campaign,' as he has said repeatedly," Discigil said. "Any claim to the contrary is a slanderous political attack and nothing more."
Crenshaw later issued a string of tweets, denying that he had any role and said he has the "utmost respect for fellow veterans and especially the challenges that many female veterans face."
"I will not stand by and have my good name and reputation tarnished by this partisan hack job," Crenshaw continued. "I would never assume, without evidence, that a fellow-veteran's claims are untrue, nor would I attempt to involve myself in any ongoing investigation."
The IG report also said that Wilkie and his senior officials worked to erode Goldstein's reputation both within the VA and to the press by funneling potentially damaging information to reporters. The report labeled actions by Wilkie, his top aides and Crenshaw as "unprofessional and disparaging."
Goldstein is a staffer for House Veterans Affairs Committee Chairman Mark Takano (D-Calif.), which led Wilkie and Crenshaw to claim her sexual assault allegations were part of a Democratic plot against the men.
Wilkie has denied any wrongdoing. The report concluded that no criminal evidence was found for either Wilkie or Crenshaw, but the internal watchdog noted that it could not fully investigate because the two men refused to cooperate. Crenshaw would not speak with the IG while Wilkie declined follow-up interviews.
More than a dozen veteran groups and lawmakers, including House Speaker Nancy Pelosi (D-Calif.), have demanded Wilkie's resignation.
In less than 24 hours, more than a thousand individual veterans have also signed onto an open letter for Crenshaw's resignation spearheaded by Elisa Cardnell, a veteran who ran in the Democratic primary earlier this year in Crenshaw's district.
"She is always trying her best to stay relevant, but this is pretty desperate even for her," Discigil said of Cardnell.
Cardnell told Newsweek that the IG report detailing Crenshaw's role was not surprising because it's a "pattern for Dan Crenshaw to disparage women." The former Democratic candidate said she's had to report past threats from Crenshaw supporters when he offered online criticism of her.
"For [Crenshaw] to make those attacks on a woman, a fellow veteran, in response to being accused of ensnarling the reputation of yet another woman veteran is very telling," Cardnell said.
This story was updated to include comments from Crenshaw posted to Twitter and from Cardnell made to Newsweek.