Veterans Group Condemns Trump After Mask 'Photo-Op' at Walter Reed Military Hospital
A progressive veterans group on Sunday shared a video on its social media pages that criticized President Donald Trump during his recent visit to Walter Reed National Military Medical Center in Bethesda, Maryland.
VoteVets called the president a traitor in its video while declaring his decision to wear a mask at the medical center was merely a "photo-op." It also called attention to a report last month by The New York Times that said the president was briefed earlier this year after Russia allegedly offered bounties on U.S. soldiers in Afghanistan in 2019. The White House and Trump have denied that the president had any knowledge of the bounty offers.
The 26-second video shared by VoteVets begins with the caption, "What wounded warriors see when Trump comes for a photo-op" as the president strides through Walter Reed while wearing a mask. Words that read, "Putin won't let me say a word about Russian bounties on your heads" then flash over the president's dark blue mask.
On Facebook, Twitter and Instagram, the video is accompanied by #TraitorTrump and #PhotoOp hashtags.
Though both Russia and the White House have denied having any knowledge about the alleged bounties placed on U.S. soldiers, the issue is a sensitive one due to the president's controversial relationship with Russian President Vladimir Putin, which critics said remained too friendly after Robert Mueller found Russia interfered in the 2016 U.S. presidential election.
Newsweek reached out to the White House for comment but did not receive a response in time for publication.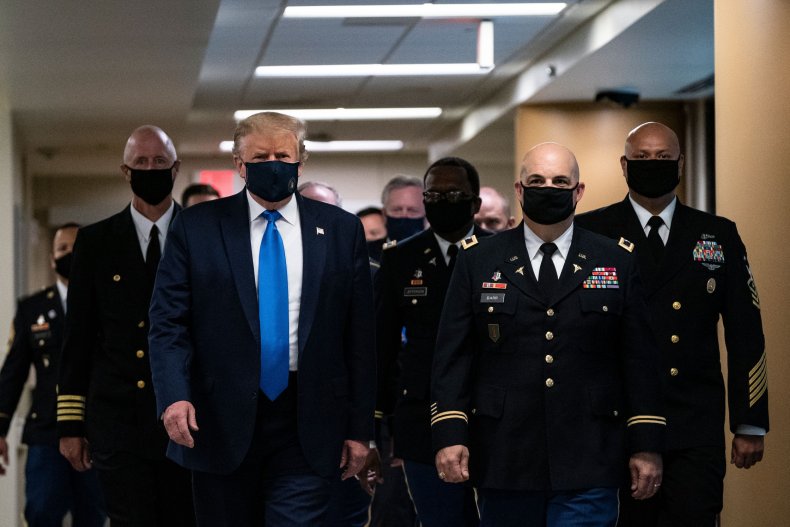 VoteVets has frequently criticized the president at times when the group's mission—which it says is to support veteran care and the issues that impact veterans both at home and overseas—is at odds with that of the White House and often endorses and financially supports liberal politicians.
As statues memorializing Confederate soldiers became a point of focus for Black Lives Matter protesters last month, VoteVets argued in favor of renaming the military bases that carry the names of officers who fought with the Confederate army during the Civil War. The organization's stance conflicted with the president's call to resist name changes in an effort to preserve history. VoteVets has also called for additional shutdown measures as the coronavirus pandemic spreads throughout the country, though Trump has at times downplayed threats posed by the virus and called for states to continue with the reopening process.
In addition, Trump has repeatedly appeared in public without wearing a mask or other face covering. In April, the Centers for Disease Control and Prevention recommended all Americans wear a face covering whenever social distancing is not possible to prevent further spread of the virus, and several states have since required residents to wear masks in both indoor and outdoor public spaces as case numbers continued rising. Several public health officials have called on Trump to wear a mask in his public appearances, saying doing so would carry symbolic weight and perhaps encourage more Americans to wear their own.
Sunday's visit to Walter-Reed marked the first time Trump has been seen wearing a mask during a public event.