Veterans Groups Slam Trump's Turnover at Veterans Affairs as Ousted Secretary Says 'It Should Not Be This Hard to Serve Your Country'
Ousted Secretary of Veterans Affairs David Shulkin has said he was pushed from his job by those who want to see care for service members privatized, as veterans groups condemned the high turnover in the Trump administration.
President Donald Trump announced his decision to replace Shulkin on Twitter Wednesday and that Admiral Ronny Jackson, MD, a Navy officer, will take his place. Jackson is also the president's personal physician.
Shulkin's removal is part of a large shakeup at the highest levels of the administration in recent weeks. It has already seen Trump remove Secretary of State Rex Tillerson and national security adviser General H.R. McMaster.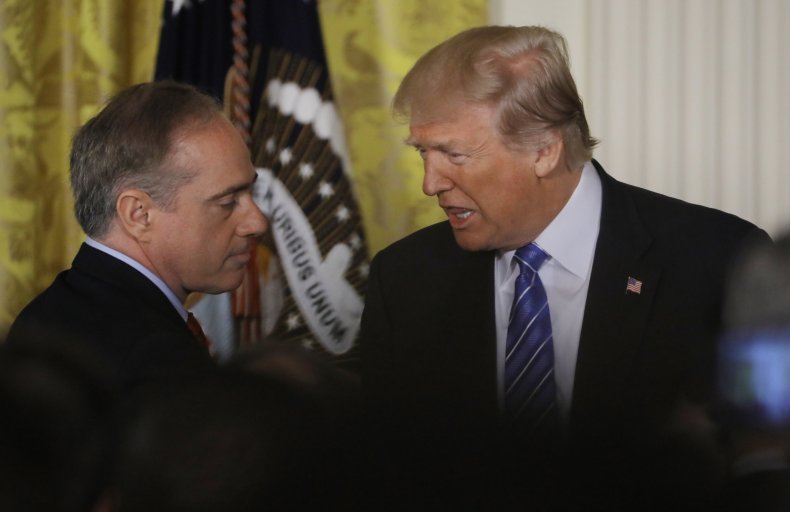 AmVets, a nonpartisan veterans' advocacy group, said Shulkin's removal threatens to undo the "hard-fought progress that's been made so far" to veterans health care under his leadership.
Jackson will be the sixth top official installed through turnover at the VA in the past four years. The department was rocked in 2014 by a scandal over under-reported wait times that contributed to the deaths of as many as 40 veterans.
"After more than a full year of progress, the VA still faces large and complex challenges that require continuity of experience and capable leadership," AmVets said in a statement. "It's unclear at this point whether President Trump's nominee would provide the VA either of those things. And any lack of clarity at the VA about its direction and leadership stymies the hard-fought progress that's been made so far."
The veterans advocacy group VoteVets also raised concerns. "Now is not the time for people who need training wheels," said VoteVet's director of government relations, Will Fischer, in a statement. "Other than a total lack of awareness of where [Jackson] stands on any issue, we are also concerned that he has never managed an agency like the VA."
Read more: Ivanka Trump, not Rex Tillerson, will meet South Korea's foreign minister amid North Korea negotiations
In an opinion piece in The New York Times Wednesday, Shulkin said, "It should not be this hard to serve your country."
Shulkin complained that his "successes within the department have intensified the ambitions of people who want to put VA health care in the hands of the private sector." He cited major achievements, including a new G.I. Bill, reducing wait times, processing more disability claims, improved mental health services, and a 24 percent increase in trust with the VA's services among veterans compared to four years ago.
During the past few months of his tenure, Shulkin has been dogged by findings in a government watchdog report that he misspent taxpayer money and improperly accepted gifts. He was formally scolded by the White House. Other officials who were scolded for similar ethics violations have not, so far, been removed.
In his op-ed. Shulkin argued that political appointees in the administration who support privatizing the VA didn't want to debate his approach to reform on its merits, but instead "saw me as an obstacle to privatization who had to be removed."
"That is because I am convinced that privatization is a political issue aimed at rewarding select people and companies with profits, even if it undermines care for veterans," he wrote.
In the lead up to Shulkin's ouster, reports indicated that Trump was strongly favoring replacing him with Fox & Friends host Pete Hegseth who advocated forcefully in conversations with the president to privatize the VA health care system.
Veterans groups say they're wary of Jackson because they know little about this stance on government policy.
"I am deeply concerned about the nominee. Veterans' lives depend on this decision, and the Trump administration needs to substantiate that this active-duty Navy officer is qualified to run a $200 billion bureaucracy, the second largest agency in the government," said AmVets Executive Director Joe Chenelly.
Jackson faces a confirmation hearing in the Senate. Until then, Robert Wilkie, under secretary of defense for personnel and readiness, will be acting secretary.