Veterans in Pain Are More Likely to Attempt Suicide, VA Study Shows
Veterans with moderate or severe pain intensity are more likely to attempt suicide, according to a recent study by the U.S. Department of Veterans Affairs.
The study evaluated more than 200,000 cases over a two-year period, discovering lower survival rates among veterans with pain, even when considering a history of suicide attempts, post-traumatic stress disorder (PTSD), depression, anxiety and financial concerns.
The report sheds light on recent hikes in military suicide rates despite prevention efforts. Those numbers don't include nonactive military members, but veterans are also a particularly vulnerable group to suicidal ideation, according to the VA.
The suicide rate among veterans is 1.5 times that of the general population, claiming about 20 lives per day, according to a 2016 account by MilitaryTimes. Past research has pointed to emotional distress, substance misuse, and a lack of environmental support—with more than 37,800 veterans experiencing homelessness in 2018 alone—to account for the disparity.
Besides the long list of emotional and environmental precursors, VA researchers found that veterans also experience chronic and severe pain more often than their civilian counterparts. In fact, pain is the most common factor veterans experience before they die by suicide, according to the study.
Using data between 2012 and 2014, the VA researchers looked at veterans' average pain intensity scores for a year after they began pain treatment. Suicide attempts in the same year were identified using medical records and other suicide surveillance sources, according to the VA.
The results—veterans with severe and moderate pain attempted suicide at higher rates—held for those with and without previous suicide attempts in the preceding year. Meaning pain can be a risk factor irrespective of the patient's immediate history.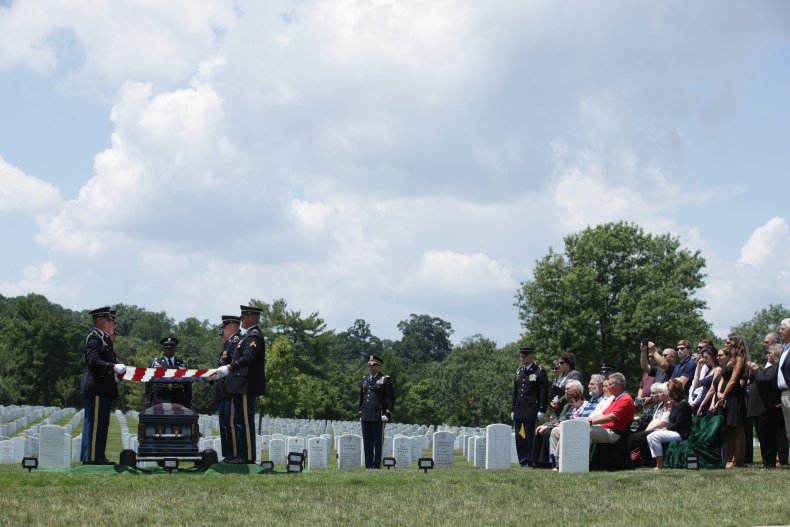 Last week, Newsweek reported two Navy sailors passed away due to suicide, while another died from over-drinking. Speaking before reporters in Arlington, Virginia, at the annual Military Reporters & Editors Association conference, Under Secretary of the Navy Thomas Modly attributed the Navy's suicide spike to broader societal trends.
"I'm not a social scientist on this kind of stuff or a psychologist," Modly told Newsweek at the conference. "But I think that this is a societal problem, and I think people get connected through electronic and digital means and disconnected in much more personal ways."
While military suicide rates were similar to the broader population when factoring in age and sex in 2017, they appear to be climbing within every active military service except the Air Force, according to the Pentagon's annual suicide report.
Meanwhile, military members engage in heavy drinking and substance misuse at above average rates when compared to civilians. Combat, high-stress environments and head trauma are also associated with higher rates of depression, anxiety disorders and PTSD, according to an October report by the Congressional Research Service.
In 2019, Congress appropriated $125 million for the Congressionally Directed Medical Research Program's research on psychological health and traumatic brain injuries.
President Donald Trump has also requested $9.3 million to fund the Defense Suicide Prevention Office, a wing of the U.S. Department of Defense, in the proposed budget for 2020.
If you have thoughts of suicide, confidential help is available for free at the National Suicide Prevention Lifeline. Call 1-800-273-8255. The line is available 24 hours every day.
Military members and veterans can also call the 24-hour Military Crisis Line at 1-800-273-8255, text 838255 or visit the site for online messaging.