Veterans of World War II-Era Nazi SS Special Forces March in Latvia As Europe Experiences Wave of Far-Right Nationalism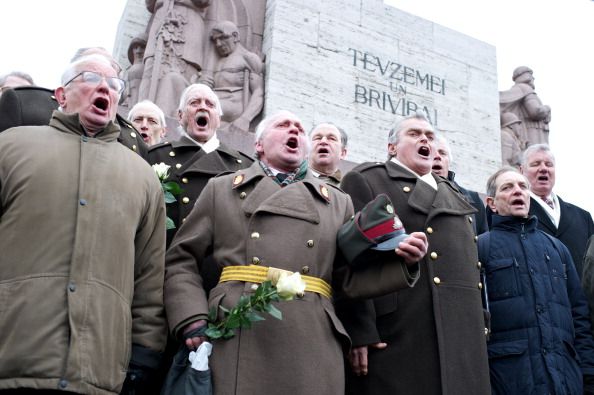 Police in Latvia arrested a man participating in a pro-Nazi march on Friday morning because he was carrying a poster with an image of soldiers killing Jews.
The annual Remembrance Day of the Latvian Legionnaires brings together veterans of two divisions of the World War II-era German Waffen-SS, which was the armed wing of the Nazi Party's SS, or Schutzstaffel, which literally means "protection squadron." The 1946 Nuremberg Tribunal determined that the elite Nazi security force was a criminal organization, but the Latvian Legion—part of the SS—continues to march each year together with hundreds of its supporters. It is the only public event in Europe that honors former Nazis.
This year's event took place amid growing concerns about far-right, nationalist and pro-Nazi sentiment in Europe. In particular, nearby Poland saw neo-Nazis and other far-right elements march to celebrate the 99th anniversary of Polish independence in November last year. Still, experts said that far-right movements are becoming less prominent in the Baltic region, where Latvia is located.
"While the upsurge of far-right movements in Europe, including in the Baltic States, is a worrying new development, particularly for minorities like asylum seekers and Roma who tend to fall between the crosshairs, the number of far-right participants in marches such as this has fallen year-on-year in the Baltic," Nathan Stormont, a researcher at Freedom House, told Newsweek.
"Such movements tend to become the butt of online jokes rather than a meaningful force on the Latvian political scene," Stormont added.
The Latvian Legion formed during World War II when Baltic countries such as Latvia found themselves stuck between the German forces and the Soviet Union. Latvia was briefly occupied by the Soviet army in 1940, shortly after Germany and the Soviet Union signed a short-lived non-aggression pact.
But the Nazis eventually invaded Latvia during their march towards the Soviet Union. Having experienced horrific violence and repression under communist leader Joseph Stalin's rule, some Latvians treated the Nazis like liberators. Thousands joined the Nazis as volunteers, and many were responsible for the brutal murder of Jews in Latvia.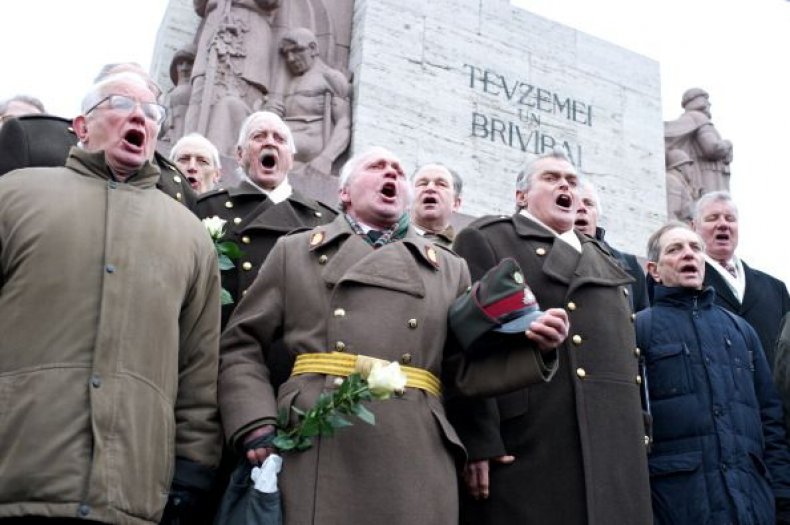 Over two decades after Latvia gained its independence from the Soviet Union, tensions still exist between Latvian nationalists and pro-Russian elements in the country. Veterans of the Latvian Legions laid wreaths in the country's capital on Friday, as they were accompanied by Latvian nationalist groups.