Christian Bale thought the filmmaker had lost his mind.
It was early 2017, and Adam McKay was asking him to portray Dick Cheney. This bewildering news had reached Bale one piece at a time. First, he heard that McKay was working on a script about George W. Bush's vice president. Then, that the filmmaker, who had cast Bale as a nerdy hedge fund manager in 2015's The Big Short, wanted to work with him again. "I supposed it was about some supporting role," says the actor.
But no, McKay visited Bale at his home and informed the actor that he was his first pick to play one of the most loathed vice presidents in American history. The only pick, really—McKay has said he envisioned Bale and nobody else when he wrote the script.
"When a character is described as one of the least charismatic leaders, and somebody says, 'You'll be perfect for it,' it is not a flattering idea," Bale says with a chuckle. "It took incredible imagination to think I could achieve it."
Yet Bale wasn't convinced until he read the script for Vice, McKay's follow-up to The Big Short, which made satirical mincemeat out of another Bush-era calamity: the 2007–2008 subprime mortgage crisis. The new film—which lampoons Cheney's rise from hard-drinking Wyoming nobody to a position of power (and then more power, and still more power)—is like watching a conventional Washington biopic through a fun-house mirror. McKay incorporates surrealist elements, joke endings and one particularly divisive sequence in which Cheney and his wife, Lynne (Amy Adams), launch into impassioned Shakespearean dialect.
"That playfulness is what gave me the confidence to say yes," Bale says. "There's nothing new about tragedy and comedy going together. Adam managed to embrace that in a different way."
McKay's cleverest trick uses Cheney's furtiveness as an opening rather than an obstacle. For instance, Vice shows his clandestine meetings with oil executives in the White House with the dialogue bleeped out. (The content of these real-life meetings has never been disclosed.) It was Cheney's predilection for secrecy, the film suggests, that enabled him to become arguably the most powerful American vice president ever, exploiting the aftershocks of 9/11 and architecting the Iraq War behind closed doors.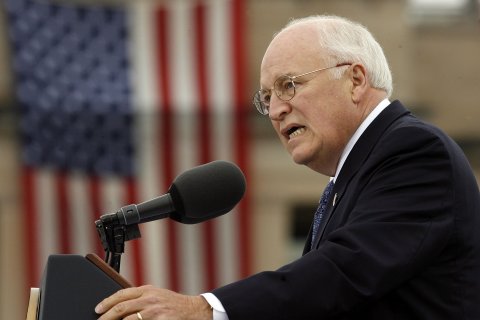 Those who expected McKay to play it straight have not paid attention to his past work. He made his name with raunchy comedies like Anchorman: The Legend of Ron Burgundy and Step Brothers, both in collaboration with creative partner Will Ferrell (whose famous Bush impression seems to have influenced Sam Rockwell's approach to Dubya in Vice). Even McKay's The Big Short, his first foray into drama (which won him an Oscar for screenplay), subverted genre conventions—like actor Margot Robbie explaining mortgage-backed securities in a bubble bath.
The Big Short also introduced the director's professional interest in making Bale, once ranked among the sexiest men alive, look as unsexy as possible. Double that for Vice. Cheney is exactly 33 years older than the 44-year-old actor (they share a birthday, Bale tells me with apparent fascination) and a whole lot balder.
But for an actor noted for his willingness to submit to physical and psychological extremes, what are wrinkles and a bald cap? To play a Wall Street sociopath in 2000's American Psycho, Bale frequently stayed in character between takes. He shed more than 60 pounds to play the emaciated lead in 2004's The Machinist (subsisting on little more than coffee and apples), gained over 100 pounds back for the title role in 2005's Batman Begins and lost most of it again to portray boxer Dicky Eklund in 2010's The Fighter (for which he won the best supporting actor Oscar).
Does Bale enjoy subjecting himself to these extremes? "No, no," he says. "It can be enjoyable for a short amount of time. But it's miserable when it's not healthy. I keep saying, 'Never again.'" But the scripts keep drawing him in.
This time, he gained 45 pounds, in part by gorging on pies. Before Bale agreed to the part, he and McKay spent months working with a top makeup artist to investigate whether a convincing Cheney transformation would be possible. But that was mere window dressing. "We weren't going for an impersonation," says Bale (who, nevertheless, was so unrecognizable that a producer mistook him for a fishing instructor on set). "It was about getting at the essence of the man."
The actor went down a rabbit hole of interviews—"My phone is still jam-packed with videos of him," he says—to master Cheney's mannerisms, grunts and Darth Vader grumble until they all became muscle memory. Each physical tic had a psychological underpinning. "We had a two-hour conversation about the tightening of the jaw," McKay said at a November press screening of his film. "Our theory was that if Cheney hadn't met Lynne, he would have been a lineman in Wyoming who had crazy drinking nights and got into fistfights. And he couldn't do that. So it was all in his jaw—that's where he held it." (Lynne, as portrayed by Adams—in her third role opposite Bale—is the motivating influence behind the young Cheney making something of himself. By 35, he was White House chief of staff under Gerald Ford.)
Bale's precondition for accepting the part was that he must be able to understand—even defend—Cheney's most catastrophic decisions. "The pact I made with Adam was that I would attempt to be an advocate," Bale says. ("Christian has no judgment," McKay said at the screening. "He would just burrow in.") The actor became particularly fascinated by Cheney's marriage. He read the veep's book In My Time: A Personal and Political Memoir and found it fascinating. McKay, on the other hand, thought it read "like a court deposition."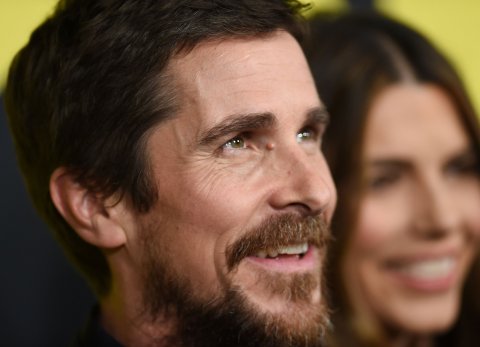 Sometimes actors starring in biopics get to spend time with the actual flesh-and-blood figures they are portraying onscreen. Robert De Niro enlisted the real Jake LaMotta to serve as his boxing trainer while making Raging Bull, for example. Leonardo DiCaprio, as research for Wolf of Wall Street, had the real Jordan Belfort tutor him on what it looks like to be high off your gourd on quaaludes.
Vice is not that kind of film. Bale never met or spoken to the real Cheney—not that he didn't try. Bale spoke to his friends, and he studied in preparation for a possible chat with the man himself. Then lawyers ordered him not to contact the veep. "I would very much like to hear his thoughts [on the film]," says Bale. "I could imagine him enjoying it." More likely, he adds, it would digress to Cheney's infamous remark to Patrick Leahy on the Senate floor: "Go fuck yourself."
Bale refuses to share his own views on Cheney or Bush. "People are looking at me on the screen, he says, "and I would like it if they just saw Cheney." McKay, by contrast, has been outspoken; he recently told The Hollywood Reporter he would gladly choose Donald Trump over Bush and his more calculating "grand master." The actor playing Cheney might be attempting some sort of advocacy off screen, but the film is not a tribute; its lefty bent has already provoked backlash from the National Review.
The real Cheney has kept quiet. The man is 77 and has survived five heart attacks. Those are depicted onscreen; one of McKay's unusual narrative devices involves Cheney's 2012 heart transplant. Bale met with a cardiologist to understand what the symptoms might be, and he brought this information to the director and asked which ones to act out. Then, in January, McKay "started feeling odd," says Bale. "Adam didn't immediately identify it as a heart attack because the sensation was in his stomach, but then he remembered [my] research and immediately downed aspirin and got to the hospital. Thank God that happened!" (McKay had a stent inserted and has recovered fully.)
Life-saving medical advice is not a service actors typically provide. "I like to tell Adam, it wasn't me who saved his life; it was the cardiologist," says Bale. "And I was only at the cardiologist because of Dick Cheney. So, truly, Dick Cheney saved Adam's life."