'Dark Side of the Ring' Season 2: Martha Hart Wants You to Remember Owen Hart the Man
The death of Owen Hart is still one of the most tragic events in WWE history more than 20 years later.
At the 1999 Over the Edge pay-per-view in Kansas City, Hart was rigged to descend from the rafters for his match against The Godfather. Unfortunately, there was a mishap with the equipment and Owen fell more than 50 feet to his death.
The events of that night will be spotlighted in the season 2 finale of Vice TV's Dark Side of the Ring series titled, The Final Days of Owen Hart. In it, viewers will get a deep dive into what happened that day with interviews from the wrestlers and personalities who were there.
But what's more impactful are the interviews with Martha, Owen's wife, and their children, Oje and Athena.
"This Dark Side of the Ring episode is so exceptionally done and people, whether you follow wrestling or don't, it's a human story that people are intrigued to know what exactly happened to Owen," Martha Hart told Newsweek. "And how I had this terrible fight against this billion dollar company who tried to squash me at every turn in my fight for justice."
Martha, who is a doctor at the University of Calgary/Alberta Children's Hospital, doesn't do many interviews, but the prospect of telling Owen's story in a new way piqued her interest, but not without some reservations.
When Dark Side of the Ring producer Evan Husney contacted Martha through the Owen Hart Foundation, which she founded following her husband's to help underprivileged people she asked a series of questions about the proposed project like "what was the story they wanted to tell."
After the two met in person, the pitch made to Martha was that the episode would show another side of Owen outside of wrestling. Of course, the episode delves into his career as a wrestler and the day he died, but it was important to Martha that his personal/family life was spotlighted as well. It also helped that Husney and Vice don't have any affiliation with the WWE, which is always a deal-breaker for Martha after Owen's death.
"A lot of people approach me and are interested in the wrestling side of it. That was a part of Owen, but that was only a small part of who he was," Martha explained. "That was his job. And he was so much more than what he did for a living and they wanted to show that too and that was really important."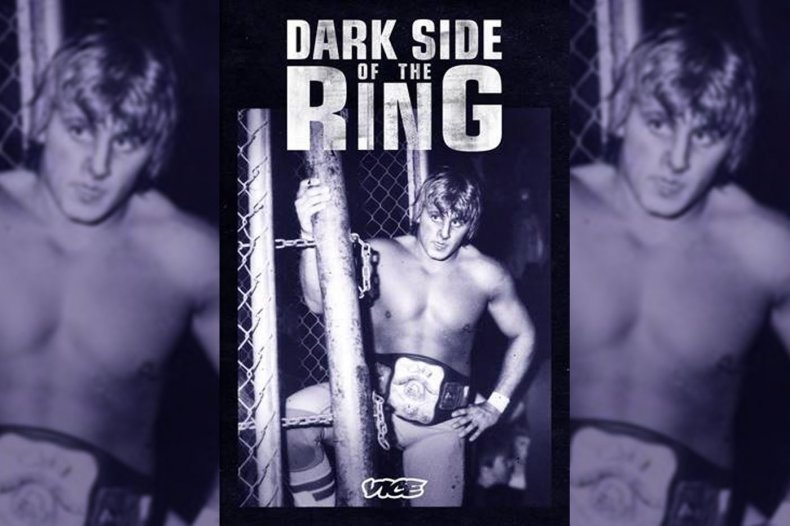 MORE THAN WRESTLING
Owen was the youngest of Helen and Stu Hart's 12 children. The Hart Family are wrestling royalty in Calgary, with Stu a former wrestler as well as a promoter of Stampede Wrestling.
Stu's family would all become involved in the business in some way, but it was Owen alone whose star would rival his older brother's, Bret "The Hitman" Hart. But according to Martha, wrestling wasn't Owen's life. When the two met in high school, it was simply the "backdrop."
"It's interesting when I was married to Owen we were so young and wrestling was a part of the backdrop for our lives because he was a son of a wrestling promoter, but it wasn't central to our life together," Martha said. "It was just his job and we talked about it, sure, but not in-depth about it. We didn't leave and breathe it. It became a bigger part of my life after his death than before his death."
Martha says that Owen didn't have intentions of becoming a professional wrestler at first, but with Vince McMahon buying up smaller regional promotions and becoming a national company in the early 80s, Stu Hart's Stampede Wrestling was struggling.
At the suggestion of one of his brothers, Hart would wrestle for Stampede Wrestling to help give his father's promotion a fighting chance.
"[Owen] loved his dad and didn't want to disappoint him. And that's how he got introduced into the business, but he never planned on staying there," Martha said. "It was always 'for the now.' He was always trying to escape it."
Martha says that Owen tried to become a teacher while in university and frequently applied to become a firefighter, but was denied for not having a college degree, something he couldn't obtain while being a full-time wrestler. He was also thinking of pursuing a career as a customs agent being a dual American/Canadian citizen, something that wouldn't materialize.
When Stampede Wrestling folded in 1989, Owen would eventually arrive in the then WWF where he would have a successful career. With a new wife and kids on the way, Owen used his athleticism, looks and skill to make a living out of wrestling for his family.
"He was working in wrestling, but he was always trying to find a way out. Then there was a point when he signed a five-year-contract with Vince when he expected that this was going to be our life for now," Martha said. "What we'll do is we'll stay in it for a certain amount of time and then he'll get out and do what he wants to do."
"He definitely wanted to be out of it before both of his children were into their formative education years. He didn't want them to live with people bothering them about who he was. He didn't want that," Martha continued. "He wanted to be out of the business when Oje was going into junior high school."
Martha says Owen loved working with his hands and that he liked to build and refurbish bicycles. He even built her one, which she still has. There was an idea that Owen would perhaps one day open up his own shop when he retired.
He also dabbled in acting. Owen had a few acting gigs, including in the Honey I Shrunk the Kids television series in 1998. Martha says that Owen found acting fun and could have seen him move from wrestling to acting, similar to what we see today. Unfortunately, Owen's life was cut short at the age of 34.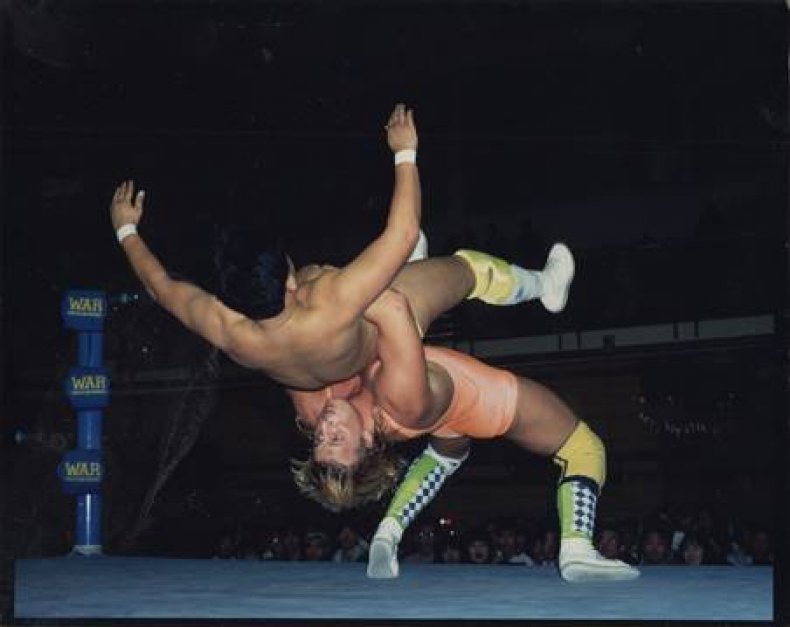 MOVING FORWARD
After his tragic death, Martha's "pursuit of justice" led to a wrongful death lawsuit against the WWE, which was settled for $18 million. That journey is laid out in this upcoming episode of Dark Side of the Ring, and, while sometimes difficult, Martha is happy that her children were a part of this telling of their father's story.
She says that she thinks viewers will enjoy seeing how their children turned out. Oje is now a lawyer pursuing a masters degree in human rights law. He can speak five different languages and wants to help people. Athena is a journalism graduate and writes an animal humanitarian column for a magazine.
All in all, the Hart family turned out okay despite the hardships that came their way following Owen's death. The WWE put legal hurdles in front of Martha when she sued the company, like trying to get the case in Connecticut instead of Kansas City. But Martha sees her family and still manages to find the bright side.
"It was a hard road. I will say that despite all the hardships, I don't wish harm upon anybody or anyone that harmed me. My life hasn't been easy and I don't wish that on anyone," Martha said. "So I hope life has treated them all well because life is hard. You have to be the bigger person and live in a positive direction."
"The episode I liked because it tells the story [of Owen's death], but it's not bashing. It's informative. It shows that despite everything we didn't let it destroy us or make us bitter. Me and my kids have grown in positive directions and done amazing things in our personal lives, but also with the Owen Hart Foundation. We live and breathe it in every part of our lives."
When asked what she hopes Owen's legacy will be she points to the foundation created in her husband's name.
"The kind person he truly was. He was the kindest person I ever knew. He was so accepting of everyone. He was non-judgmental and accepted everyone at face value. Everything that he embodied in his personality that reflects in the Owen Hart Foundation. If you want to know what Owen was about just look at the foundation. It's a reflection of all the good qualities that he had and what a kind and gentle person he was."
"I've always hoped that would be his legacy and of course people will know him for his wrestling and that's ok, but know him also as the human being and the good person that he was."
The Final Days of Owen Hart will air Tuesday, May 19 at 10 p.m. EDT on Vice TV.