Vicky White Set to Win Corrections Employee of the Year Award After Death
Prison guard Vicky White, who appears to have shot herself after allegedly helping a dangerous convict escape, was reportedly due to be presented with an 'employee of the year' award next week.
The Alabama jail official, a 56-year-old divorcee, spent 10 days on the run with Casey Cole White (no relation) after the pair pulled off an escape from the Lauderdale County Jail. She died on Monday from a self-inflicted gunshot wound, an Indiana coroner said.
Her former charge was caught alive by authorities.
Vicky White's motive for allegedly aiding the convict remains a mystery, with some suspecting a romantic relationship while others feared she had been threatened or coerced in some way.
On Tuesday, News Nation senior national correspondent Brian Entin tweeted: "This year Vicky White was voted corrections employee of the year in Lauderdale County. The awards ceremony is next week. The sheriff says the staff is taking the news of Vicky's death hard."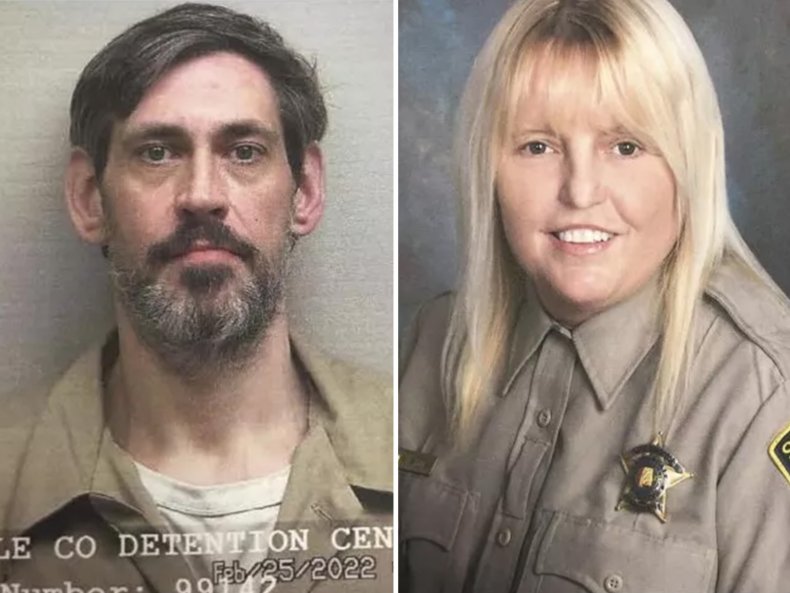 Newsweek has reached out to the Lauderdale County Sheriff's Office seeking further information about claims White was in line for an award. It is unclear whether the ceremony is still due to go ahead and whether White would receive her award posthumously or, more likely, whether she would be pulled from the category while investigators establish exactly how she was involved in Casey White's escape.
Vicky White had previously won the award four times, The New York Times reported, and had been described as an "exemplary employee...[with] an unblemished record" by Lauderdale County Sheriff Rick Singleton.
Speaking while she and Casey White were still being sought, he added: "I guess we're trying to hold on to that last straw of hope that maybe for some reason she was threatened and did this under coercion... but absolutely you'd feel betrayed [otherwise]. All of her co-workers are devastated. We've never had any situation like this with Vicky White. She was a model employee."
News that Vicky White had won 'corrections employee of the year' comes after U.S. Marshal Martin Keely told CNN's Anderson Cooper 360 that Casey White mentioned to officers to help his "wife" after his capture, sparking theories the pair had married while on the run. Keely, however, added that "to our knowledge, they're not married."
CNN correspondent Omar Jimenez said White shouted as he was being apprehended: "Y'all help my wife, she shot herself in the head and I didn't do it."
Vicky White was once married to a man who she divorced in 1991, according to The Associated Press. He died earlier this year.
Casey White was serving 75 years in jail for a string of crimes he committed in 2015, including a home invasion and a carjacking, while he also faces two counts of capital murder after being accused of stabbing 59-year-old Connie Ridgeway also in 2015.