Victoria's Secret has reportedly signed its first openly transgender model: On Friday, 22-year-old Brazilian model and actress Valentina Sampaio shared backstage Instagrams from her VS Pink shoot in New York.
Sampaio, who hails from Aquiraz, Brazil, is also the first trans model to appear on the cover of Vogue, gracing Vogue Paris in 2017. She has also appeared in German and Brazilian editions of Vogue, in Elle Brasil and as a spokeswoman for L'Oréal.
"Life is amazing," Sampaio posted on Instagram on Sunday "Love more and hate less, hate is useless, just do not waste time with it."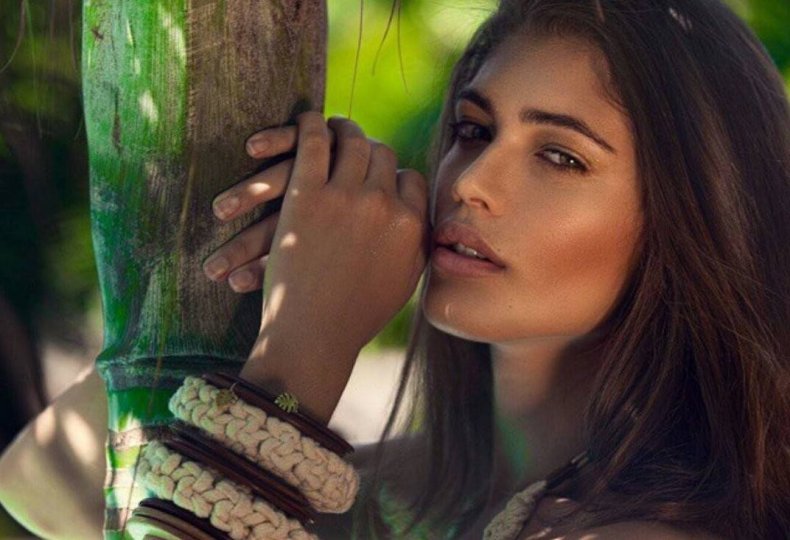 Her signing comes a year after Ed Razek, Victoria's Secret chief marketing officer, spurred controversy by suggesting the company wasn't interested in trans or plus-size models for its televised fashion show.
"So it's like, 'Why don't you do [a size] 50? Why don't you do 60? Why don't you do 24?' It's like, 'Why doesn't your show do this? Shouldn't you have transsexuals in the show?' No. No, I don't think we should," he told Vogue magazine in November 2018. "Well, why not? Because the show is a fantasy. It's a 42-minute entertainment special. That's what it is."
Razek added that VS attempted to do a television special for plus-sizes customers in 2000, but "no one had any interest in it—[they] still don't."
Days after the interview ran, Victoria's Secret CEO Jan Singer resigned unexpectedly.
Razek soon apologized for his "insensitive" remarks:
"To be clear, we absolutely would cast a transgender model for the show," he said in a statement posted on Twitter. "We've had transgender models come to castings.... And like many others, they didn't make it.... But it was never about gender. I admire and respect their journey to embrace who they really are."
Sampaio's addition comes as the company is at a crossroads: After explosive growth at the turn of the millennium, VS has struggled to keep up with changing customer demand. Between 2016 and 2018, its U.S. market share dropped from 33 percent to 24 percent.
Earlier this year, the company announced it was canceling the Victoria's Secret Fashion Show for the foreseeable future "to work on branding and new ways to do the show." The show, which aired on CBS for most of its run, had suffered from declining ratings.
"Fashion is a business of change," read a memo from L Brands CEO Les Wexner. "We must evolve and change to grow. With that in mind, we have decided to re-think the traditional Victoria's Secret Show. Going forward we don't believe network television is the right fit. In 2019 and beyond, we're focusing on developing exciting and dynamic content and a new kind of event — delivered to our customers on platforms that she's glued to... and in ways that will push the boundaries of fashion in the global digital age."