Victory in 2020 Runs Through the Women of the Democratic Party | Opinion
As the dust from last week's Democratic debates settles, consensus is largely that women won. Massachusetts Senator Elizabeth Warren easily maintained her top-tier status in the first night's debate, and California Senator Kamala Harris broke out with a risky but deft direct challenge to former Vice President Joe Biden.
Yet women also won in a deeper sense. Women set the terms of the debate, confirming what many analysts, strategists, party activists and candidates themselves know: Victory in 2020 runs through the women of the Democratic Party.
The first hint of this dynamic came early in night one, when former Housing Secretary Julián Castro adeptly wove a personal story of his single mother's economic struggles into a strong, feminist answer on equal pay. Soon after, unprompted, former Texas Representative Beto O'Rourke expressed his commitment to women's right to legal abortion. And later, Washington Governor Jay Inslee interrupted Warren to inject reproductive rights into the health care discussion.
Inslee did, in fact, sign one of the most progressive reproductive health laws in the nation. But when he claimed to be the only one on stage who had "advanced the ball," he laid the groundwork for Minnesota Senator Amy Klobuchar's friendly but devastating retort.
"I just want to say there are three women up here who have fought pretty hard for a woman's right to choose," she said, as the camera panned out to illustrate the point.
The exchange highlighted the tightrope men walk in appealing to female voters, especially when they face female candidates. Their sincere, if sometimes awkward or patronizing, efforts reflected an unavoidable reality for every ambitious Democrat: Women will likely make up 60 percent or more of Democratic primary voters. Many strategists believe that white, college-educated women and African American women will be the most influential constituencies in the primaries.
Winning over women is essential to victory. For the male candidates, that requires a substantive fluency on issues women care about, as well as respectful treatment of their female opponents. Some men on stage did themselves no favors with their shouting, moments of mansplaining and flashes of condescension. A few, especially New Jersey Senator Cory Booker and Castro, showed they're comfortable with the new normal of diverse competitors and respect the intellect and interests of female voters.
But women running to be president in 2020 are also fighting to win female voters. They just face a different challenge: convincing them a woman is electable.
On night one, notwithstanding the subject of reproductive rights, female candidates seemed to deliberately lean back on women's issues.
Warren, who of course has lots of plans to improve women's lives, wasn't asked about them. Apparently operating under a do-no-harm mandate, she accomplished her goal of holding on to her lead and continuing her steady rise. Klobuchar, who has a stellar record on women's rights, hewed to her "heartland" strategy. When your target voter is blue-collar white men, you're not going to trumpet your feminism. Most strikingly, Hawaii Representative Tulsi Gabbard, a one-issue candidate, pointedly evaded answering a direct question on equal pay.
But Harris and New York Senator Kirsten Gillibrand, on stage with the front-runners Biden and Vermont Senator Bernie Sanders, took an entirely different strategy on night two, forcefully going after female voters.
Gillibrand was compelling on defending reproductive freedom and effectively presented the feminist centerpiece of her candidacy, the Family Bill of Rights. However, despite a commanding performance, she was soon upstaged.
Harris went straight for the kill, taking aim at Biden's core voters and striking at his vulnerability with them. Black women, the heart and soul of the Democratic Party, Biden's most solid bloc of supporters, watched as Harris prosecuted Biden for his record on busing and cozy relationship with segregationists, referring to her experiences as a young girl being in the second integrated class in her school.
Many African American women certainly can identify with that young girl, of course. But Harris was targeting something else: Their pragmatism. Black voters feel genuine respect and fondness for Biden and his loyalty to former President Barack Obama. More important, they favor Biden because they believe, like many Democrats, that only a white man can win.
Harris' was a risky move executed masterfully. In the space of a couple minutes, Harris hijacked the microphone, fearlessly prosecuted the front-runner, held her ground and told a compelling personal story. Previewing how she would go toe-to-toe with President Donald Trump, Harris undercut the central argument of Biden's candidacy: electability.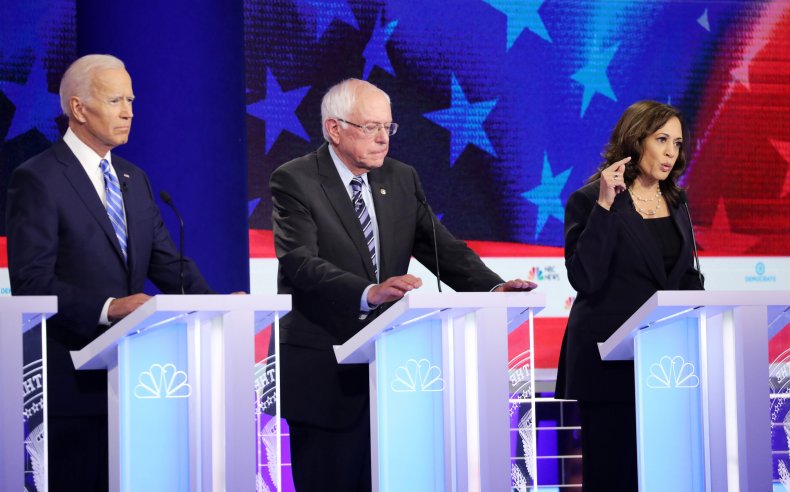 Anyone who watched that exchange should feel very anxious about a Biden-Trump matchup. But, after the commanding performances of Warren and Harris, anyone who wonders if a woman is electable should feel very confident indeed.
Harris and Warren are executing a pincer movement on their opponents. Gillibrand and Klobuchar have shown themselves to be strong debaters. If the male candidates don't learn quickly how better to speak to female voters, they're in danger of being left behind.
Nancy L. Cohen is an award-winning author, historian and national expert on the intersection of gender and American politics. She is the author of three books, including Breakthrough, Delirium: The Politics of Sex in America and The Reconstruction of American Liberalism. Follow her on Twitter: @nancylcohen.
The views expressed in this article are the writer's own.