Video Captures Bear Rolling Trash Can Away From Home
When a bear's attempt to root through some garbage in Colorado Springs didn't go according to plan, the animal ultimately wheeled the garbage can away.
Video footage shared to Isaac Brisk's Facebook page shows a bear sniffing and circling a trash can that was tied shut. After unsuccessfully trying to open the can, the bear pushes it down the driveway.
"Found my can in the driveway across the street," he wrote in his caption. "Still strapped shut!!"
Brisk told Newsweek the bear comes by his house almost every night to try to get into the garbage can or steal it. He added that he wasn't too surprised to see the bear take the can out of the driveway.
Bears are in the area "all the time," he said, and appear on his property almost every night.
Brisk's garbage cans are now completely impervious to the animals since Brisk made them bear-resistant.
Bears have been spotted going through residents' garbage cans if they are not secure, according to KKTV, a CBS affiliate station in Colorado.
A previous story from the news outlet reported that the Colorado Springs City Council voted to approve an ordinance that requires residents who live west of one of the local highways who do not have a garage or secure place to leave their trash to get a bear-resistant trash can.
"If people do have a garage, the ordinance requires that people wait until 5 a.m. on the day of their pickup to set their trash out and take it back inside by 7 p.m. that day," according to the report.
A city board representative, Don Knight, told KKTV the goal was to limit when trash cans are out that contain foods that would attract bears to the city.
"We want the bears staying in the wildlife eating their own natural food," he said.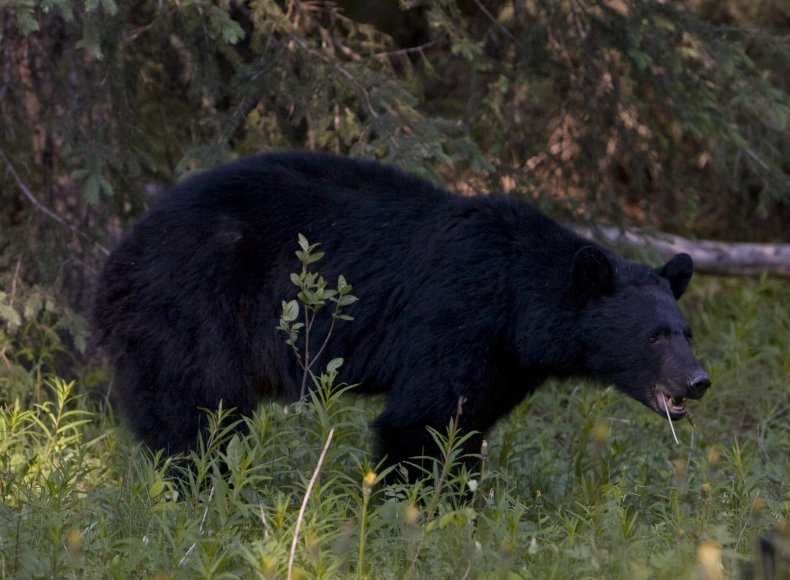 Bill Vogrin of Colorado Parks and Wildlife told Newsweek this is the time of the year that bears are trying to consume 20,000 calories each day to prepare for hibernation. He said that residents and visitors must secure their garbage to ensure bears do not root through their trash or even break into their cars or homes year-round, but especially at this point in the year.
"Bears are smart, they learned how to enter garages, cars and houses," he said. "They are in a feeding frenzy until they enter their dens in the winter."
Vogrin said only black bears populate Colorado. According to the information provided on the Colorado Parks and Wildlife website, many of the black bears living in Colorado are blond, cinnamon or brown. Many of them avoid humans and their response to potential threats is to run away or climb a tree.
As of mid-August, Vogrin said the agency responded to about 2,500 calls statewide and nearly 400 calls in the state's southeast region throughout 2021.
"Bears naturally fear humans, but if we lure them in, either accidentally or purposely, they'll look to humans as a food source," Vogrin said.
He explained that bears can smell something up to five miles away and have a good memory. If they find something to eat at a residence, they may return to that spot to find more food.
Bears going through humans' trash has occurred regularly for years but it's in their nature.
"Bears are doing what bears do, they're living and looking for food," Vogrin said.