You will want to grab the tissues for this heartwarming reunion story. Brian Myers, who suffered a stroke in January and was being treated at Kessler Institute for Rehabilitation in Saddle Brook, New Jersey, was reunited with Sadie, his German shepherd who saved his life. When Myers was leaving the treatment facility and received a joyous send-off from the doctors and employees on Tuesday, Sadie showed up to say hi to her owner. Myers had adopted Sadie only months before, giving a whole new meaning to the term rescue.
In the emotional clip that was shared by Eyewitness News, Sadie excitedly jumps up to lick Myers' face and hug him. Myers is all smiles, as one can see when his four-legged-friend knocks off his face mask. The facility staff can be heard cheering and laughing in the background.
"I'm leaving a very happy man and very satisfied with my progress," Myers gushed. "And I want to thank everyone who has helped me throughout this ordeal."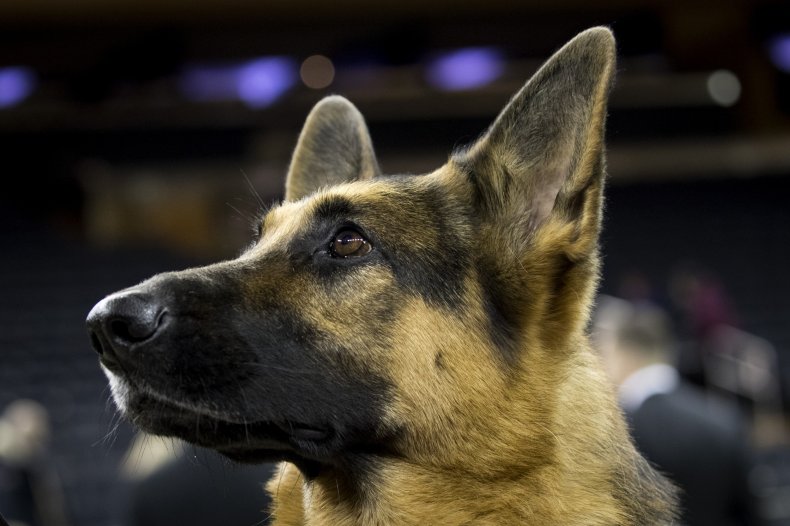 On January 16, Myers suffered a stroke, and Sadie knew that something was wrong. He explained that his dog kept licking his face so he would stay awake, and wouldn't leave his side after he fell to the floor. Sadie leapt off the bed to help him as soon as he collapsed.
"I thought maybe I could use her as a counterweight to get myself up off the floor, and I grabbed her collar to try to do so," he told Eyewitness News on Tuesday. "She somehow instinctively knew to help me by pulling her body weight and pulling me enough to give me the momentum to get myself out of the corner that I was stuck in."
Myers then got himself down the stairs to his cousin, who helped him get the proper medical attention.
Myers adopted Sadie in October 2020 from the Ramapo-Bergen Animal Refuge. NBC New York noted that the dog was nervous around men, but warmed right up to Myers, who said that he missed her while he was being treated for is stroke. "I can't wait to be home with her," he told the news outlet, visibly emotional.
The shelter that Myers rescued Sadie from was thrilled to hear of her life-saving actions. "Brian gave Sadie a second chance at life, adopting Sadie and welcoming her home," Ramapo-Bergen Animal Refuge said via Eyewitness News. "This time, Sadie gave Brian a second chance at life."