An Ohio man is said to be okay after accidentally shooting himself in the face at a gun range.
WJW, a Fox-affiliated television station in Cleveland, shared a video of the accident in an online version of the story. Readers who click the link should be cautioned that the video contains distressing content.
The incident occurred at approximately 6:30 p.m. on Wednesday at a shooting range in Geauga County, which is located about thirty miles east of Cleveland. The man who shot himself's identity was not disclosed.
Geauga County Sheriff Scott Hildenbrand told WJW that the man is fortunate to not have injured himself more seriously or hurt anybody else during the mishap.
He added that the video emphasizes the importance of gun safety and training on how to use firearms.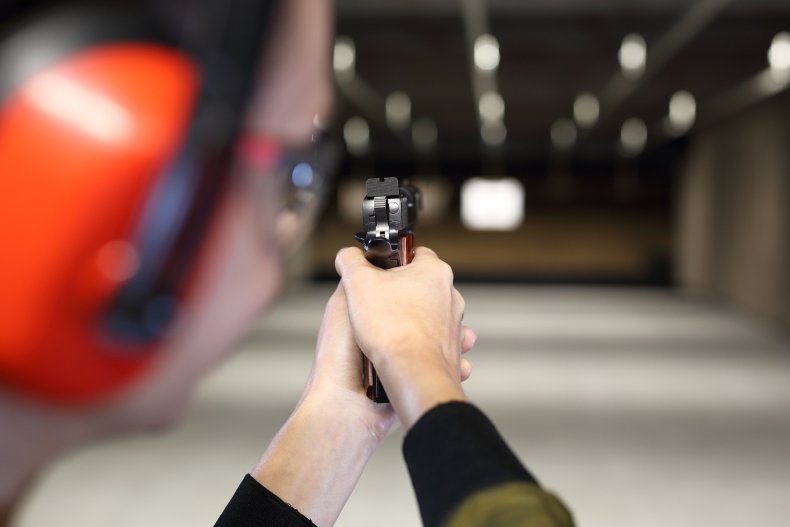 "The video shows that he is shooting a 9 mm automatic [pistol], and when he shot, he ejected the shell and it went right down the back of his shirt," said Hildenbrand. "So, because that's hot—it's brass—he started to move around, and his other hand just came and the gun discharged and went through his cheek and out the top part of his other cheek."
Other accidents at gun ranges in recent months have ended fatalities. On June 1, a 61-year-old man died after accidentally shooting himself in the chest at a range in Lumberton, Texas.
According to a news release from the local sheriff's office, surveillance video from that incident showed the Lumberton man mishandling a gun before it accidentally fired.
On May 15, one man died and another man received facial injuries after an accident at a range in Archbald, Pennsylvania. The man died after a handgun exploded from the nearby shooter who was injured. Officials reported that the gun malfunctioned after reloaded ammunition was used in it.
In November 2020, a safety officer in a United States Practical Shooting Association competition at a range in Penfield, New York, died after being struck by an accidental discharge from a competitor's gun.
Wednesday's accident in Ohio was ruled accidental and the man who shot himself will not face charges. However, Sheriff Hildenbrand told WJW that he hopes the man receives some additional training with guns before he attempts to return to a shooting range.
Newsweek contacted the Geauga County Sheriff's Office for comment but did not hear back in time for publication.