Video: Chris Cuomo Faux-Mocks Don Lemon's Engagement Ring—'Liberace Was Embarrassed'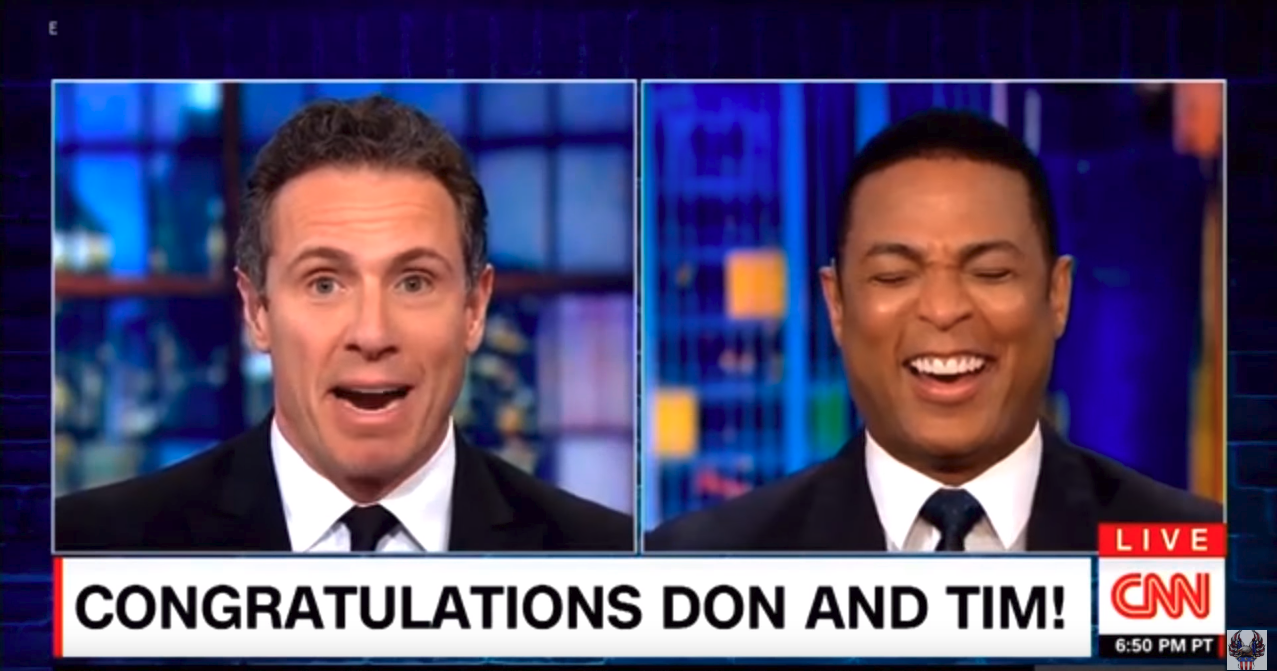 CNN presenter Chris Cuomo poked fun at his newly engaged co-anchor Don Lemon on Monday, joking his ring was so extravagant that Liberace would be embarrassed.
Over the weekend, the 53-year-old CNN host revealed on Instagram that his partner Tim Malone had proposed to him. The post showed a pair of bowtie-shaped dog tags worn by the couple's pets Boomer and Barkley, emblazoned with the words "Daddy will you marry papa?"
Lemon captioned the photo: "He gave me a present on his birthday. How could I say no?"
In the image, a sparkling band can be seen on the Tonight with Don Lemon presenter's ring finger. Malone, a real estate agent, popped the question during a celebration of his 35th birthday on Friday. The pair have been dating since 2017.
On Monday, Cuomo took a moment to give heartfelt congratulations to his colleague.
Speaking under a banner reading "Congratulations Don and Tim!" he told viewers: "I know them both well, you know I know Don. I've known Tim longer and they are beautiful people, they're about all the right things."
"He's a great guy," agreed Lemon, going on to praise Cuomo for his marriage to his wife Cristina Greeven Cuomo.
"I spent, you know, a lot of time with you and Christina this weekend, and you guys have such a great marriage and you're so in love.
"You guys were so happy for us, so thank you for that, and thank you for being so welcoming and understanding, and just a really great friend."
Lemon went on to highlight the stigma surrounding same-sex relationships and made a nod to their past illegality.
"For me this is thrilling and terrifying," he said.
"I can't really explain it to you what this means. I never thought I could get married, never thought my relationships would be public, never even thought that I would really be able to have kids. Now I have to think about all that. I'm a true late bloomer."
Cuomo then told his friend, referring to the late pianist known for his extravagant outfits: "I gotta tell you, for somebody who was worried about the subtlety of it, you blew the cover off that with that ring. Liberace was embarrassed by that ring."
Laughing, Lemon replied: "I didn't buy it, I didn't buy it."
Defending his ring, Lemon went on: "Okay let me tell you what I said, I said 'if I'm gonna get married then I want some bling and who cares? it's my finger and it's my marriage."
Cuomo then revealed that Lemon and Malone had unwittingly visited the same jeweler to have engagement rings made.
"You know what I love? You know how you know when it's the right move?
"Tim goes to the jeweler and says 'look I need a ring I'm making this happen.' The guy says 'wait you know?' and he says 'I know what?' Don had gone to the jeweler and said I'm looking for rings. Now that's when you know it's right."