Video: CNN's Don Lemon Takes down Departing White House Press Secretary Sarah Sanders Who 'Lied Again and Again and Again'
Media commentators are analyzing Sarah Sanders' tenure as White House press secretary and the compliments have not exactly been coming in thick and fast as she departs from the role.
CNN's Don Lemon gave an unsurprisingly unflattering assessment of her time as President Donald Trump's spin doctor, repeating his view that she was a "liar."
On Thursday night, the host was looking at the aftermath of Trump's comments that he would accept intelligence from a foreign source into his opponent as a sign that it was an "anything goes White House."
Part of the blame for this, lay with Sanders, Lemon explained as he segued into a segment about how it was the 94th day in a row that there had not been a press briefing.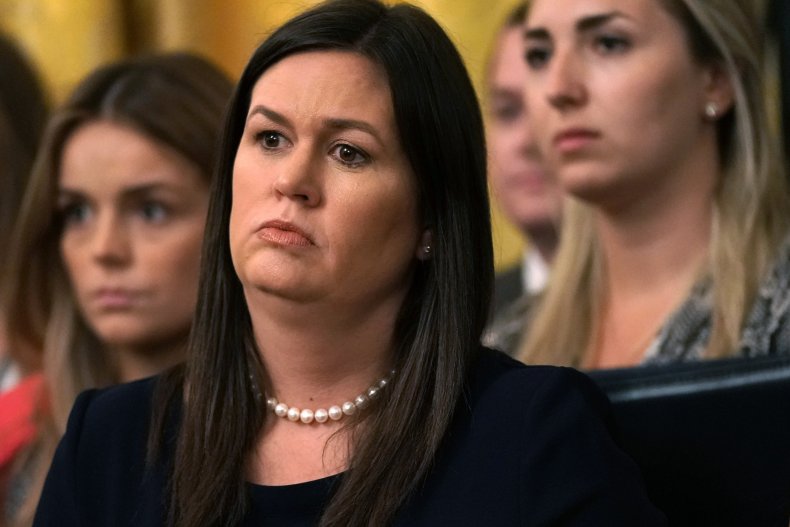 "Make no mistake, that is entirely because this 'anything goes' administration...(that) doesn't want anybody to answer questions from the press, doesn't want the American people to know the truth if it doesn't serve him," the Tonight with Don Lemon host said.
"So Sarah Sanders lied again and again and again. That's not my opinion, those are the facts."
He said that she had lied when she said Trump had never encouraged violence and when she said news outlets had reported that former President Barack Obama had ordered wiretaps on Trump.
"She was even caught red-handed by Robert Mueller himself admitting that her claim that the rank-and-file at the FBI had lost confidence in (ex-FBI director) James Comey. She said it was 'a slip of the tongue and not founded on anything.'"
"You know what that means right, in other words, a lie. So in this 'anything goes' White House, lying is fine."
CNN's political analyst David Axelrod had some choice words about Sanders, saying that she will be remembered for "defending the indefensible, and not being truthful with the American people."
"In this job, she was called upon to choose between her fidelity to Trump and her fidelity to the truth, and she chose Trump," he said.
"If you are the spokesperson for a habitual liar, it's like being fire marshal for a pyromaniac. It's not going to end well for you," he added.
American Urban Radio Network bureau chief April Ryan, who has been a consistent critic of Sanders, told the network host Erin Burnett that she "did the right thing" by quitting, but "she should have done the right thing a long time ago."
"The reason why I say that is because she suffers from 'lie-abetes.' And her tenure has been fraught with sex, lies and videotape."
Fox News, meanwhile, praised Sanders, with host Dana Perino describing her as "one of the trusted advisors of the president. In addition doing the press secretary role, she is somebody who he used as a counselor."
Jesse Watters chimed in, saying:."She was in his inner circle, and it speaks to her talent and grace and compassion and intellect. She is going to be really missed because she was a real crusader for the Trump agenda," Watters said.
Katie Pavlich also lauded Sanders, saying on Fox's The Five: "Being in the room with Sarah Sanders when she was giving those briefings, it was hot and the room was packed. She did it with grace and she did everything she could to get the press what they needed."