Video: E-cigarette Exploding in Anaheim Man's Pocket Caught on Camera
A California man has survived an e-cigarette exploding in his pocket while he was out buying a television.
24-year-old Mohamad Zayid Abdihdy was sizing up a new TV when he felt a shock in his pocket. The shock quickly became a burn and all of a sudden, Abdihdy was on fire. HDTV Outlet store manager Antelmolare Guzman said he had to act quickly to put out the blaze in his store.
"We turn around and all we see is smoke and something caught on fire," Guzman said, according to NBC Washington. "The gentleman, he is running out to the front of the office, and he is screaming and yelling. Apparently, all of his right leg was completely burnt all the way down. Part of his private parts were also kind of affected with the whole fire thing."
Guzman said the store then stunk of "burnt skin. It was really scary, the explosion and the fire and with all the parts that we have… we have boxes," Guzman said. "The area that we're in is an industrial area, so it could have easily caught fire. As far as vaping itself, I consider it very dangerous now that I've seen it with my own eyes."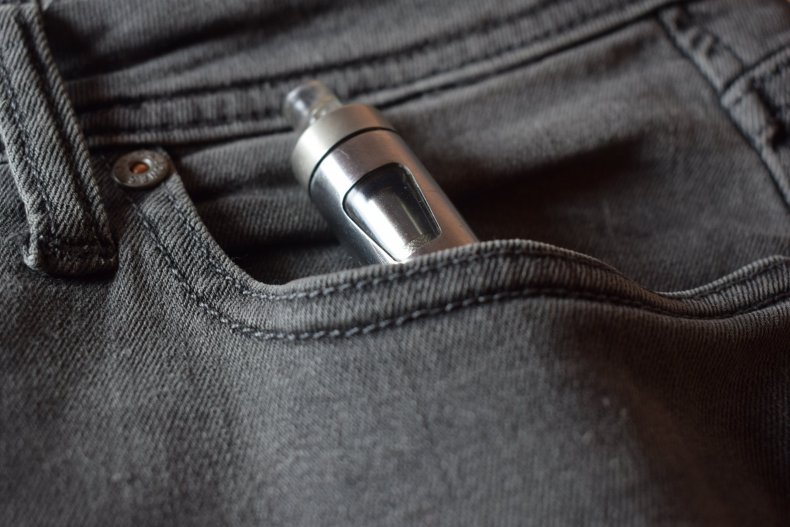 Despite the fire torching his leg and body, Abdihdy decided not to visit a hospital and instead sent his cousin to the pharmacy for some medicine. "Basically, it blew up in my pocket," Abdihdy said. "I can't walk on my leg, honestly. That's how much pain I'm in."
Abdihdy said he plans to stay clear of e-cigarettes for a while. "I'm going back to hookah."
Last month, a U.K. man suffered a similar ordeal when his vape pen exploded in his pants pocket. The fire destroyed his jeans and burned his legs, narrowly missing his genitals.
Jason Curmi, 46, felt his pockets warm at work one morning, and the e-cigarette's battery burst seconds later. He suffered second- and third-degree burns to his right thigh, which left him unable to work for three weeks. The blast occurred just inches from his penis.
"It was also only two inches from my privates and if I'd been wearing different clothing, it could have blown them to bits," he told Metro.
At least 195 e-cigarette explosions and fires occurred between 2009 and 2016, the U.S. Fire Administration reported. So far, only one incident proved fatal: An exploding vape pen killed a Florida man in May after shrapnel became lodged in his skull and the blaze lit most of his body on fire.