Fox News host Laura Ingraham thinks that Representative Alexandria Ocasio-Cortez exaggerates her accent when she says her own name.
The host of The Ingraham Angle was in a discussion with Joe diGenova about how they felt other networks were biased against President Donald Trump.
Ingraham then raised the issue of the New York Democratic congresswoman, whom she believed used an inflection to emphasize her Hispanic heritage when she pronounced her name.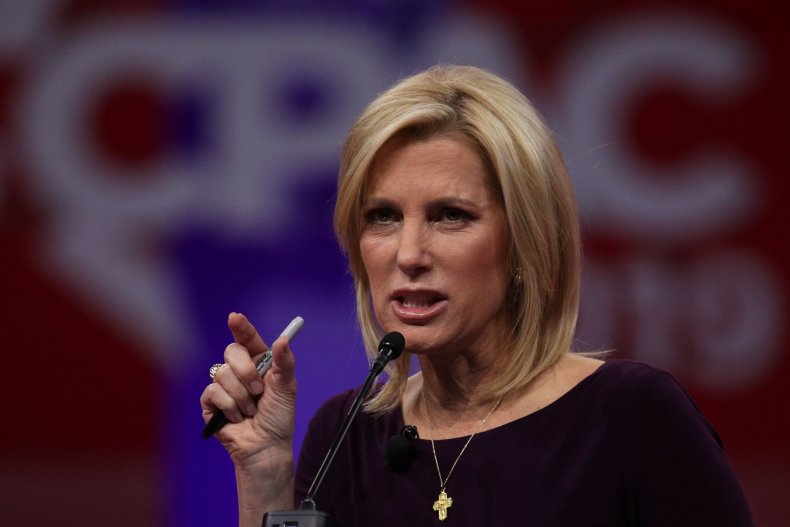 "You've noticed that AOC, the star of the moment, the 'It Girl,' and I mean 'girl' in a very mature way, she's the star, and she's the juice of the whole party, where the excitement is, but you notice when she introduces herself, does she take on that Obama… Obama put on accents…" Ingraham said, Mediaite reported.
DiGenova chimed in by saying, "She does the 'Latina thing' where she does her, you know, Anastasio [sic] Ocasio-Cortez," as he used an exaggerated accent to pronounce her name.
He said he did the same thing with his own name, which he said with an exaggerated Italian accent. "And, I assume she's going to love that when I do that," said diGenova.
"I like it when you say that," Ingraham added, laughing.
Although poles apart politically, Ingraham has professed her admiration for Ocasio-Cortez. Earlier this year she said it was "impressive" that from a modest background she took on and defeated the incumbent Joe Crowley.
"I kind of like the fact that she's like, 'You guys (the Democrats) lost to Trump. I'm going to help take this party in a new direction.' I kind of admire that," she said in January.
That same month, Ingraham said that the Democrats who want to run in the 2020 election would have to "kiss Alexandria Ocasio-Cortez's ring," due to the impact she has made in the House of Representatives in such a short time.
Ingraham's opinion of Ocasio-Cortez is somewhat higher than that held by fellow Fox host Sean Hannity. He has derided her "Green New Deal," and proposal for "Medicare for All."
He even suggestedthat she wanted to trade-in capitalism for a socialist system "like Venezuela, North Korea, Cuba [and] the Former Soviet Union," adding that in an interview she gave, she had called the U.S. "basically a garbage country."
Meanwhile, Ocasio-Cortez blamed Fox for her relatively poor favorability rating, after a Gallup Poll came out last Friday.
It showed that more Americans, 41 percent—up from 26 percent in September—viewed her unfavorably. "The reason people know more is bc Fox News has turned into 'AOC TMZ' (no offense to TMZ), so awareness is growing w/ GOPers," she tweeted.